Uluru National Park -The Australian Outback with Kids

If you are heading to Ayer's Rock Area -Read this!
Uluru National Park in the Australian Outback is a magical place! The largest thing on earth is certainly breathtaking! This is a place on many people's bucket list!
We visited and really enjoyed it -but beware you will spend ALOT of money to see this rock! Accommodation, car rentals and gas are all marked up extremely high as there are no options so it is not for the faint hearted!
Sunrise and sunset are spectacular, although is is a little disconcerting to see what a tourist event it has become with buses lined up and fold out tables set up with table clothes and 'gourmet' treats. We prefered to pack a picnic from the supermarket and make our way to the cultural center-this one is well worth visiting and very well done.
Uluru National Park is the official name now- Ayer's Rock is the name of the areas but the name of this magnificent rock was reverted to its local aboroginal name some years ago!
Australia Travel Facts for Kids + Coloring in +  Cultural Games and more
FAQ about Uluru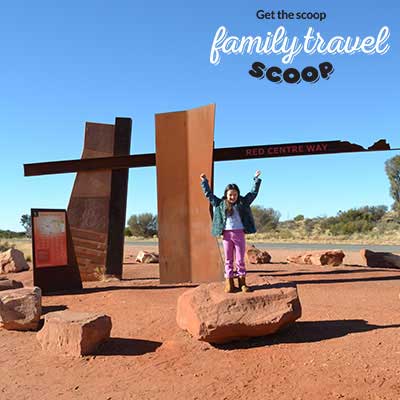 Do you need a car in Ayer's Rock and King Canyon area?
Unless you are going on an organised tour it is best to rent a car from one of the three car rental companies at Ayer's Rock Airport. Avis, Thrifty and Budget all rent cars here. Beware the fees are high and you only receive 100km a day with most rentals so if you drive to King's Canyon you will have a big bill!

How long does it take to get out of the airport at Ayers Rock?
Approximately 20 minutes

Are the roads sealed in Uluru National Park?
The main roads to Uluru National Park, King's Canyon and the Olgas are sealed. If you are staying on the main tourist paths you will have no issues traveling on sealed road.

What is a bidimin road?
This is an Australia term meaning asphalt.

Where should families stay?
There is only one option in Ayers Rock- the Ayers Rock Resort which offers different levels of accommodation. Kings Canyon Resort is an excellent choice in that area. Read more about Red Centre accommodation here.

What time is sunrise and sunset in Ayers Rock or Kings Canyon?
Time range between 6am and 730am and 545pm and 745pm depending on the time of year. Check exact times here

Can you climb in Uluru National Park?
It is offensive to climb Uluru as the Aboriginal people consider it a sacred place. On your entrance ticket it will say 'Do not Clim Uluru'. However when we visiting this year lots of people were still climbing. We didn't and found the walk around it and the cultural center entertaining enough!
Read more about Uluru here!
Things to do in the Australian Outback
---
More Australia Adventures

Home

›
Australia

›
Uluru