Things to do at Kings Canyon Resort

The Perfect Family Getaway in the Red Center of Australia

Kings Canyon Resort is in the Northern Territories of Australia, a 3 hours drive from Ayers Rock airport or a 4 hour drive from Alice Springs. Many people only visit Ayers Rock or Uluru and miss out on one of the most amazing natural wonders in Australia, Kings Canyon. While it might seem a long drive it is well worth the time to visit this magnificent part of the red center in Australian outback.
We arrived in the late morning at the spectacular Kings Canyon Resort. I would recommend staying for two full days as there is lots to do and it will be hard to fit it all in to one day!
Hotel and Resort

The resort itself is very relaxing and enjoyable. It is worth having time here just to enjoy the facilitates at the resort and sit back and relax! We were booked into 2 adjoining deluxe spa rooms- the rooms were absolutely gorgeous with their own spa jacuzzi facing out the the Australian outback scenery (see above)!
The rooms are very spacious and comfortable and everything you might need is available from shampoo to a hairdryer.
The resort also has internet connection available through satellite in the reception area or in the rooms at a charge.
Cultural Activities + Word Searches + Colouring Pages + Fun Travel Quizzes & More!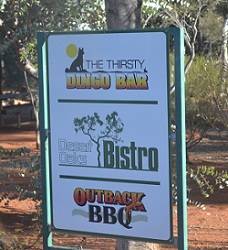 More about Kings Canyon Resort
There are numerous restaurants and cafes on site as well as a playground and camping facilities. We stayed in the resort and I would highly recommend it-the friendly staff and the beautiful rooms are wonderful and very relaxing!
Don't miss the Outback BBQ where you can enjoy a variety of traditional Australian meat such as beef, kangaroo, crocodile and more!
We also had a lovely breakfast at the bistro with hot cooked breakfasts as well as muffins and lighter fare available.
The Thirsty Dingo bar has a pool table and other games as well! 
Hotel Information:
Kings Canyon Resort Luritja Road, Watarrka National Park
Under the Desert Moon Dinner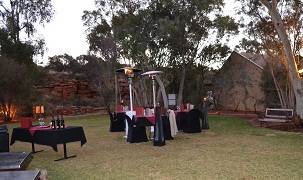 This is a wonderful degustation menu available at the Kings Canyon Resort with an assortment of local produce and foods to sample.
Although this meal is only available for those 16 and over- it is well worth it if you have older kids you can leave your younger ones with or hire a babysitter! This is not to be missed!
Start with champagne and enjoy a lovely, romantic evening under the stars!
Read more about this dinner here
Hiking Kings Canyon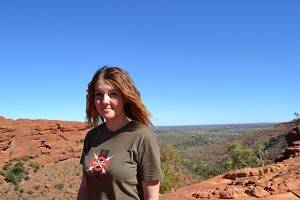 Kings Canyon itself is spectacular with amazing views! The Rim Walk is a great choice. There is a 500 step walk at the start that I found very tough but the rest of the family waltzed through (must go to the gym!)! But the rest of the 6.5 kilometer walk was leisurely and breathtaking!
Wondering-what to wear-just make sure you are wearing comfortable shoes and walking pants and a light shirt. Bring a bottle of water as you are sure to get thirsty up there!

See more Kings Canyon photos and learn more here!
Helicopter Rides over the Canyon

Don't miss the chance to see the views of Kings Canyon from a helicopter ride. This ride shows just how amazing the canyon really is-its massive landscape and depth are truly amazing!
Spectacular views of the Resort, the canyon itself and the surrounding areas!
There are different length rides available from 8 minutes to over an hour! Read more here!
Things to do in the Australian Outback
---
Read more about family travel in Australia here:

Australia

›
Kings Canyon Resort