Gold Coast with Kids
Fun Things to Do and Places to Visit


Australia 2018 Family Travel Guide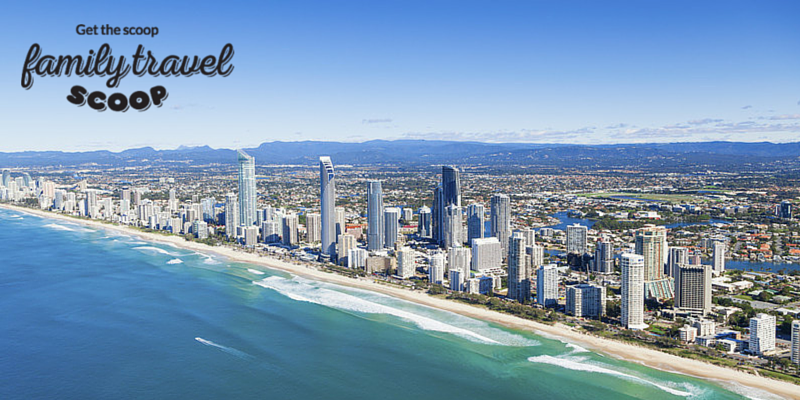 Wondering what to do in Gold Coast with kids? Look no further, we have all the amazing things you need to make your trip amazing!
Surfer's Paradise Beach is one of the most popular beaches in The Gold Coast. There are change rooms, toilets and lots of restaurants & cafes nearby. There are BBQ facilities so you can grill up your own lunch. Your teenagers and older children will love watching the surfers or renting a board and giving it a go! Be careful as there are rip tides and you must swim between the flags.



iFLY Indoor Skydiving opened Australia's first state-of-the-art indoor skydive centres in Sydney, Gold Coast, and Perth. iFLY Downunder, Gold Coast, and Perth are subsidiaries of the publicly listed company Indoor Skydive Australia Group, a company formed to create a network of indoor skydive venters throughout the region. The iFLY Downunder (Sydney West) 5 metre-wide glass chamber is one of the world's largest vertical wind tunnels.

 Don't miss out on the Outback Spectacular Dinner & Show. Your whole family will enjoy seeing the horsemanship on display. It is a tribute to the Light Horsemen who successfully fought off the British Army in 1917. They would practice their skills by chasing after emu and plucking a feather and sticking it in their hat. One of the best things to do in Gold Coast with kids in the evenings!
Infinity is one of the unique things to do in the Gold Coast with kids. This psychedelic glow in the dark maze is full of special effects, illusions and dance music! Recommended for ages 8 and older as it is dark and you must feel your way around (younger children can enter if they can walk through on their own). Teens will love it!

Putt Putt Mini Golf is one of the fun family attractions in Gold Coast with kids. There are 3 different 18 hole courses. Choose from the jungle theme with a talking parrot, the fun run with the spinning windmill, and waterways with island music! This is one of the best things to do in the evenings with children in the Gold Coast. You can have an ice cream or snack at the cafe as well!
Skypoint is a viewing tower that offers spectacular 360-degree views of the Gold Coast. It is located on levels 77 & 78 of one of the world's tallest residential buildings, the Q1 building. There is a cafe up here-great for a bite to eat. There are family packages that offer single entry or double entry (come back at night to see the city all lit up!).
Sea World is lots of fun for the family. There are several animal exhibits including penguins and polar bears. The kids will love the dolphin show! There are also several rides including a flume ride and roller coaster. Great place for all ages including toddlers, children and teenagers on your Gold Coast family holidays.
Head to Ripley's Believe It or Not on your Gold Coast family holidays for some family fun. Check out the crazy mirrors, optical illusions and wacky facts! Great way to escape the heat and enjoy the air conditioning for an hour or two with the kids.
A visit to Currumbin Wildlife Sanctuary is one of the best things to do in Gold Coast with kids. The kids will love hanging out in the free range kangaroo zone. There are excellent bird and reptile shows and an Aboriginal dance performance. You can even visit the on site wildlife hospital. There is a playground for your toddlers and children, as well as a ropes obstacle course for older kids, teenagers and parents! 
Stuff to do in the Gold Coast with Kids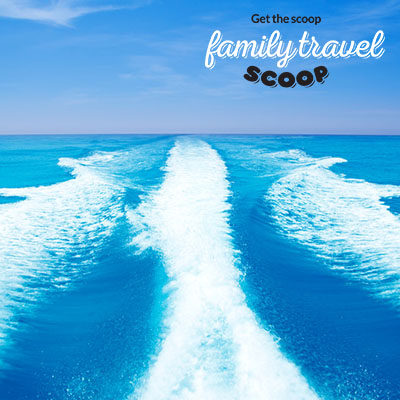 If you are planning on a trip to Gold Coast, Australia on winter, and are so eager to witness one of these wonderful moments, it is highly recommended that you include whale watching with Spirit of Gold Coast in your itinerary. Your experience of the majestic creatures of the sea will surely leave you speechless, all thanks to Mother Nature. Annually, the gentle giants of the sea, known as the majestic Humpback Whales, migrate.

White Water World is a fun cutting edge water park for all ages. You toddlers and young children will love the mini water slides for under 5's. Your older kids will have a blast in the wave pool. Your teenagers will be thrilled on the Wedgie- the trap door opens and you plummet 5 stories down and then through a half coil! Loads of excitement for your Gold Coast family holidays.
Wet n Wild will keep the family entertained. Your daredevils will love the 4 Aqualoops where they can do a full loop on a water slide. There is also the SurfRider which simulates riding the waves! Your younger children will like Bucaneer Bay-a water playground for the little ones. The whole family can enjoy floating down the lazy river.
 Movieworld is an amusement park based on the favorites such as Bugs Bunny, Superman, Scooby Doo and Roadrunner. There are lots of rides including some thrilling rides for teens and older kids and a kid zone for younger children. There are also some excellent shows to see like the stunt driver show and 4D movie!


Saddle up and go for a horseback ride through the beautiful Australian trails. This 3-hour tour takes you along the river, through the rain forest and through a farm. Enjoy a true outback treat of billy tea and damper. Ages 8 and up!
* Go eco-friendly and cruise the water on an electric boat ride. This battery operated boat ride is self-driven (no boating license required). Rent one for the family and enjoy a quiet ride on the waters!
Take a land and water tour of the Gold Coast with kids aboard the Aquaduck. This hybrid vehicle is shaped like a duck and starts your tour on land. After a cruise around town you drive into the water. Your children will love it-they even get a chance to drive it in the water.
Spend the day exploring Tamborine Mountain. There are lots of artisan shops, markets, cafes and vineyards to explore. You can pack a picnic and enjoy the views up there and you might just catch a glimpse of the hang gliders! There are also pretty botanical gardens to stroll through. Makes a nice relaxing day out.

More Things to do in the Gold Coast with Kids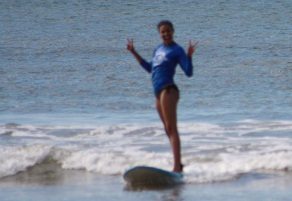 Sign the kids up for some surf lessons on your Gold Coast family holiday. Watch as they learn to ride the wave. Lots of fun. There are loads of surf schools in the area that offer family surf lessons.
 Dreamworld is an exciting amusement park filled with thrill rides, family rides and rides just for the kids. Be sure to see the super cute tiger cub named Kai and koalas! You can even book a VIP experience to meet the cub! Check out Wiggles World for your toddlers and young children. WhiteWater World's newest thrill slide is the Triple Vortex sending you through 3 epic funnels before splash down. Dreamworld's newest world for kids ABC KIDS WORLD has everything for littlies including a new Hope and Hoot ride and character appearances from Bananas in Pyjamas, Hoot and Hootabelle, The Wiggles Characters and even has a play school art room. Read more here!
Stay overnight on a host farm. The kids can feed the baby animals, collect eggs, jump on the trampoline, search for koalas in the trees, go for a swim and play ping pong! Located about 90 minutes from the Gold Coast.
Time Zone Arcade is a huge indoor entertainment center filled with arcade games, bowling, ride simulators, bumper cars and laser tag. Located in Cavill Mall. This is one of the fun things to do in Gold Coast with kids.
You will be able to enjoy plenty of fresh seafood at the local restaurants. Aussie meat pies make a great lunch or snack for the kids. Be sure to enjoy a BBQ at one of the local parks or beaches. Check out these tasty Australian food for kids to sample on your Gold Coast family holidays.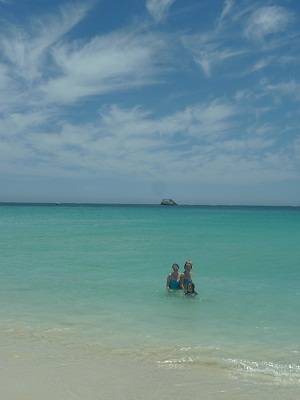 Home

›
Australia

›
Gold Coast