German Food For Kids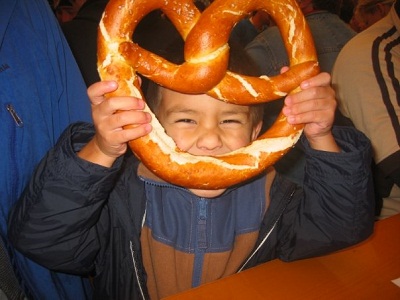 Schnitzel, flammkutchen and pretzels are some of the yummy German food for kids to sample on your travels. German food is a meat and potatoes kind of cuisine with hearty food.
It is influenced by its neighbors, particularly Austria.
You will find the usual fast food joints in the main cities such as Berlin and Munich. Why not try currywurst with the kids? This is Germany's fast food!
Germany is also well known for its beer! Parents will be able to enjoy a wide variety of ales. Germany is home to the world famous Oktoberfest (huge beer festival!).
Drinking beer is a way of life in Germany and you will find many beer gardens here. And yes you can bring the kids to them (they are generally quite tame in the afternoons and early evenings).
Best German Food For Kids To Try On Your Travels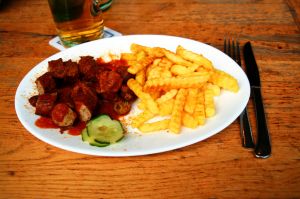 Currywurst is a popular German fast food. It consists of a pork sausage sliced and topped with a curry ketchup! It is often served with pomme frites (French fries)
Bratwurst Germany is known for its tasty sausages-there are over 1500 kinds! The bratwurst is one of the most popular and is made of ground pork and spices. Often grilled by street vendors and served with mustard. Makes a cheap tasty lunch for your family.
White Asparagus is a common side dish when in season (April-June). If your kids like the green version-they will love the white ones which are sweeter and more tender. It is sometimes topped with hollandaise sauce.
Schnitzel is a common dish on the menu in Germany. It is breaded pork or veal that is fried and served crispy.
Flammkutchen are thin crispy flat bread with onion and ham baked in it. The kids will love this!
Pretzels are one of the best German food for kids! They will love these big doughy fresh baked pretzels. Mustard is often served as a dipping sauce.
Cultural activities + games + art + travel quizzes + coloring and much more


German Pastries and Cakes -All kids love the delicsious German bakeries! Try any vareity of differnt treats like the cake on a stick above! Yum! I want one too!

Sauerbraten is a tasty German pot roast. The meat is usually beef which is marinated in vinegar with spices. The tender meat is then roasted for a few hours and served with a gravy. Popular side dishes are potato pancakes, dumplings or boiled potatoes.
Beer Ok this one is obviously just for the parents! Germany is well known for its tasty beers. You can head to a beer garden and enjoy a mug from the tap! Children are allowed into these establishments so you can enjoy an afternoon here!
Spatzle is one of the tasty German food for kids to try. It is a egg noodle formed in small balls and boiled. It can be topped with a variety of things such as cheese, meat sauce, lentils or sausages.
Kartoffelpuffer are potato pancakes. These are grated potatoes and onion mixed with eggs and fried til they are crispy. They are usually served with apple sauce. Kids love these!
Schwarzwälder Kirschtorte or black forest cake is one of the most delicious desserts in Germany. This cake is made from layers of chocolate cake, whipped cream and cherries. Kirschwasser is a distilled cherry liquor that is added to flavor it.
Apfelstrudel or apple strudel will be a hit with the kids. This warm apple and cinnamon dessert is delicious!
---
---
Home

›
Germany with Kids

›
German Food for Kids