Swiss Food for Kids
Switzerland Cuisine for Children
Looking for Swiss food for kids? Switzerland has some amazing traditional and national dishes and many of them will appeal to kids. Many are based on the dairy products that are of extremely high quality in Switzerland. Forget the calories and cholesterol for a while and indulge your kids with these top 10 Swiss dishes.

I'm giving Fondue the top 3 spots as the types of fondue are diverse and kids will love them all as it makes a game out of dinner time.

See also:

1. Cheese Fondue (Kasefondue)
Cheese fondue is made with melted yellow cheese, seasoning, spices and white wine. Check with the restaurant about how spicy the fondue is (sometimes it has the smell and taste of mature cheese and this can put kids off). Place the pot of fondue cheese on the little burner and give kids chunks of bread, cubes of vegetables and squares of ham to dip in the cheese. Make a game of trying not to lose your food in the cheese! Take precautions that no one gets burnt in the excitement and don't leave kids alone with the fondue.

2. Chocolate Fondue
Of all the kinds of fondue this is definitely the favorite of most kids. The fondue pot is filled with melted chocolate. The chocolate has usually been mixed with cream and brandy or vanilla essence. Sometimes the chocolate is spiced up with cinnamon or even chili and the chocolate can be milk or bitter chocolate.

3. Meat Fondue
The same idea is used with the central pot on top of a flame but this time the pot contains oil and instead of bread meat is dipped into the pot. The pieces of meat (beef is the norm but it could be any kind) are deep fried in the fondue pot and are then eaten. With this kind of fondue beware of very hot meat and oil splashing.

4. Basel Cookies (Basler Leckerli)
Best bought in Basel but also available in the rest of Switzerland these cookies are spicy and tasty with quite a few healthy ingredients in them. The cookies are made with brown sugar, almonds, ginger, cinnamon, honey and other ingredients.

5. Swiss Fried Apples and Bread
This is a breakfast favorite with a winning combination of apples and cinnamon. Slices of apple are fried in butter and covered with cinnamon and brown sugar. Then fried some more for about 5 minutes. Toasted bread is added to the pan and the simmering continues so the bread can absorb the flavors. The mixture is scooped onto a plate and sometimes served with clotted cream, melted butter or more cinnamon.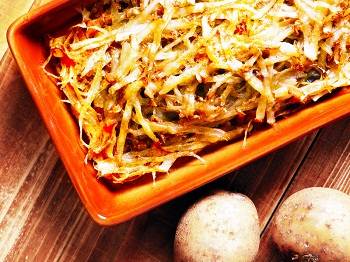 6. Rosti

This dish has been adopted by many other countries and it will appeal to kids. A Rosti is grated potato squeezed together into a circular shape, fried in butter and eaten as an accompaniment to a meal. It is usually garnished with grated cheese or pieces of bacon.

7. Chocolate

One of Switzerland's main products and considered one of the best chocolates in the world. Let kids try the many types of Swiss chocolate and some unusual kinds like chili chocolate, mint chocolate or a big chunk of 100% milk chocolate. You can tour one of the Swiss chocolate factories as well.

8. Zurich Geschnetzeltes

Veal is cut into small pieces and cooked in cream with mushrooms and white wine. It is served on a bed of rice, with potatoes or with bread to mop up the sauce!

9. Raclette

Thick pieces of cheese are grilled until soft to the touch and then dipped into with pieces of potato or bread. Another way of preparing this dish is to put the cheese on top of vegetables and then melt the cheese. This version is served with pickles but there is another form of this dish. Camembert cheese is softened in an oven or grill and then served with cranberry sauce and bread. A very traditional Swiss food!

10. Alplermagronen

You can make out the two main ingredients in the dishes name (macaroni and apples). Pasta is topped with potatoes and apple sauce and served hot mostly in the mountain villages and to hikers who need the extra energy but it may remind kids of macaroni cheese.
Home

›
Switzerland

›
Swiss Food