FREE printable luggage tags for the kids when you sign up for our newsletter! Plus we share our best travel tips!
✕
Pump Room, Bath : A Treat you Do not Want to Miss!

Things to do in UK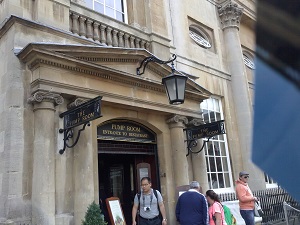 The Grand Pump House in Bath is located next to the entrance to the Roman Baths on Stall Street. It was built in 1795 and became the place to see and be seen in Georgian society. The Pump Room has retained its status and exclusive style and is one of the most elegant and historic places to dine in Bath.
The Pump Room was so popular in the 1800s that Jane Austen chose to set scenes from her books Persuasion and Northanger Abbey at the Pump Room. Even then the Pump Room was regarded as an elegant and stylish place to dine with friends and it was visited only be the upper or upper-middle classes. Today of course it is open to the general public but still has that classy atmosphere.
The 213 year old building's exterior has grand Greek-style columns and was inspired by Greek temples. Inside the Greek theme continues with columns along the walls and high ceilings with molding around the edges of the walls. An elegant chandelier hangs in the middle of the room and the huge windows flood the room with natural light which reflects off the completely white interior.
Afternoon Tea
Although the Pump Room serves breakfast and lunch it is best known for its afternoon tea.
Visitors to the Pump Room can enjoy a traditional British afternoon tea. The Pump Room Afternoon Tea menu includes a selection of tea sandwiches; goat's cheese and red onion marmalade crostini; homemade scones with Devonshire clotted cream and strawberry Champagne jam as well as a selection of Pump Room pastries and a pot of tea or coffee. There are two other afternoon tea options, the Celebration Champagne Tea and the Searcys Champagne tea.
The main difference being the addition of Champagne and smoked salmon and cucumber blini. All the set afternoon tea menus include a free coffee or tea refill. In addition to the afternoon tea you can order off of the ala carte menu which includes baked goods and egg dishes for breakfast and soups, salads, meat dishes and desserts for lunch. The menu is extensive with lots of delicious options including award winning ice-cream! While you're enjoying your tea you can listen to music played by the Pump Room Trio. While here you can taste the water from the natural spring which is used to fill up the Roman Baths.
Times and Prices
Breakfast and coffee – 09:30-12:00 noon
Lunch – 12:00 noon – 14:30
Afternoon Tea – 14:30-17:00 (last orders are taken at 16:00)
Dinner – Only on select dates in summer and winter 18:00-21:00
On Saturdays and Sundays there is a queuing system so first come first served.
Traditional Pump Room Afternoon Tea - £21 per person
Special Champagne Tea - £27.5 per person
There are other packages which include entrance to the Roman Baths, spa treatments and full meals. 
Other Things to do In Bath

Home

›
UK

›
Bath

›
Pump Room