Malaysian Food

Malaysian food is a blend of different cultural cuisines including Chinese, Indian and Malay dishes. Malaysians are well known for their love of food. Sampling some of the exotic dishes is often a highlight for many families that travel to Malaysia.
There is an endless supply of restaurants to choose from serving up Malaysia food and food from around the world. And there is of course the usual fast food restaurants (KFC, Mcdonalds etc) available in most tourist areas.
Be sure to try some exotic fruit such as mangosteens and rambutan!
Don't miss out on dining at one of the famous hawker stalls. Head here in the evening with the kids for a delicious dining experience. There are various food vendors each serving their specialty dishes such as satays, spring rolls, noodles etc. Each table will have a number.
You then order your dishes from the individual food vendors and give them your table number and they will then deliver your food to you. There is lots of selection and even your pickiest eaters will find something they dd. This is a great way to introduce your children to Malaysian food.d
Cultural art and activities + games + travel quizzes + food and much more

Malaysian Dishes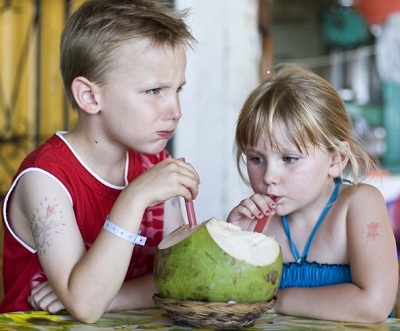 Satay-barbecued meats skewered on a stick and served with peanut sauce and cucumbers. This will sure to be a hit with the kids when you visit Malaysia.
Goreng Pisang -banana fritters. These make a great snack!
Jagung is steamed corn. This popular Malaysian snack is served either on the cob or kernels in a cup with butter.
Spring rolls are filled with a combination of vegetables, seafood or meat. These are served either fresh or deep fried. This Malaysian food is a popular choice with kids. My son loved the ones served at the hawker stalls in Penang.
Nasi Goreng Pattaya is a fried rice dish topped or wrapped with a fried egg. It is usually served with chili sauce and cucumbers. Delicious Malaysian food!
Roti Canai is a thin flaky bread that is fried and usually served with a side dish such as lentil curry. This popular Malaysia food is commonly found at the hawker stalls.
Hainanese Chicken is a steamed chicken dish served with rice cooked in chicken stock.
Lekor are fried fish cakes.
Putu Mayamor stringhoppers are a delicious dessert to try when you travel to Malaysia with your kids. It is made of steamed rice flour and looks like a net and is served with grated coconut and brown sugar.
Ais Kacang or Air batu campor (abc) is a shaved ice dessert and red beans topped with sweet flavored syrups and other toppings. My children had fun trying this Malaysian dessert.
Tandoori Chicken is a traditional Indian dish commonly found in Malaysia.This spiced meat is slow cooked in a Tandoor oven and served with Naan bread.
Ayam Masak Merah is a delicious Malaysia food. This dish consists of chicken in a spiced tomato sauce.
---
Malaysian Fruit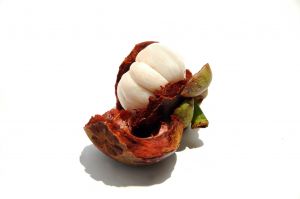 Mangosteens

-This fruit has a dark red/purple skin that you break open to reveal a white milky sweet fruit. Be careful as this one can get messy with the kids as the skin can stain. One of my favorite Malaysian fruits!
Mangoes-these sweet delicious fruits are readily found at the local markets.
For those adventurous families don't miss out on tasting durian. This is known as the King of Fruits. It has a strong pungent odor and taste. It has been suggested that it tastes like rotting onions and you will either love it or hate it. My kids and I tried a durian milkshake and its safe to say we fall into the hate it category! It is actually banned on the subways in most of Asia.
Rambutans are a small red hairy fruit. The inside is a delicious white flesh. It has a slightly similar taste to a grape.
Plan your family trip to Malaysia here!
---
---
Home

›
Malaysia

›
Malaysian Food