The Best Phnom Penh Attractions For Kids

Things to Do in Phnom Phen with Kids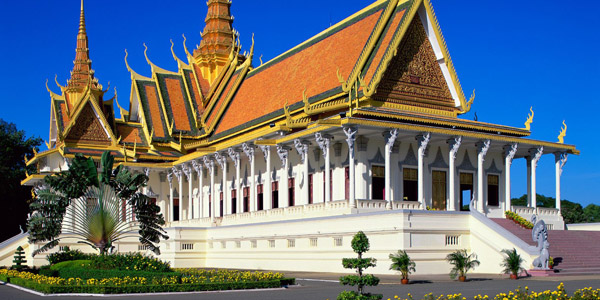 There are man Phnom Penh attractions. But a visit to the Royal Palace is one of the most memorable things to do in Phnom Penh with kids. These grounds are filled with ornately decorated buildings with spires. The King of Cambodia still resides here (his living quarters are off limits). One of the highlights is the Silver Pagoda which is home to the Emerald Buddha as well as Buddha encrusted with 9,500 diamonds. Be sure to dress modestly (long shorts, skirts passed knees and shoulders covered) when visiting. Wearing hats is considered rude here so bring an umbrella to shelter your family from the sun. Bring plenty of water as it gets hot! Keep in mind the palace is closed for a couple hours for lunch.

Do some souvenir shopping at the Russian Market. The kids can practice their negotiating skills as they shop for souvenirs. This market has a little bit of everything-silver, clothes, DVDs, books and silks. There is a food court offering drinks and hot meals. This is one of the interesting Phnom Penh attractions for the whole family.
Watch a Traditional Cambodian Performance such as Aspara dancing or shadow puppets with the kids. The shows are held Friday and Saturday evenings at 159B Street 99. This is one of the most enjoyable Phnom Penh attractions for kids.
Take a cooking class with the kids. You will start at the market where you shop for your fresh ingredients, then learn to cook fish amok, curry chicken, spring rolls and more!After you get to enjoy your delicious meal. This is a great way to introduce your kids to Cambodian cuisine.
Visit the National Museum with your family and see the beautiful Cambodian art, sculpture and statues. This beautiful museum also has gorgeous grounds for the kids to stroll in with flowers, sculptures and a pond. This is one of the top Phnom Penh attractions in our list.

Head to the night market for dinner and a picnic. Join the locals and spread out on one of the mats on the ground and sample some of the street food.
More Phnom Penh Attractions
Wat Phnom is a beautiful Buddhist temple sitting atop the highest hill in Phnom Penh. This is one of the best things to do in Phnom Penh with kids. Children will love seeing the monkeys that hang out here, as well as the birds kept in cages for good luck and the elephant ride. The biggest clock in town is located here. Great views of the city from up here. There is a playground nearby that toddlers and young children will enjoy with slides and tunnels.
Take a boat ride on the Mekong river. Kids will witness life on the river banks, waving to the kids playing nearby. The Butterfly is a good boat to ride on (catch it near Wat Phnom) as they offer one hour cruises with a bed to relax on and a clean toilet. The Mekong River is one of the top Phnom Penh attractions.
A visit to Phnom Tamao Zoo is one of the kid-friendly things to do in Phnom Penh. It is located 30 km outside of the city. This zoo focuses on the rehabilitation and conservation of animals. Kids love feeding the deer, seeing the cheeky monkeys playing or watching the elephants paint! Your family will be able to see the only hairy nosed otter in captivity and other native Cambodian animals such as tigers, gibbons and exotic birds.

Don't miss out on sampling the delicious Cambodian food. with your kids. Your kids will love the stir-frys, fish amok, curries and fresh spring rolls. Be sure to stop at a local fruit market and sample the sapodilla, mangosteens and juicy mangos.

Go for a bike ride in the country side with your family. You can rent children's bikes, adult bikes, helmets and infant seats from 2 Cycle Cambodia. Grab a packed lunch from then hop on the ferry and explore the quite farm lands of Arrayksat just across the Mekong River. They also offer horse cart tours!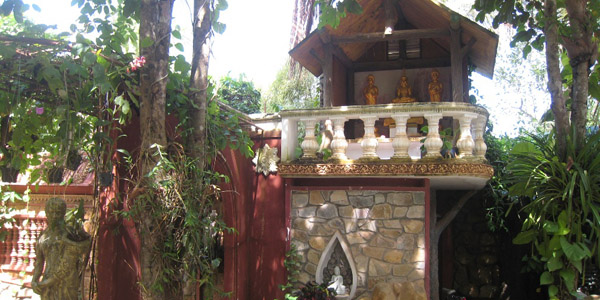 The kids will love having breakfast or lunch at Le Jardin. This restaurant offers seating in a beautiful shaded garden. There is a sand pit, tree house and play area complete with toys for the kids and delicious ice cream! Located at 16 Street 360.
Support a good cause and bring the family to Romdeng for a meal. This restaurant is a training grounds for former street children. It has lovely traditional Cambodian decor with art work done by students in the organization. Your adventurous teenagers or kids may want to sample the deep fried tarantula or stir fried beef with red tree ants (ummm no thanks!). For those less adventurous there is delicious meals such as fish amok and chicken stir fry with basil and red peppers. Located at 74 Street 174

The kids will love a ride in one of the tuk tuks. These are a great way to explore the streets of Phnom Penh. Or hire the driver to take you out in to the country side. You will get to see some interesting sites along the way-children waving from their homes, homes built on stilts, and just how many people can you fit on one moped?

Go for a stroll along the riverfront and stop at Hun Sen Park where the kids can join in with the locals playing football or flying kites. There is a sound and light show at dusk at the fountain near to the Vietnamese Friendship Monument.
When the sun is too strong then head to Paragon Mall where the kids can enjoy the kids play area while you relax in this air conditioned mall. You can do a bit of shopping here or grab a bite to eat.
How did you like our Phnom Penh attractions? Tell us on Facebook!
Plan your Cambodian adventure here!
---
| | |
| --- | --- |
| Phnom Penh Hotels | Cambodian Food |

| | |
| --- | --- |
| Siem Reap w/Kids | Cambodia with Kids |
---
Home

›
Cambodia

›
Phnom Penh