Things To Do In Dubai With Kids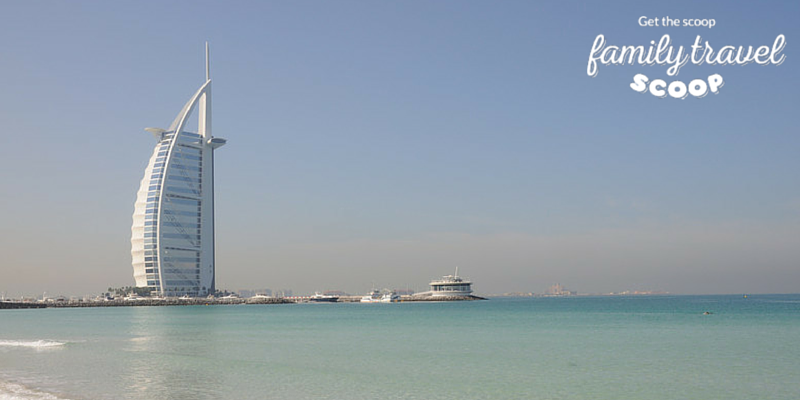 Dubai is over the top! There are so many exciting things to do in Dubai with kids. With the world's tallest building, camel racing, ski slopes in the mall and some of the most beautiful beaches in the world-your family will not be bored!

Babies and toddlers can gaze at the fish by visiting the aquariums, children will be thrilled on a desert safari, and teenagers can hang out at the beach on family holidays in Dubai.

If you are traveling in Dubai with a baby or toddler-you will find many brands of diapers and baby food at the supermarkets.

Dubai is easy to navigate with a stroller-most sidewalks are well paved and there are elevators in the malls. Be sure to keep your children well hydrated and use lots of sunscreen as it is the desert after all!

There are several options for family accommodations in Dubai.
Choose from cheap family rooms in Dubai, fun family friendly resorts or luxury suites!

Cultural Activities + Word Searches + Colouring Pages + Fun Travel Quizzes & More!

15 Best Things To Do

Jumeirah Beach and park is a fantastic day trip for your family. Sun beds can be rented for very reasonable prices. Best of all everything is very clean and tidy. There is a cafe selling food at reasonable prices or bring a picnic! Enjoy the lovely beach and the beautiful ocean! It gets quite busy at the beach but you should still have no problem finding a spot! Don't forget the sunscreen as the sun is very strong!
Souks are a fun place to visit with the kids. These markets are filled with interesting souvenirs to bring back home.  They have some very charming shopkeepers-fun to barter for your items. Don't miss the spice and gold souks! Check out our shopping trip through the Dubai souk slideshow!
Visit the 

Burj Khalifa

-visit the new tallest building in the world. Over 800 meters in 

height

 this will amaze you and your children. You can go to level 124 in 59 seconds to visit the observation deck! The entrance is in the new mall so you can shop or eat before or after! What a great way to see the view of Dubai!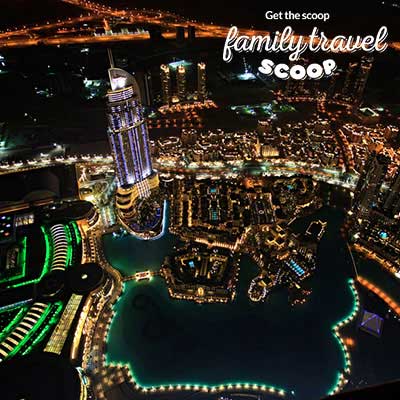 Wild Wadi Water Park is the premium water park in the Emirates with over 20 rides and areas for toddlers and babies. The whole family is sure to enjoy playing in the water. If you stay at Jumeirah Beach Hotel then your admission is included! They are strict about not bringing in outside food and beverages so be prepared to order on-site at the many food outlets.
Desert Safari -Older children and teenagers will love going on a desert safari! Dune bashing (rides the sand dunes in a 4x4) is a thrilling experience! Visit the camels and then stop for a campfire and BBQ in the sand! Some tours also allow you to do sand skiing. Also overnight camps are available. 
Center for Cultural Understanding-this is a must if you want to learn about the UAE, its culture and history. There are a variety of tours available and this is one of the best experiences available.

Local guides will take you on the tour of your choice and willingly answer any questions about the culture-no subject is off limits. Children enjoy asking questions and parents need not worry about what the children are curious to know about as all will be answered by smiling and cheerful people who want to help foreigners understand their country.
Try the Emirati food with the locals and learn about the traditions and customs of this interesting country! Eat! Most children like hummus, kofta and manakish topped with zatar. Emirati food is yummy! Dates make a great snack for the kids. You can even buy chocolate covered dates in the souks!Read more here!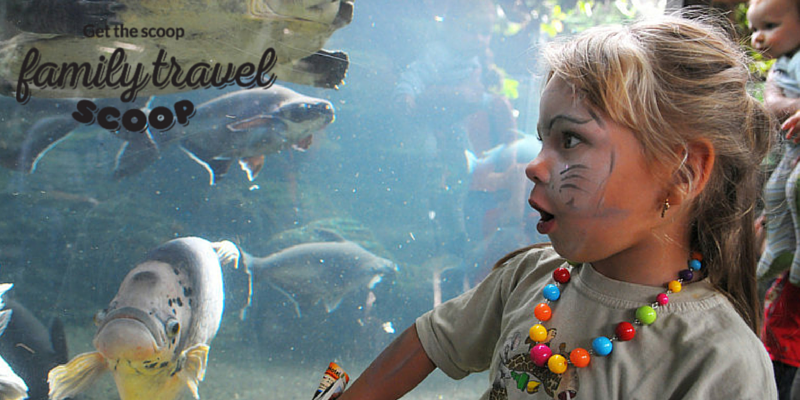 Atlantis -one of the best things to do in Dubai. You can easily spend 2-3 days here with all the things to do and see! An amazing water park with lots of rides for the young and old kids of all ages will love this place!
Teens will get thrill riding the Leap of Faith ride. The ride is a 27.5m tall and 61m long transparent tunnel that ends up passing by a shark-filled lagoon. Many types of sharks are in the lagoon including bow mouth, guitar, white tip, black tip and gray reef sharks.

Toddlers will love the children's Splashers playground and the children's water park with games and toys for the younger kids.

Don't miss the Swim with the Dolphins experience at Dolphin Bay. This is a wonderful way to get up close with the dolphins. An amazing 30 minute experience where you play with, dance with and even kiss a lovely dolphin. This is an experience your children will remember forever! One of the best Dubai family attractions!

Don't miss the Atlantis Lost Chambers Aquarium either! This is a wonderful aquarium with many local and overseas sea creatures. There are interactive games throughout and even a petting area where you can pick up a starfish!
The Palm Jumeirah Monorail located near to Atlantis is a fun treat for the younger children and toddlers. For only 15 dirhams a tour of the island is a fun break for all!
Visiting the Dubai Creek is another one of the interesting things to do in Dubai with kids. They will enjoy looking at all the boats and dhows around. You can even go on a tour in a bus that turns into a boat and sails the Dubai creek! 
Ski Dubai- if things get a little too hot why not cool off in Ski Dubai! Yes, a ski slope in the mall! There are lots of fun things to do in Ski Dubai besides skiing. You can go tobogganing or visit the chalet for a hot chocolate! Skiing lesson are available as well! Hats, mitts and jackets are provided.
Dubai Museum is one of the great Dubai family attractions. With the history of the UAE in life-size models and recreated villages and shops it is sure to fascinate the children. Check out the slideshow of our visit to the museum. 
Dubai Mall is home to the Dubai Aquarium and Underwater zoo. There is a free option of seeing the aquarium which is floor to ceiling in the mall but it is worth it to pay the fee and going on a tour, a glass bottom boat or to do the fish feeding activity. You can even see penguins here and giant crabs. Kids of all ages will be enthralled in the Dubai underwater zoo!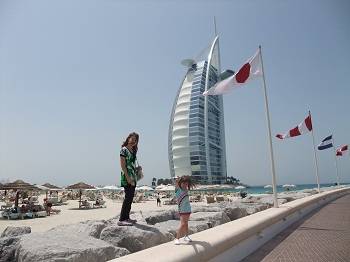 Have your photo taken in front of the Burj Al Arab -the most famous hotel in the world!

Jumeirah Mosque is one of the most spectacular mosques you will ever see. Unlike some mosques which do not allow non-Muslims to enter inside the premises, the Jumeirah Mosque welcomes non-Muslims to marvel at the ancient decors, paintings, and furniture inside the mosque. A friendly reminder to those visiting the Mosque is to wear formal clothes meaning long sleeves and long pants.          
 Another fun activity to do in Dubai is to try Flip Out in Al Quoz. Flip Out Dubai offers the ultimate trampoline experience for your kids. Kids can enjoy volleyball, dodgeball, football, and mini obstacles here.
Things to do in the UAE

Home

›
UAE

›
Dubai