17 Fun Things To Do In Abu Dhabi With Kids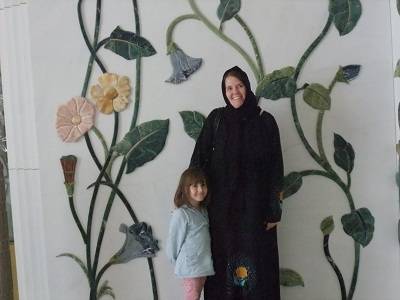 There are lots of interesting things to do in Abu Dhabi.This cosmopolitan city has beautiful beaches with gorgeous turquoise waters, beautiful air conditioned malls, and the second largest mosque in the world.
Abu Dhabi is one of the richest cities in the world. It has a much more relaxing vibe compared to Dubai.

There are Abu Dhabi family attractions for all ages. Babies and toddlers adore buggy rides along the corniche. Children will enjoy visiting the Falcon Hospital. Teenagers will be thrilled the bumpy sand dune rides!

Check out these Abu Dhabi family hotels for your family holidays in the UAE. Choose from cheap Abu Dhabi family hotels to luxury resorts with all the amenities! Or stay in a serviced holiday apartment with your children.
See also:
Cultural Activities + Word Searches + Colouring Pages + Fun Travel Quizzes & More!

---
10 Cool Things To Do In Abu Dhabi With Kids
Abu Dhabi Falcon Hospital is a public hospital for falcons! Over 42000 falcons visit the hospital every year. You can book a tour online or go with a tour but don't miss this great experience. Enjoy learning about the history of falcons and why they are so important to the UAE. Children of all ages will love this trip! Learn more.
Visiting the Sheik Zayed Grand Mosque is one of the best cultural things to do here and it is actually really good for kids. Visit this place with your children and learn about the culture and religion of the UAE. This is the second largest mosque in the world and boasts the world's largest carpet and chandelier. The guides are amazing-really good with kids and encourage them to ask ANYTHING they want about Islam. Read more.

It is a whirlwind of materials from Italy, Greece and China and is an amazing site to see. The tour guides are wonderful and you can ask anything you want about Islam and they will happily answer it. Dress modestly or you may not be allowed through the gate. Women and children will also be provided with an additional head covering and abaya to wear during the tour (see my photo above!).

Children will thrive seeing all the patterns and interesting features and teenagers will be interested in what the tour guides say. Tours are at 10am at present but call to check first as you cannot visit during prayer time. A must see, don't miss this!


Abu Dhabi Beach is a gorgeous beach with amazing scenery. There is a free beach and then there are family and women-only beaches as well where you pay a small donation to enter. 

Sun loungers are available for rent. The beach often has activities on for free too!

The

 beach is filled with cafes, ice-cream shops etc all selling at very reasonable prices despite the key location! 

Change rooms are available. A great day out building sandcastles and splashing in the water! Sounds good to me! 

Many of the

corniche

hotels have private beaches as well. These facilities are available for hotel guests or you can pay an admission fee and visit them. 

They are also good choices as many have kid's clubs and numerous water

sport

activities to try out! You teens will love the

freedom of the beach

and your toddlers and younger children will enjoy making

sandcastles

and enjoying the lively atmosphere. 
A stroll along the magnificent Abu Dhabi Corniche is one of the things to do in Abu Dhabi with kids. Fabulous with lots of room to manoeuvre if you have a pushchair and are traveling with a baby. You can also rent small buggies and bicycles to ride along the corniche.
Children of all ages love this and really enjoy the bikes built for two or the buggies which can fit a family of four. You will need to leave a piece of ID to rent these bikes but they are quite reasonably priced. Toddlers love the buggies and are often seen clapping and cheering inside them!
Emirates Palace the 7 star hotel of Abu Dhabi is worth a visit to see the amazing grounds and architecture.

You can have afternoon tea in the lobby lounge for a reasonable price and enjoy listening to live harpist and enjoying the wonderful atmosphere. 

There is usually a free exhibition or two on inside the Emirates Palace so check out and see if it is something your children might enjoy. 

Baby and Toddler changing facilities are available.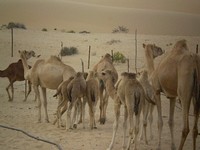 Watch the camel racing held at Sowaihan Racetrack. This is a true cultural experience. 

Camels race along the desert sand. There are no longer live jockeys on the

camels

but machine remote controlled jockeys. You will see lots of locals here enjoying the early morning races.
Sand Skiing and Dunebashing are two unique activities for older children. These need to be booked through tour companies but if you ask at the concierge at most major hotels they can arrange for you. Teenagers will love the bumpy ride in a 4x4 or the thrill of skiing down the dunes!
Yas Island is turning into the place to visit in Abu Dhabi with Ferrari World, The Formula one race track, go karting and many hotels with lovely swimming pools and kid's clubs it is easy to spend the day there!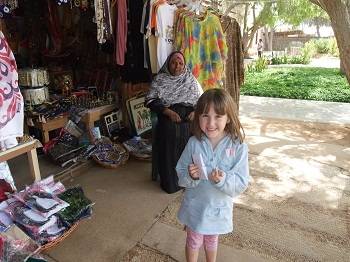 Heritage Village is located near Marina Mall and is a good place to visit for a short side trip. 

Set up as a traditional village with replica shops and stalls to show the UAE history, this is the place to come to see what life used to be like. There are also a few live animals on site, a horse, camel and donkey. 

Check with the ticket office as here are special demonstrations at different times which are worth seeing. Teenagers will like shopping for handicrafts and toddlers will enjoy the free space to run and play. 
Ferrari World is the largest indoor theme park in Abu Dhabi. 

With over 20 rides suitable for various ages children will adore this park! With an Italian

theme

there are many gelato, pizza and other Italian cuisine themed restaurants on site as well as shops and much more!

Designed to explain the history of Ferrari the park boasts the world's fasted rollercoaster and advanced racing simulators. The park also has replicas of many of Italy's famous sites like Venice and the Leaning Tower of Pisa. For those traveling with babies or toddlers there are changing facilities available and strollers for hire.
Formula One Racetrack Tour

recently opened in the UAE. There are 2 tours daily and it is advisable to book ahead as they do fill up. Visit the garages and see the fastest drag car on the continent. 

Visit the

Formula 1 circuit

and tour the facilities. You can then ride the circuit in a bus.

You then visit the indoor areas where you can hold a trophy on the podium! Kids will really love this tour as they dream of being a race car driver! A must for car enthusiasts but equally interesting for those who are not! The tour lasts about two hours.


| | |
| --- | --- |
| | Download a UAE kid's guide |
Visit Al Ain which is part of Abu Dhabi about an hour and half away by car.
Spend the day and visit the Al Ain zoo, Al Ain museum and some of the local wadis!
A trip to Jebel Hafeet offers great views! Stop at the Green Mubazzarah on the way up and let the kids run around the playgrounds or enjoy a family dip in the hot spring. You can even stay overnight in the local chalets.
Drive up the mountain stopping at the photo spots and then enjoy a stop at the Mercure hotel on the top of the mountain for a drink and bite to eat.
Or pay an entrance fee and let the kids enjoy the water slides, park, and mini golf. A great day out for the whole family. Read more about Al Ain here
Read more about family travel to Africa and the Middle East here and to Asia here.
Home

›
UAE

›
Abu Dhabi Attractions