Low Cost Airfares

Find a Cheap Flight Today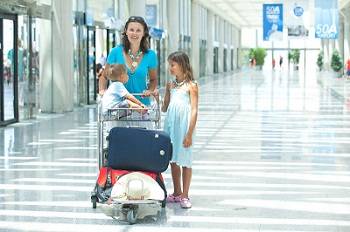 Flights are usually the biggest expense of your family travel. The good news is there are lots of strategies you can use to save money on your flights and still plan inexpensive family vacations.
Children ages 2-12 usually pay 75% of the ticket price plus taxes. So if you have an 11 year old now is the time to travel!.
Infants generally fly free or pay 10% of the ticket price if they do not have an assigned seat. Most airlines will do their best to save a seat for your baby if the flight is not full.
Charter or budget airlines usually do not give a child discount however it still may end up being cheaper. These no frills airlines can be a great way to save money on your inexpensive family vacations (watch out for the add ons though-like luggage fees etc).
Canada
West Jet: Canada, US, Caribbean
Air Transat: Caribbean & Europe

USA
Airtran Airways: US & Caribbean
Horizon Air-US: Canada, and Mexico

JetBlue Airways: Caribbean, and South America

Spirit Airlines: US, Caribbean, Central and South America
Sun Country Airlines: US, Mexico, and Caribbean
USA3000 Airlines Domestic, Caribbean and Mexico

Europe
Easyjet: Europe & North America
Ryanair: Europe

Asia
Air Asia: Asia, Australia, UK
Jet Star: Asia, Australia, US, New Zealand, Pacific Islands
Tiger Airways: Asia, Australia

Firefly: Asia
Milando: Asia
Australia
Virgin Blue: Australia, Asia, New Zealand, Pacific Islands
Jetstar Airways: Asia, Australia, US, New Zealand
Tiger Airways: Australia, Asia
If you are flying on regular airlines check out our top 10 favorites.

More Family Travel Articles
Find A Cheaper Flight

Check the total cost for your flights when you are comparing as some flights may have a higher ticket price but lower taxes and surcharges. In these cases with the 25% child discount off the ticket price, then it may be a cheaper price overall.
Start researching early. Sign up for airline email lists for airlines that fly to your destination so you can be notified when they have a seat sale. Look for charter or discount airlines that fly to your destination or within your destination.
Travelzoo is a great resource for cheap flights, hotels, and tours. Sign up with them and they will deliver some of the best travel deals around the world. There is different versions depending on where you reside. If your family travel plans are flexible you will find lots of great ideas for inexpensive family vacations.
If you see a good deal-book it! Airlines have reduced the number of flights and are trying to fly the planes at full capacity so they sell out faster these days. There is nothing worse then losing out on a good deal for a flight!!
Be flexible with your dates. Use the online tools to determine if the costs change depending on the dates you leave and return. There can be huge discounts for leaving and returning on specific days of the week. Spend some time playing around with the dates and compare the prices.
Sign up for the free frequent flyer miles every time you travel. Most programs will allow children 2 and over to join the program. Although the rewards are harder and harder to redeem these days, you still may be able to enjoy free flights for your family in the future. Check up on the details for each program as some miles expire quite quickly.
More Family Travel Tips

Home

›
Budget Travel

›
Low Cost Airlines