Top 10 Family Adventure Travel Spots
Exciting Holidays with an Adventurous Twist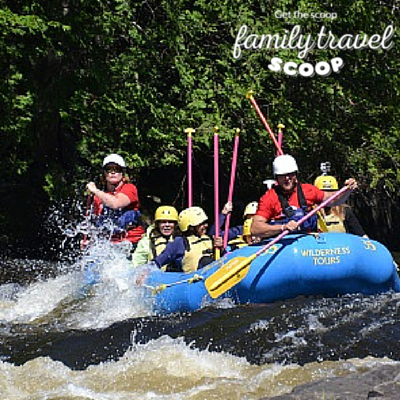 Family adventure travel with kids can be an amazing choice!
So many people have stressful lives, with bosses and their ever-increasing demands; phones ringing 24x7… Sometimes it can be hard to escape.
The noise and traffic at popular tourist resorts can be even more distracting and sometimes it feels like you need another holiday once you get home to recuperate from your last vacation!
Well, if you truly want to get away from it , maybe you should consider family adventure travel?
There has never been an easier time to travel with your family and if you want to teach them some of life's most important lessons, e.g., sometimes in life you have to take risks – but there are real benefits for those who do.
These type of adventure vacations are fantastic grounding experiences for older children and teenagers and will expand their knowledge of the world in ways you can't possibly imagine.
Best Family Adventure Travel
South American Adventures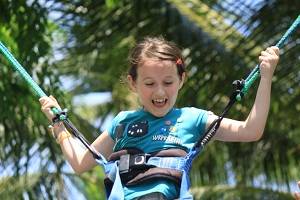 Family Adventure Travel with Kids in Peru -

If you have some restless teenagers who have stopped communicating with you, maybe a

family adventure

for 14 nights in Peru is just what you need to re-seal the bond? On this

holiday

you can trek the Royal Inca Trail to Machu Picchu, cycle downhill through the Andes and brave the Urubamba River by raft and canoe through the Sacred Valley of the Incas. This holiday will suit the most demanding teenagers who seek action, but also promises relaxation for parents. 
Pantanal, Iguazu Falls and Beach Vacation, Brazil -

If you are looking for a family adventure trip that offers a "little bit of everything" then you might consider this particular holiday. This holiday really consists of a tour of conversational areas in Brazil. If you want to see UNESCO World Heritage Sites, renowned for their wildlife and stunning scenery, then this is the holiday for you. 

You finish the tour in Rio, staying at a 5-star hotel in Santa Teresa and can be assured that your stay will help fund further conservation efforts in the area and a percentage of your costs will be used to plant 20 hardwood trees to help preserve the rainforest. An amazing adventure holiday with kids!
 Galapagos Cruise Options -

It was while visiting the Galapagos Islands that Charles Darwin's Theory of Evolution became apparent. Darwin stayed in the Galapagos region for five years, studying the local wildlife and his theories on natural selection and evolution gained renown worldwide. The tours are available as a standard 8-day

package,

but can also be tailor-made to suit your specific requirements. A responsible tourism site, there is a National Parks tax of £100 which helps to fund conservation initiatives, and carbon offsetting schemes are in place planting trees in Tanzania. 
Laguna Torca Farmhouse Family Adventure Travel with kids in Chile -

With the help of a trio of Disney films and the sale of millions of cowboy dolls worldwide, the passion for farming and rodeo has really become a firm favourite with lots of children. Right next door to the Laguna Torca National Reserve, there is plenty of birdlife and nature to satisfy the junior ecologist in your family. Primarily a self-catering holiday environment, breakfast is included, but additional meals can be provided by arrangement. 
Peruvian Eco Lodge in the Amazon Rainforest -

Opportunities like this don't come along very often and if you fancy yourself as a King of the Jungle type, then perhaps this is the forest vacation of your dreams! The lodge consists of 30 bedrooms, with a variety of open spaces for dining. The structure itself is built from traditional native materials using

modern-day

ecological technology and architecture and lies within a 2000 hectare private reserve adjacent to the Tambopata National Reserve. An amazing adventure holiday with kids you won't forget!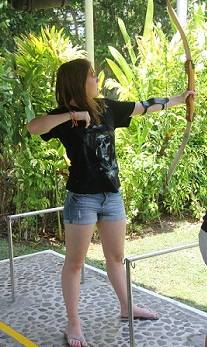 Kapawi Eco Lodge in Ecuador -

This holiday is an education in ecotourism as well as an adventure. The lodge is based deep

within

Amazonian Ecuador, isolated to protect indigenous

tribes

as well as local species. The itineraries are tailored to

suit

your needs and range from short hikes to demanding treks. Visits to the local Achuar Indian communities are also available – you can make up your mind when you arrive! The lodge was built using Achuar architecture (using no nails) and environmentally friendly methods of recycling and energy efficiency are also used.
 Bolivia Adventure Holiday -

This incredible voyage starts in La Paz, the highest capital city in the world. The altitude and reduced oxygen can take a little time to adapt to, and you may find your appetite is reduced too. The tour moves onto Sucre, medieval headquarters of the Spanish Royal Court. Potosi is a UNESCO World Heritage Site due to its tragic history of silver mining during the Spanish colonization period. It is believed that as many as eight million indigenous and Africans died in the mines during the first 300 years of Spanish rule. The trip underground is an experience though and highly recommended. This trip is recommended for parents of older children due to its unpredictable side effects and the harsh historical nature of parts of the tour.
 Colombia Vacation, Cities and Resort -

If you want to see some of the most beautiful sights South America has to offer, a trip to Colombia is an ideal choice. Starting in Bogota's historical centre with a visit to the Gold Museum, you will then visit the mountainous Monserrate monastery with its fantastic views of Bogota City. 

There are a number of stops on the tour, including Lake Guatavita, Villa de Leyva, Armenia, a coffee farm and then Cartagena. Made famous from Romancing the Stone, a classic romantic comedy starring Michael Douglas and Kathleen Turner, you will enjoy a walking tour of the walled city and explore the San Felipe Fortress. 

The excitement doesn't end there! You also get the opportunity to have a mud bath in the crater of Totumo Volcano!
Learn Spanish in Peru and Trek the Inca Trail -

Does your son or daughter have difficulty mastering Spanish? Perhaps you want to learn the language so that you can converse knowledgeably with colleagues or business acquaintances? This particular adventure holiday with kids gives you the opportunity to visit all the splendour of Peru, as well as giving you access to Spanish courses in Cuzco, the ancient Inca capital. 

If you ever wanted to give something back, there are opportunities for volunteer work. You will need to take a 3-week pre-placement Spanish course, but you could end up working in schools or hospitals for at least six weeks. A wonderful family adventure travel experience.
Being seen on holiday with parents can seriously injure your teenager's street credibility, but family adventure travel  with your kids let your children see you in an entirely new light and you will be able to see exactly what your kids are made of too!
More Tips for Adventure Great Vacations

Share your Family Adventure Travel Favorites on Facebook

Home

› Family Adventure Travel




Home

› Adventure Trips