Plan Inexpensive Family Vacations and Save BIG Money!

Don't Break the Bank on your Next Holiday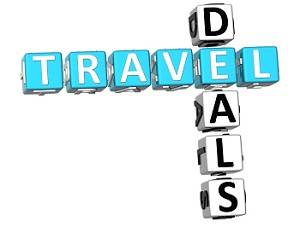 Inexpensive family vacations are possible! Use the money saving strategies below to plan an amazing family vacation on a budget. There are many ways to save money and even cut your family travel expenses in half! Check out these ideas to save on airfares too!

However it is still a family vacation so if you just can't bare to sleep in anything less than a Hilton hotel then consider foregoing the expensive hotel breakfast and instead stock up on fruit and pastries from a local store for your morning meal.
If you have an expensive activity that you just can't resist doing like swimming with the dolphins then be sure to spend a couple days doing low cost activities such as relaxing at the beach or heading to a local park.
Don't forget to order a Fly it Quiet Travel Pack to keep kids occupied in the airport or when waiting around and avoid pleas for gift shop toys etc!

Also visit
Save Money on Accommodations
Accommodations will most likely be the second largest part of your family travel expense. There are again lots of ways to save money here and still have amazing inexpensive family vacations.
Consider staying at a hostel. Many hostels around the world offer family rooms with private en-suites at cheap prices. There are lots of fun for the kids as there is usually lots of young friendly travelers willing to share their travel experiences.
Rent a holiday apartment, condo, or villa. You can save big money here especially if you have older kids and would be required to pay for 2 hotel rooms. These usually have a kitchen so you can also save money by stocking up on drinks and snacks or even by cooking your own meals. This is a wonderful way to enjoy a cheap family vacation.
Do a house swap. There are many websites now that offer services to match you up with fellow travelers to exchange houses (and sometimes cars). For example if you are looking to visit Paris, France they may be able to match you with someone looking to visit your hometown.
If you visit Myrtle Beach, SC, make sure to check out Avista Resorts for cheap accommodations. Look for budget hotels for your destination on our website under each destination. We provide information on family friendly hotels for all budgets.
Save Money On Local Transportation & Tours
Book accommodation that is centrally located or close to public transport. You can save on expensive taxi fares if you can walk to restaurants, shopping and some attractions. Use public transport whenever possible. Most subways are easy to navigate and kids love traveling on these! Ask the hotel staff the cheapest way to get to the sites.
If you are traveling to multiple destinations check if there is overnight flights or trains to save the cost of a nights accommodation. Kids have a knack for being able to sleep in those uncomfortable plane chairs, adults on the other hand might not get quite as much rest though! Look for budget airlines to fly long distances.
If you are planning to do organized tours at your destination then consider hiring a taxi for the day to bring your family to the local attractions. This can be considerably cheaper than paying individual tour prices for each family member plus you usually can get the inside scoop on where the locals dine at!
Look for free or cheap local activities. The local park can be great fun for the family, head to the local bakery or deli and make a picnic lunch. Spend a few hours strolling through the town and checking out the sites. Check for museums that offer free entrance and see if there are any free festivals on during your visit.

Reduce your Food Costs
If you are planning a cheap family vacation then try to book accommodation with a kitchen or at least a mini fridge. Head to the local supermarket to stock up on drinks, snacks and breakfast for the family. Fruits, cereal, and baked goods are readily found in most destinations and make for a cheap breakfast. Lunches can also be easily put together with a few items from the grocery stores. Or consider having a big breakfast and skipping lunch.
Avoid tourist targeted restaurants. If you eat where the locals eat you will usually find cheaper and tastier meals.
Save Money on Souvenirs
Souvenir shopping- You will still want to buy some souvenirs when you are on your trip so head to the grocery store for cheap, and delicious souvenirs. Who wouldn't love some Jamaican Blue Mountain Coffee or local Thai curry.
If there are local handicraft markets at your destination then shop there instead of tourist shops (or worse hotel gift shops!) for greater bargains.
If you are headed to a beach destination get the kids to find some cool shells for a free souvenir. Have the kids save up their allowance before you go so they have some spending money of their own. Save a few coins or small bills as another memorable souvenir for the kids.
And of course all those amazing family travel memories are priceless!
Home

›
Cheap Travel

›
Inexpensive Travel Tips