Australian Food for Kids!
Aussie Cuisine Kids will Love
Don't miss out on these tasty Australian food for kids to try on your family vacation. Australians love their food! You will find restaurants offering cuisine from around the world.
The usual fast food restaurants are also commonly found. There are many family friendly restaurants and cafes in the cities and some delicious sea side eateries offering fresh seafood.
Most famous is the Ozzie BBQ! Walking around residential area you will undoubtedly smell the BBQ going! This is a very popular way to eat especially in the summer months. Many parks and beaches have free BBQ facilities-so pick up some shrimp and meats for your own family feast at the local grocery store.
Lots of traditional Aussie food has its roots in the UK. Popular Australian food for kids to sample includes the Aussie meat pie which can be found at most local cafes or bakeries. Fillings include steak, mince or chicken and are always served with tomato sauce (ketchup)!
Traveling to Australia? Read more here!
Our Favorites!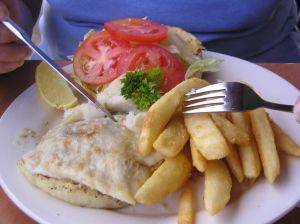 More Australian Food Kids Love!
Try a Pie Floater which is a meat pie floating in a thick green pea soup. Mint sauce and tomato sauce can be added.
Roast Dinner is also a popular choice and you will find even food courts in the malls will have a roast dinner outlet! Roast beef, lamb or chicken served with roast or baked potatoes, vegetables and smothered in gravy make a delicious meal for your family.
Fish-n-Chips is another popular food in Australia and there is a chippy in every suburb. Lots of people grab it to go and eat at the beach! The kids will love this.
Lamingtons are the traditional Aussie dessert of choice here-a sponge cake with chocolate icing covered in coconut. All kids like this one!
Vegemite is a paste made from yeast extract. It is very popular on toast, in sandwiches or with crackers. It has a salty taste and is dark brown in color. You buy it in a jar like jam! This makes a great souvenir to bring home.
Wedges are of course not a truly Australian dish, but these spiced potato wedges are served at lots of restaurants and cafes. My kids couldn't get enough of them. They are served with a variety of dipping sauces including aioli and sweet chili. Makes a great snack!
Fresh Seafood dishes are popular at the local restaurants. Oysters, fish, and shell fish are commonly served. With such a huge coastline-you will find plenty of tasty fresh seafood entrées.
Australian Fruit makes a great snack for the kids. Check out the local markets for the fruit that is in season. Mangoes, cherries, papayas and pineapples will make a great treat.
Want to learn more about Australian food facts for kids? Download the Fly it Quiet Australia Travel Guide for kids full of cultural activities and Australia country facts and games! 
For more Australian foods, read more here!
More World Foods Kids Love
Australia

›
Australia Food