iFly Indoor Skydiving in Australia
If you are searching for the latest thing in action sports, you better try the iFLY Indoor Skydiving in Gold Coast, Australia. Feel the extreme rush in your veins when you lean forward in the giant glass tunnel into a column of air and float without breaking a sweat into flight. Experience the adrenaline rush that makes the sport of indoor skydiving so famous around the globe. Find out why it is such a big hit by trying out iFLY Indoor Skydiving in Gold Coast. It is surely not just a thrill ride. Also, you should not worry about any risk since you will be guided by a team of qualified instructors. With iFLY Indoor Skydiving, you will be able to master flying skills in a state-of-the-art, fully-controlled, ultra-safe environment. In other words, you can learn your way about skydiving and become an expert or you can simply just indoor skydive for fun. Your family and friends who chose not to skydive will be able to watch through the all-round viewing platform. They will be in awe while watching you skydive! 
iFLY Indoor Skydiving opened Australia's first state-of-the-art indoor skydive centres in Sydney, Gold Coast, and Perth. iFLY Downunder, Gold Coast, and Perth are subsidiaries of the publicly listed company Indoor Skydive Australia Group, a company formed to create a network of indoor skydive venters throughout the region. The iFLY Downunder (Sydney West) 5 metre-wide glass chamber is one of the world's largest vertical wind tunnels. These tunnels utilize the patented technology of SkyVenture which is the world's most advanced and largest manufacturer of vertical wind tunnels. Over 5.5 million people have already flown with iFLY Indoor Skydiving globally. The iFLY Indoor Skydiving Experience is owned and operated by an Australian team of passionate fliers who had a vision of creating incredible facilities to be able to share the beauty and freedom of flight with everyone. Clearly, they have made their vision continuing reality.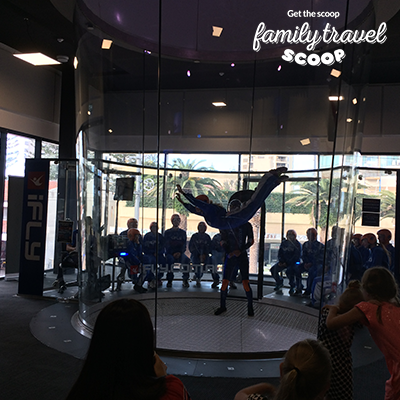 The iFLY Indoor Skydiving activity is perfect when you are celebrating a special event or if you are just looking for a new sport to try. Indoor Skydiving is an exhilarating experience. However, be warned since this sport is highly addictive! It is the ultimate indoor sport which is suitable for kids, teens, and adults. Talk about a sport which can be pursued by all ages. The iFLY Indoor Skydiving Experience is one of a kind. There will be no parachute, no jumping, and nothing attaching you to planet earth! The iFLY Indoor Skydiving Experience is about just you and the air. Well, including a great deal of adrenaline rush.

The indoor Skydiving Activity
If your kids want to make indoor skydiving a regular thing, you should let them join the Junior iFLYER club for ages 6-16. They can spend one and a half hours every week including 5+ minutes of flying time. Each Junior iFLYER session already includes safety briefing and training by experienced and season instructors, 5+ minutes of flying, and a video of the session so you can watch your flying moments. Each session at iFLY Gold Coast is $89. However, it will go down to $80 per session when you sign up for all 10 weeks. A session at iFLY Downunder or iFLY Perth will cost you $99 and only $90 each when you sign up for all 10 weeks. On holidays, it is fixed at $89 a session while it is $99 a session at iFLY Downunder. You can also celebrate your kid's birthday at iFLY Indoor Skydiving Experience in Gold Coast. You can avail of the Birthday Fun Package. It is the perfect kids party which lets up to 10 kids fly twice each. Also, it includes a video of your flight and a complimentary birthday cake. It costs you a reasonable $59.90 per kid for a minimum of 10 kids. If you want to celebrate the birthday at iFLY Downunder or iFLY Perth, it is $49.90 each kid for a minimum of 10 kids. If you don't want to go through the hassle of preparing food for the birthday, you can simply avail of the Birthday Fun and Food Package which costs $639. The kids will not only enjoy flying but a sumptuous lunch as well. However, this package is only available at iFLY Downunder.

iFLY Skydiving Experience offers a lot of fun and exciting activities. Two of them are Indoor Skydiving Tunnel Camps and One-on-one Coaching. Let us talk about the first one. Tunnel camps are periods of intensive coaching and learning. It usually spans 2-7 days and flying 20 minutes or more each day. The tunnels are designed for every skill level. Also, you are well-taken care of since the coach will tailor each flight for your specific needs. As to the One-on-one Coaching, the iFLY Skydiving Experience coaches offer a great rate of $5 per minute on top of your existing tunnel time for personalized coaching. 
There's no experience required to try the iFLY Skydiving.Hence, beginners, intermediates, and experts can all fly.  Of course, you need to be in good health and physical condition. If you've had a prior shoulder dislocation or back or neck problems, you should contact the company to make sure if you are fit to fly. Anyone with a hard plaster cast, pregnant, heart problems or under the influence of alcohol or non-prescriptive drugs is also unable to fly. Remember that your safety should be the topmost priority. Also, please keep in mind that there are weight restrictions to ensure your safety.
If you are under 180cm, the weight limit is 105kg, and 115kg if you are over 180cm. Customers that do not fit into either of these categories yet are under 135kg may opt to pay an additional $30 to be flown by a specialist instructor.
Ultimately, it is a unique and adrenaline-filled sport that improves confidence, coordination and body awareness while having heaps of fun. 
Home

›
Australia Gold Coast

›
iFly Indoor Sykdiving