Top 10 Quebec Family Hotels : 2018 Guide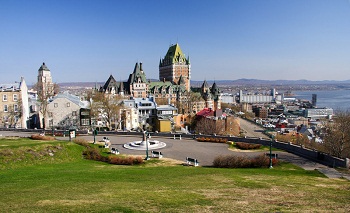 Quebec family hotels are plentiful. La Belle Province as it is known has many family friendly hotels and other vacation accommodation options, that offers plenty to see and do with children.
It is important to have a great base, a hotel that offers comfort, convenience and entertainment for kids.
Soak up the rich history in Quebec City, tour the cobblestone streets in Montreal or enjoy the charm of some of the smaller French villages. Don't miss out on Quebec's favorite treat-poutine!

Below is a list of some of the best kid friendly hotels in Quebec.
Top Quebec Family Hotels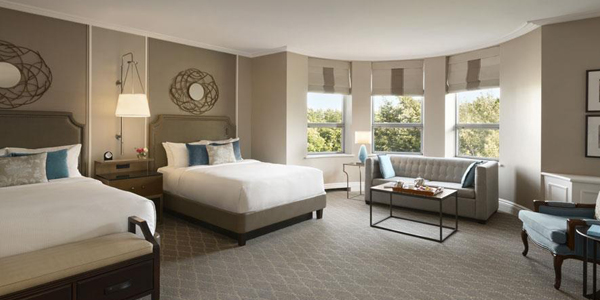 1. Fairmont Le Chateau Frontenac, Quebec City
For starters the hotel looks like a castle and this hotel gets rave reviews from families who have stayed here. The location of this hotel will make the kids smile, as it is next to the funicular, close to a number of snow sports and in the winter there is a toboggan ride right next door.
It is possible to get a child safety kit to child-proof your room and there are cribs and extra beds available for the spacious rooms. 
There are rooms for 2, 3, 4, 5 and six people, there are also connecting rooms available. 
There is an indoor pool and a kid's pool also the kid's menu will appeal to children. High chairs are available and the public areas are geared towards families. Families on a budget will also find the range of price options and packages attractive. 
Kids can take a tour of the hotel with a costumed guide. There is babysitting services available and ice-cream served midday!  
Check Rates & Reviews
2. Auberge Saint-Antoine, Quebec City
This hotel tops the Trip Advisor's list for Quebec family hotels together with other Auberge hotels. Part of their care for children includes greeting the kids with a teddy bear as a gift. 
They also provide kid's musical CD's and family films at the front desk which can be viewed at no extra charge in the screening room. Kid's also get pint sized bathrobes and slippers. 
The concierge has a list of family friendly attractions in the area and will help plan your vacation. The hotel offers a free 20 minute tour of the archeological artifacts and findings which have been incorporated into the building of the hotel. 
The rooms are large (400 square feet) and have a queen or king size bed together with a pull out sofa, there may also be connecting rooms available.  
Check Rates & Reviews
3. Loews Hotel Vogue, Montreal
This hotel makes the short list on many "best family hotel" lists online and one of the main reasons is their motto "the family that plays together stays together". 
There is a pool and pool side "kidbanas" as well as play areas for the little ones. Kids get a Fisher Price welcome gift and there is a "library" of games kids can check out. 
The kid's menu is a nutritious one designed to suit a child's palate. Several of the hotel's rooms are suitable for families, most have at least two double beds and the option of connecting rooms or extra beds, there are also suites with living areas and separate bedrooms. 
Family pets are also welcome at this hotel. There are other Loews hotels in Quebec like the Loews Le Concorde. This is one of the common Quebec family hotels.
Check Rates & Reviews
4. Embassy Suites, Montreal
The perfect choice from our Quebec family hotels list for larger families or those on a budget try this hotel where you can have a 2 room suite. There are also 2  bedroom suites, and even 2 bedrooms each with two double beds. Up to 3 children under 18 years old can stay for free when using existing beds in the rooms, although there is no capacity for extra beds there are rooms with connecting doors.<br>
Pets are also welcome at this hotel. The rooms are equipped with microwave ovens, a fridge and kitchenette. If you'd prefer to eat out there is a kid's menu in the hotel restaurant. There are also high chairs and cribs available. There are babysitting services available.  
Check Rates & Reviews
5. Hotel Tadoussac, Tadoussac
Note that the kids club only operates in the summer (June 23rd-August 26th) unless there are a large number of guests in the hotel. The kids club is for kids 4-12 years old and the activities include treasure hunts, games, crafts and movie nights. The hotel is close to the beach so even when not being entertained indoors there is plenty to do outside. 
Apart from that there is an indoor pool; mini golf; billiards (for the teens) and games such as shuffle board, ping pong and Nintendo Wii. There are even puzzles! One of the most fun Quebec family hotels.
The front desk will inform you of activities and games organized for families and kids will love the games arcade. 
The hotel is also conveniently near Saguenay-St. Lawrence Marine Park. There are standard rooms with connecting doors as well as extra beds for a small fee, it is also possible to get a mini-fridge for a small fee. 
Check Rates & Reviews
Home

›
Canada

›
Quebec Hotels