Hotel de Glace -World's Best Ice Hotel

North America's only Ice Hotel- 2017 Guide


© Xdachez.com

Most kids (and many adults) have dreamed of sleeping in an igloo and with the popular Disney film "frozen" a house made of ice is even more appealing to young ones. Quebec's Ice Hotel was in fact the first of several Ice Hotels which are now dotted around the world. 
The Hotel de Glace is also the only Ice Hotel in America. The concept is accommodation created using blocks of ice to build the walls, furniture and decorations. The hotel has 44 rooms and suites completely made and furnished with ice. Due to the environment's seasonal temperature changes the hotel only operates from January to March, then it simply melts away.
Guests staying overnight in the Ice Hotel sleep on beds made out of ice but they stay warm as the ice is covered with a wooden bedspring and mattress with blankets and guests sleep in sleeping bags. Thanks to the thick ice walls the interior is kept quiet warm at -3°C- -5°C.

Visitors have several options of how to experience the Ice Hotel. You can tour the hotel to see the incredible ice architecture and sculptures. Take the cocktail Package which include the same tour but with a cocktail in the ice bar. The bar and glasses are made of ice.For young visitors and non-drinkers there are non-alcoholic drinks as well.
The tour of the hotel can include lunch at the Celsius Pavilion. If you are fascinated by the engineering and creativity which goes into making the Ice Hotel take a Behind the Scene tour. On this tour you are shown the secret process of construction and maintenance of the Ice Hotel, get to make your own ice glass and enjoy a cocktail at the Ice Bar. After 8pm tours don't visit the rooms and suites section so that overnight guests of the hotel can enjoy their accommodation.

If you are staying overnight in one of the individually designed rooms your experience starts with a briefing in the Celsius Pavilion. From 9pm to 9am all the overnight guests have access to the Nordic Relaxation Area where there is an outdoor spa and sauna. The themed suites are created around a theme. The Premium theme suites have a fireplace and the Premium Deluxe theme suites have a fireplace and private spa. Rooms are available as part of a package which includes a number of activities like dog sledding.

You may be wondering how you shower, use the bathroom or store your luggage in the Ice Hotel. Well you don't. Included in the price of your Ice Hotel room is a room in the nearby Four Points by Sheraton Quebec hotel. In addition there is direct access to heated bathrooms in the Celsius Pavilion. Some packages include meals in the Sheraton restaurants.




Ice Hotel for Families -2017 Guide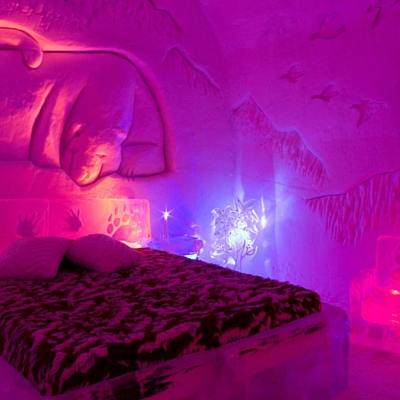 © Xdachez.com

Kids are welcomed to the Ice Hotel and they will be provided with modified sleeping bags to keep them extra warm. It is possible to have a room with parents and children's beds (even ice bunk beds).
A standard room has 1, 2 or 3 queen-size ice bed. While parents enjoy the drinks in the Ice Bar kids can have hot chocolate. In addition to the thrill of sleeping in an "igloo" kids can play on an ice slide.

It is probably not a good idea to let kids drink a lot before bed to avoid having to get up in the cold to go to the loo in the middle of the night. And if it gets too cold for the kids there is always the room at the Sheraton which awaits you.
As the Ice Hotel is wheelchair friendly it is also good for strollers.
Quebec Ice Hotel Details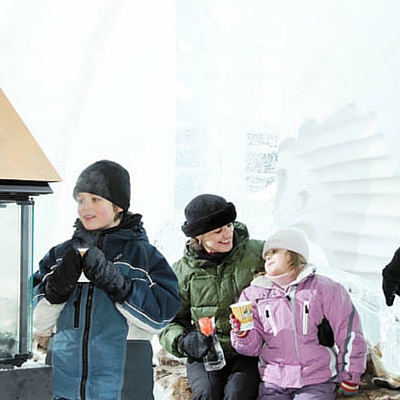 © Xdachez.com

When: January 4-March 28 2017
Where: 9530 Rue de la Faune Quebec, G1G 5H9, Canada
Contact: 418 623 2888
Website: Hotel de Glace
Celsius Pavilion Restaurant: Sun-Wed 10am-7pm; Thurs, Fri and Sat 10am-8pm

Optional Package


Tour – Weekends 10am-8pm: Family (2 adults +3 children) C$45.75; adults (18yrs and up) C$18.25; teenagers (13yrs-17yrs) C$16.25; children (6yrs-12yrs) C$9.25; seniors (55yrs and up) C$16.25, 5yrs and under visit with family enter for free. Rates are slightly cheaper after 8pm.
Cocktail Package – Weekends: Adults C$27.5; teenagers C$20.25; children C$13.8; seniors C$25.5.
Lunch and Tour  – Sun-Wed 10am-7pm, Thurs, Fri and Sat 10am-8pm: Adults and teenagers C$29.5; children C$22.8; seniors C$29.5
Behind the Scene – Sat and Sun by reservation only: Adults C$31; teenagers C$25.5; children C$15.5; seniors C$29.
Cost: Overnight stays range from $399 to $599.