15 Best Things To Do In Kyoto with Kids


Kyoto should definitely be on the list of places to visit with kids.  It is the perfect contrast to the modern craziness of Tokyo. Kyoto is filled with beautiful temples, gardens and lots of fun cultural activities.   Learn more about visiting Japan with kids here   and check out our top picks for family friendly accomodation in Kyoto.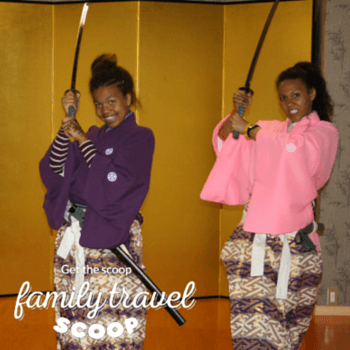 Samurai Sword Lessons are the perfect way to immerse your family in the rich Japanese history.  Combine  a day of visiting the temples with a fun samurai sword lesson or stop by and watch a performance by the masters!   My kids absolutely loved it!
 Fushimi Inari Shrine

is a great Kyoto attraction to visit with kids. This temple is the shrine of Inari, the god of rice. There are thousands of red

toriis

(Japanese gates) that wind up the mountain to various other shrines and monuments. The kids will enjoy seeing all the fox statues here. 

T

he foxes are regarded as messengers and they often hold a key to the rice barn in their mouth. The walk up the mountain is gradual at first but eventually becomes steeper and with several stairs. The walk can take 2 hours, however if the kids are getting tired you may want to only wander part way up the path.
A visit to Nishiki Food Market is an interesting Kyoto attraction. This 6 block covered market showcases an amazing selection of Japanese food. Grilled eel, roast chestnuts, exotic mushrooms, tofu milk donuts and more interesting dishes are available. Your children will enjoy sampling the tasty sweets and crunchy Japanese crackers.
Head to Nara (45 minutes from Kyoto) for the day and head to Nara Deer Park where the kids will love seeing the free roaming deer. You can buy deer food from the vendors but be careful the deer can be quite pushy trying to get their treats. Inside the park is Todaiji Temple complex where the world's biggest wooden building houses the biggest bronze Buddha statue. The kids will have fun squeezing themselves through the hole in the pillar for good luck. The grounds are beautiful.
Nijo Castle is one of the interesting places to visit in Kyoto with kids. This castle was built by a powerful man in the 1600's. Your kids will enjoy seeing the 2 moats that protect the castle.The nightingale floors were built to squeak like birds when anyone walk on them so they could hear the attackers coming. The kids will have a great time seeing if they can sneak in quietly to the castle without making the boards creek. There is beautiful artwork, painted ceilings and lovely gardens to see as well. This is one of the best Kyoto attractions.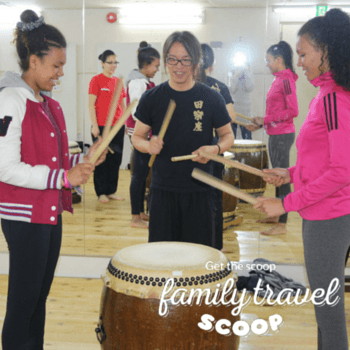 Taiko Drum Lessons are a must do when visiting Japan.  What better way for the family to let off some steam and learn a traditional artform.    We had a fantastic lesson and my kids voted as one of their favourite things they did in Japan!
 Head to Gion in the early evening and you may catch a glimpse of a geisha girl. This quaint old section of Kyoto is filled with narrow streets. You will find restaurants, tea houses and souvenir shops here. If you want your family to have a traditional Japanese experience you can book a tea ceremony. You can also choose a kimono to put on and learn how to move gracefully. This is best suited for teenagers and older children.
Go on a bike tour with your children and see the sites of Kyoto. Rent some bikes and explore the back streets of Kyoto together. Children's bikes and infant seats are available with some of the tour providers. This is one of the best things to do in Kyoto with kids.
Ryoanji Temple is an interesting spot to visit. Your kids will enjoy the rock garden designed by a monk where only 14 of the 15 rocks can be seen from any angle. There are also beautiful gardens and lotus ponds to enjoy.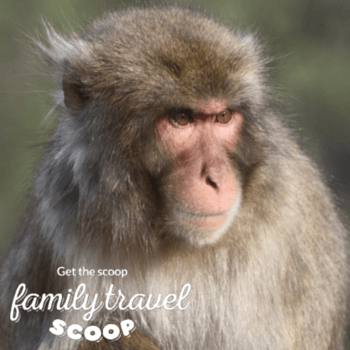 A visit to Monkey Park is a must do when you travel to Kyoto with kids. There is a steep hill with some stairs that you must climb to get to the top (so don't bring your strollers). It is well worth the climb as you will see the snow monkeys playing in the trees along the way. At the top is a caged hut that you go inside and you can purchase fruit and peanuts to feed the monkeys. Your toddlers and small children will love seeing the cute baby monkeys. You can also sit and watch the monkey and enjoy the great views of Kyoto.
Join a hands on sweet making class!  Children love creating these traditional japanese sweets and eating them too.  The sweets are designed with the four seasons in mind. using local ingredients and nature for inspiration.
Your family can enjoy a quick visit to Kinkaku-ji or Golden Pavilion which is a beautiful gold leafed Zen temple overlooking a pond. The scenery is very pretty in the autumn with the leaves changing color. Make sure you have some coins for the kids to throw at the statues for good luck. There are lots of souvenir vendors and you can get some green tea ice cream here too.
There are many delicious Japanese food for kids to try when you travel. They will love tempura, yakisoba and tonkatsu. Don't miss out on all the fresh sushi too.
Gear is a fantastic non-verbal show (great for tourists!) that will have you on the edge of your seats!  We loved watching this fantastic performance after a day filled with temple exploring. 
Read more about Asian holidays here!
Plan your trip to Japan here:
---
---
Home

›
Japan

›
Kyoto