Non-Verbal Entertainment in Kyoto "GEAR"

An unforgettable family friendly show!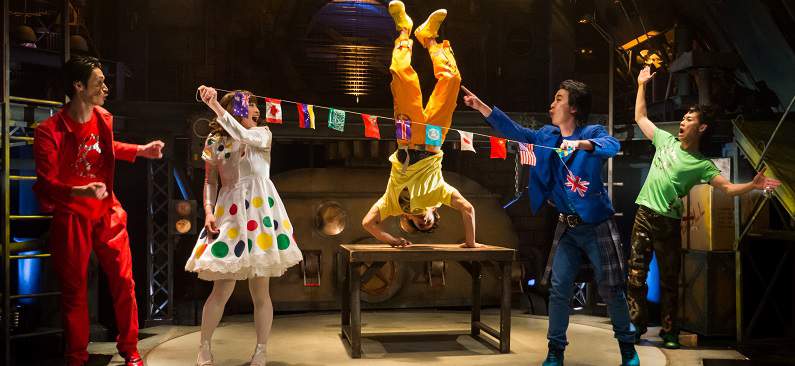 photo credit "©Yoshikazu Inoue".
Wow! Wow! Wow!  What a fantastic way to end a day of exploring the historic temples in Kyoto.  Gear is a non-verbal show that is perfect for tourists and especially families with kids of all ages.  It is funny, heartwarming, surprising and interactive. 
This type of show is the first of its kind in Japan. The story is based on an abandoned futurisitic toy factory where the roboroids ( the factory's human like robots) suddenly find that one of their products, Doll, has come to life and in the process she sparks a touch of life in each of them.  
The show kept us on the edge of our seats.  It combines mime, breakdancing, magic and juggling into an action packed show complete with LED lights, music and a giant whirling fan.   Be sure to put your goggles on!   The show uses lasers, projection mapping and even an LED dress! 
We loved it!  My son described it as a crazy, amazing performance.  We were mesmerized by the movements, antics and talents of the roboiroids as they battled it out for the heart of Doll.  And while the actors are silent,  the audience is encouraged to cheer along and make lots of noise throughout the show-making it the perfect show for families!

Gear runs several shows a week, you can see the show's schedule and purchase tickets here.  The show is located in Kyoto and it is located in a great part of the city with a shopping arcade and lots of choices for dinner nearby!
Ticket information https://www.gear.ac/en/ticket/