Samurai Sword Lessons

Fun Cultural Activity for Kids in Kyoto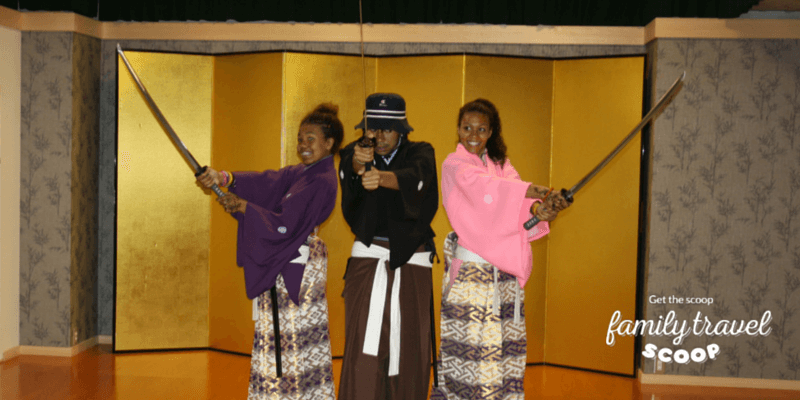 One of the highlights of our trip to Japan was a samurai sword lesson at Sumarai Kembu. We were warmly greeted by our teacher and the administrator.  We got straight to business learning the history and moves of these ancient Japanese warriors.  This was such a fantastic experience for my children and really helped to bring the incredible history of Japan to life.
First up, picking out the perfect samurai outfit complete with the specialty socks.  Pink and purple for the girls and black and brown for my son.   But before they could don their outfits it was time to learn the basics of the samurai sword dance.   Handling the swords, the side swipe, the forward attack and more! Pretty soon the sounds of the swords slicing through the air filled the room. 
After some practice it was time to dress in the samurai outfits.  And just like any modern samurai the photos were facebooked, instagrammed and tweeted as the instructor waited patiently and helped the kids pose for the perfect shots.  
Now it was time for more practice and more steps added to the sword dance!  Next up learning to walk like a samurai-or more like slide like a samurai across the floor and back.   And finally to set it all to music and perform our solos.  So much fun!
Definitely add a samurai sword lesson for the family to your Kyoto itinerary! It is such a fantastic way to break up all the temple exploring with some real life action that every kid will love!
Samurai Kembu also offers samurai sword shows performed by the masters which are fascinating to watch.   You can check out the schedule and order tickets here.

Watch a video of the lesson!