Monkey Park Iwatayama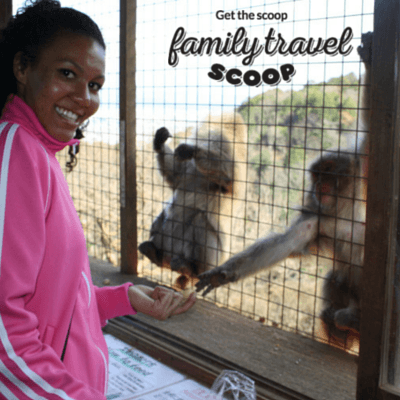 A visit to Monkey Park Iwatayama (western Kyoto-Saga Arashiyma JR Station) will be a hit with the kids.   These monkeys are macaques also known as snow monkeys and are the only type of monkey found in Japan. A visit to the park starts with a 20 minute hike up the mountain.   Entrance fee is 550 Yen for those above 15 and 250 Yen for those 4-15.  Free for children under 4.

The hike is quite scenic with lots of native trees, plants, and birds to check out.   It is quite a hike up starting with a loooooooong set of stairs and then paths that wind up the mountain.  The paths are quite rough with no hand rails in many parts so you will want to hold hands with younger children and bring a baby knapsack carriers for toddlers or babies.   
There are fun facts about the monkeys on boards dotting the path as well as benches for a rest if needed.  I definitely needed a break along the way!


At the top of the mountain we found lots of monkeys and a view to die for!  You can see the whole of Kyoto including Kyoto Tower and the Imperial Palace.  The monkeys are roaming around and there are a few rules to follow such as no feeding the monkeys that are outside, no staring them in the eye, no touching etc.    We did see a few monkey fights (with each other not the tourists!)
There is also an enclosed building where us tourists go into the cage and feed the monkeys as they happily hang off the outside of the cage.  You can buy monkey food for 100 yen a bag.  On the menu was peanuts and apples.  We spent along time here-the kids loved feeding the monkeys and watching them play.  There are drinks, a few souvenirs and a heater to warm up on cold days.   

On the route back down the hill there is a small playground with a slide, zipline and some swings. 
The Monkey Park is located in the Arashiyama area.  We had JR Passes so we took the Sagano Line to Saga-Arashiyama and then took a short taxi to the park.  There are bicycle rentals as well as boat rentals for the lake nearby.  You could easily spend a whole day here and combine it with a visit to the Bamboo groves and Tenruji Temple. 
This area is very pretty with lots of interesting shops and restaurants to check out.   We visited on a cold day so we stopped at the closest café to the Monkey park (on the corner) and had a hot chocolate and cappuccino to warm up.  The café had free origami papers and instruction books which was great fun for the kids
Monkey Park Iwatayama Official Site

Your first paragraph ...