Berlin Family Attractions
Things to Do in Berlin With Kids

Museums, a boat tour and the zoo are some of the best things to do in Berlin with kids. Berlin has such a fascinating but somber recent history and there are many museums and attractions dedicated to the horrors that existed in recent times.
The Holocaust Memorial is an excellent site to visit with children in Berlin, as is the DDR museum which has many hands on exhibits exploring life in the former East Germany. Be sure to mix it up with some lovely activities like a visit to Legoland or the massive indoor water park!

The weather in Berlin changes with the seasons. It is hot and sunny in the summer and cold and snowy in the winter. There are lots of parks to enjoy in the warm months and the Christmas markets in the winter.

Fun Things to Do In Berlin With Kids
Reichstag Building is the iconic Parliament building in Berlin. You can arrange a free guided tour for families (recommended for children ages 6-14) where you will learn about the parliament's work, history of the building and have a tour of the beautiful glass dome. Weekends only-must book in advance. This is one of the interesting things to do in Berlin with kids.
Brandenburg Gate is an iconic structure in Berlin and Germany. When the Berlin wall fell in 1989 the gate was left as a symbol of freedom. There are plenty of sites to see around the Gate. Children will enjoy the costumed figures and buskers.
Gendarmenmarkt is a lovely town square with plenty to see. There are 2 cathedrals, historical buildings, a concert hall, restaurants and shops. Kids will love seeing the street performers entertaining the crowds. Don't miss the chocolate shop Fassbender & Raush nearby which has chocolate models of the Titanic and the Berlin Reichstag! They have lots of mouth watering truffles-great treat for the kids! Another fun roaming experience. A must for your fun things to do in Berlin with the kids.
Museum Island is home to 5 museums in central Berlin. The Neues Museum is one of the best museums in Berlin for kids. It is home to a collection of amazing Egyptian artifacts including burial tombs, mummies and the famous Nefertiti bust. The building is quite beautiful. There are timed admission slots to control the crowds. Don't miss the Pergamon Museum it is also excellent for children. It has life-size architectural wonders from the East including the bright blue Ishtar's gate decorated with gold lions, dragons and bulls. There are also lots of artifacts on display including swords. Pack some modeling clay so the kids can sculpt their own masterpieces back at the hotel. This is one of the best things to do in Berlin with kids.
The Deutsches Historisches Museum provides a fascinating look at the history of Germany including the wars, the Nazi period and the reunification of the East and West. Great for teenagers who have already learned a bit about the history in school.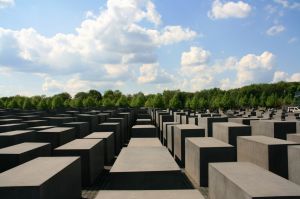 The Holocaust Memorial consists of 2 parts. There is a stelae field above ground and a museum underground dedicated to the lives of the Jews who died during the Holocaust. The stelae field consists of a maze-like structure of concrete slabs of different heights. It is a touching memorial and children most likely won't appreciate its significance but they will enjoy a walk through the grounds. Be sure to keep the kids from running around and climbing on the blocks. The underground museum is not recommended for young children, though teenagers may appreciate a visit. It is a very moving account of the Holocaust. 
Blue Man Group has a show playing in Berlin. This is a very entertaining show for kids of all ages. It is a combination of music, comedy and multimedia. The Blue Man Group only play in a few cities around the world so don't miss your chance to see them! Your teenagers will have a great time! Get tickets here.
A Boat Tour is one of the pleasurable things to do in Berlin with kids. There are short one hour cruises or half day cruises to choose from. Your family can even enjoy a sunset dinner cruise. Great way to see the architecture of this historic city from a different perspective as you explore the canals.
DDR Museum is an interesting museum highlighting life living in a dictatorship in the former DDR (East Germany). It is highly interactive with recreated apartments where the kids can play with old toys, they can sit in an old Trabi (East German car) and "drive it" on the simulation screens, and there is a Stasi interrogation cell. This is one of the interesting things to do in Berlin with kids.
Cultural activities + games + art + travel quizzes + coloring and much more


The Berlin Zoo is one of the most visited Zoos in Europe. It was home to the world-famous polar bear Knut who passed away, however, there are still several polar bears to see. There are lots of interesting exhibits here ranging from pandas to gorillas to hippos. The zoo is well known for its feeding times where you can watch the zoo keepers feed the animal throughout the day. There is also an aquarium on site. This is great day out for babies, toddler and children. It is located in Tiergarten (park). Read more!
The Berlin Cathedral is also located on Museum Island. It has beautiful stain glass windows, a huge organ and great views of Berlin from the dome. You will have to do some climbing up stairs for the dome so it is better for older kids and teenagers. Babies and toddlers can still enjoy the sights in the cathedral itself.
Tiergarten is a huge park in the city of Berlin. It has a beautiful lake, weeping willows and lovely walking paths for a stroll. There is lots of green space for toddlers and several playgrounds for the kids to climb on. Pick up some fresh bread from a bakery, salami and cheese from a deli and have a tasty picnic in the park on a warm day.
A visit to Legoland is one of the best things to do in Berlin with kids. This indoor playground is aimed at ages 3-11 and is filled with lego activities, rides and a 4D movie. There are Lego models of famous Berlin landmarks, a Lego factory demonstration and Lego pirate boats the kids can steer in a pool. Read more!
Tropical Islands is one of the biggest indoor water parks in the world. It is the size of 8 football fields and is filled with pools, water slides and a rain forest complete with tropical bugs! There is a kids club with organized activities such as dance parties and treasure hunts. Children will enjoy riding in the paddling power boats. It is located about 60km south of Berlin. You can even stay overnight in a tent in a sandy beach area of this indoor park!


There are plenty of tasty German food for kids to sample on your holidays. Soft pretzels dipped in spicy mustard, currywurst and apple strudel will be hits with the kids!
Read about other European trips for kids!
More Germany family travel info:
---
---
Home

›
Germany

›
Berlin