Things To Do In Munich With Kids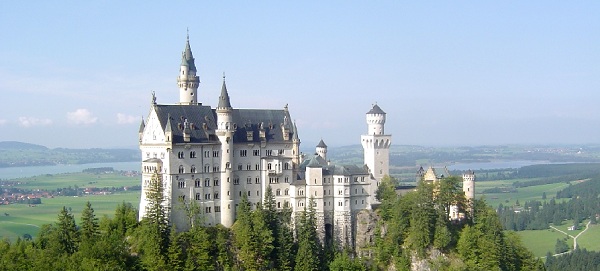 15 Family Attractions Not to Miss!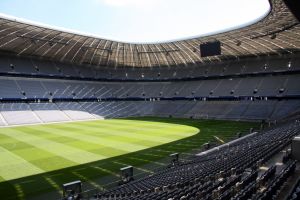 Are you ready for our coolest top things to do in Munich with kids guide?
Try to get tickets to a football(soccer) game at Allianz Arena. Join in the excitement and cheer on the home team FC Bayern. Great fun! There is also an English tour of the stadium held once a day where you can learn about the history of the stadium, the teams who train here, see the change rooms and the soccer pitch up close! This is one of the best things to do in Munich with kids.
Taking a stroll through the English Garden is one of the best things to do in Munich with kids. This is one of the biggest city parks in Europe and home to one of the largest beer gardens (near the Chinese Pagoda) where you can get some tasty food and of course beer, for the parents, (and yes your children can join you in the cafe)!
There is often live music. Teenagers can watch the surfers on the river rapids. Children will enjoy the playgrounds and renting a boat for a paddle on the lake. Toddlers and babies will enjoy feeding the ducks! What a great way to spend a few hours on a warm day in Munich with children!
The Munich Zoo is one of the top Munich family attractions. It is a huge zoo with many interesting animals to see. Most enclosures are cage free and there are some interesting exhibits with a few different species together. There is a playground here for the kids to climb on and several cafes to grab a bite to eat. This is a great thing to do in Munich with kids of all ages.
St Peter's Church is an interesting spot to visit with your family. It is a beautiful 700-year-old building with lots of gold and colorful painted ceilings. Teenagers and older children will be intrigued by the decorated skeleton of St Mundita. 

Don't miss out on climbing the tower (300 stairs in a very narrow staircase) with your older kids for great views of Munich. On clear

days

you can even see the Alps! If you visit on a Saturday at 3pm you can watch the bells vibrating as they ring in the Sabbath! One of the interesting things to do in Munich with kids.
The Marienplatz is the central square in Munich and it is dotted with old buildings, churches, restaurants, shops and statues. The square is usually buzzing with activity and there are sometimes vendors and street performers here. Children will love seeing the dancing figures when the Glockenspiele strikes 11 am, 12pm or 5pm (no 5pm show in winter).
---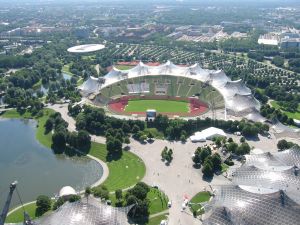 More Fun Things to Do in Munich
Head to the Olympic Park where the 1972 Olympic games were held. There is lots of fun things to do with kids here! There is a beautiful lake, an aquarium (fun for the kids) and you can tour the facilities. You can even go for a swim in the Olympic pool or skate on the ice rink (skates available to rent). Your daredevils will love the roof tour! You are attached by cable as you explore the stadium roof. Ages 10 and up. Teenagers will love the fly foxing (zip lining) from the roof. Your family can also enjoy great views of Munich from atop the Olympic Tower, a game of mini golf or hire a pedal.
The Toy Museum is located in the Old Town Hall next to the Marienplatz. It is a small museum showcasing toys from past generations. Children will like the doll collections, model boats, miniature collections and the Barbie display!
Nymphenburg is one of the best palaces to visit in Munich with kids. The palace is ornate with lots of gold trim and chandeliers. The antique carriage museum is not to be missed as well as the porcelain museum. There are lots of interesting building to explore. Audioguides are available. It is set amongst beautiful grounds with ducks and fish to feed in the lake. Pack a picnic lunch to bring with you! Ice skating is popular on the lake in the winter. Children under 18 free.
Starnberger See is a relaxing spot to visit and escape the crowds in the city. It is a lake located about 30 minutes from Munich. Pack a picnic lunch to bring with you and enjoy the scenery. The kids will enjoy feeding the ducks and fish.
BMW Welt, Museum & Factory Tour

is

one of the unique things to do in Munich with kids. There are lots of new model BMW bikes and cars in the Welt (showroom) that you can sit in. Children and teenagers will love the interactive exhibits with drive simulators and a design your own car exhibit. They often have stunt drivers showcasing their cars and motorcycles.
Parents -if you have always wanted to drive a sports car down the Autobahn this is your chance. You can rent the cars for 1 hour for less than 50 euros! Your teenagers will love this!
The museum showcases the history of BMW with lots of older model cars. The factory tour is very interesting for children as they will see up close how a car is assembled and the robots are cool! One of the best family friendly Munich attractions. Family tickets are available (closed on Mondays).
Cultural activities + games + art + travel quizzes + coloring and much more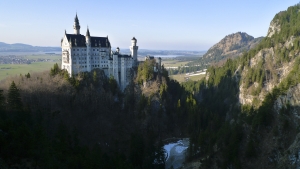 Enjoy a day trip to Neuschwanstein Castle located in the charming village of Fussen. You can catch the train from Munich and explore it on a day trip. It was the inspiration for Disney's sleeping beauty castle. You can tour the castle, walk the grounds and go for a swim in the lake. Children will be enchanted on a ride up to the castle in a fairy tale like horse and carriage ride! There is a fair hike uphill and the trek is not very stroller friendly so a baby knapsack will be best if traveling with a baby or toddler.
Visiting Deutches Museum is one of the interesting things to do in Munich with kids, great for a rainy or cold day. This interactive science museum is one of the biggest in Europe. It has an excellent Kids Kingdom with fun exhibits for those ages 3-8 such as water experiments and a real fire engine to climb in. Older kids will enjoy the Inventors Trail that showcases inventions from scientists around the world.
Enjoy the tasty German cuisine on your Munich family holidays. Soft doughy pretzels make a great snack for the kids. Don't miss out on a hot grilled brat (sausage). Check out these German food for kids to sample on your trip.
Circus Krone is an entertaining show for the whole family. With thrilling acrobats, daredevil stunts and elephants and tigers, its enjoyable for babies, toddlers and children!
Wildpark Poing is a lovely wildlife park outside of Munich. There are deers roaming freely that you can hand feed. There is a petting zoo and playground for toddlers and children. Lots of other animals to see such as owls, wolves and foxes.
So what did you think about our top things to do in Munich list? Tell us on Facebook!
More Germany fun with kids!
---
---
Home

›
Germany

›
Munich