Best Things To Do In Ho Chi Minh City with Kids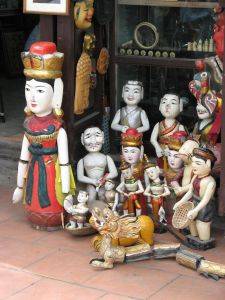 There are lots of fun things to do in Ho Chi Minh City with kids. There are several cultural theme parks with loads of rides, games and shows for the kids. Teenagers can shop till they drop in the markets and toddlers and young children will be fascinated watching the water puppets.
Vietnam is an exciting place for a family trip. Mix up the excitement of the cities with a few days at the beach or in Halong Bay. There are some great deals to be had here too. It is a great place to visit if you are traveling on a budget.
Cultural Activities + China Country Facts + Country Games + Coloring + Fun Quizzes and more for kids 4-13!
Ho Chi Minh City Attractions For Kids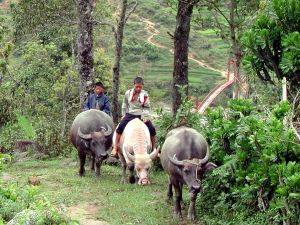 Take a river boat ride up the Saigon River with the kids. You will get a fascinating glimpse of life on the river. The kids will enjoy seeing the houses along the way and waving to the kids playing in the water. They might even spot a water buffalo along the riverbanks.
Vietnamese food is one of the other interesting things to try when you travel there. There are lots of tasty rice and noodle dishes that the kids will enjoy. The spring rolls were my kids' favorites!
Cu Chi Tunnel is one of the most famous landmarks near Ho Chi Minh City. If you are visiting here with kids keep in mind it is a two-hour drive on a bumpy road. A better option may be to take a river taxi so your family can enjoy the scenic views. The tunnels themselves are quite cramped, but it is an interesting peek into how life was during the war. The kids will enjoy crawling through the tunnels.
Head to one of the markets for some souvenir shopping. Teen will enjoy bargaining with the vendors for some trinkets to bring home. At this Ho Chi Minh attraction, you will find souvenirs, jewelry, DVDs and clothing. Ben Thanh is one of the most popular markets although you may want to skip the meat section -or at least hold your breath!
Saigon Hotspots is a voluntary tour guide service. A student from one of the local universities will show you around town and give you and the kids some insight into life in Vietnam. A voluntary service is provided so you may want to bring a small gift from home for your guide.

Watching a water puppet show is one of the best things to do in Saigon with kids. This beautiful show is sure to entertain the kids. There are colorful puppets including dragons and other creatures that seem to dance on the water as they tell the tales of Vietnam. Toddlers and young children will adore this. The water puppet show at Thao Dien Village is combined with an excellent meal although it is not shown every night. beware though the shows are quite long so the novelty may wear off with young children after the first act.
Dam Sen Water Park is one of the thrilling Saigon attractions for kids. This is a great way to escape the heat. It has several waterslides, a children's pool, lazy river and water playground. Sundays are generally the busiest days. The park is currently closed on Tuesdays. The entrance fee is very cheap so enjoy!
Another one of the lovely things to do in Ho Chi Minh City with kids is to visit Dai Nam Van Hiem which is a combination gardens, temple and amusement park. Children always enjoy the roller coasters and bumper cars as well as playing the amusement games. There is also a zoo and 4D movie theater. You can also explore the park on tandem bikes or on the road train. It is located about an hour from HCMC.
More things to do in Ho Chi Minh with kids!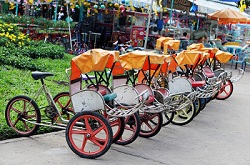 Take a ride on a cyclo through the streets of Saigon. The kids will get a kick out of this unique transportation. Be sure to negotiate the price with the driver before you set off. One of the unique things to do in Saigon when you travel to Vietnam with your kids. My kids really liked these rides.
The Saigon Zoo and Botanical Gardens are quite beautiful and the kids can chase the butterflies. There are lots of exotic animals at the zoo and the kids may have an opportunity to feed some of the animals. However, keep in mind the cages are quite cramped and standards are not very high at this zoo.
Suoi Tien Cultural park is one of the best cultural things to do in Ho Chi Minh with kids. It offers amusement rides, a water park and a beach. There is a small zoo and lots of shows to watch. Teenagers will have a blast going inside one of the big plastic bubbles and running across the water in it!
Vietnam Cookery Center offers cooking classes for children. Spend an afternoon exploring the market for fresh ingredients and then the whole family will enjoy cooking up a Vietnamese feast. The best part is you then get to eat your delicious dishes. Kids favourite things to do in Ho Chi Minh!

Stop for an ice cream treat while you are exploring Ho Chi Minh City with the kids. Vietnam is known for its delicious fresh fruit ice cream.
You can pop into the post office with the kids and check out this beautiful historical building. It is a great place to buy some Vietnamese stamps and send postcards to their friends back home. Then head next door to the Notre Dame cathedral which is a replica of the famous Paris landmark.
The Diamond Plaza is a shopping mall located in town. It has an arcade where the kids can play loads of games. It is quite cheap for tokens for the games.
Read about other Asian Holidays here.
What are your favourite things to do in Ho Chi Minh with kids?
Plan your Vietnamese Family Trip!
---
Kid's Travel Guide

Children learn all about the culture of Vietnam with these downloadable travel guides!
---