The 12 Best Hanoi Family Hotels
2017 Family Travel Guide to Vietnam

If you are wondering where to stay in Hanoi with kids, don't worry we can recommend some wonderful Hanoi family hotels for all budgets and sizes!
Whether you are looking for budget family accommodation in the Old Quarter or a serviced apartment in a quiet area, you will have lots to choose from.
Read more about things to do in Vietnam and Hanoi here!
Learn about yummy Vietnamese food here!
Cheap Hotels
Holiday Silver
9A/10 Ngo Huyen Street, Hoan Kiem, Hotel Website
Holiday Silver is one of the best budget Hanoi family hotels. It is situated in the center of Hanoi only a 1 minute stroll from the Hoan Kiem Lake and with plenty of shops and restaurants nearby. Breakfast is included! Our father is a frequent guest of this hotel and he highly recommends it! The staff are friendly and helpful!
For the Kids:
Cots

available for babies and toddlers
Babysitting service available (fee)
Laundry Service
TV. Mini fridge, Free Wifi
Fits a family of:
4 in a family

room
Interconnecting rooms available
Triple Rooms

---
Serenity Hotel
1B Cua Dong St, Hanoi
This is a cheap hotel located in the Old Quarter with lots of restaurants, shops, markets and spas to explore! Start the day with a buffet breakfast included in your rate.
For the Kids:
A/C, a minibar, tv with satellite (and quite a few English channels).
Free wi-fi is also available in the rooms
Fits a family of:

---
---
---
Cultural Activities + China Country Facts + Country Games + Coloring + Fun Quizzes and more for kids 4-13!
Moderate Hotels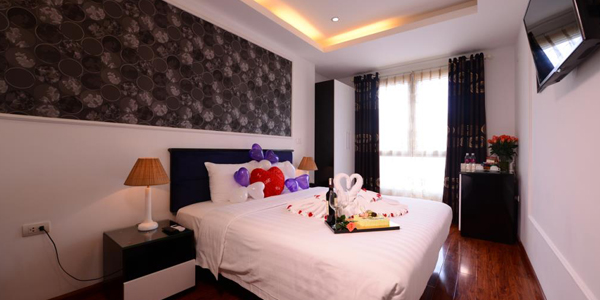 Golden Sun Palace Hotel
33 Hang Quat, Hoan Kiem, Hotel Website
Golden Sun Hotel is one of our favourites-my father is a regular visitor to this hotel!  It is modern and has lots of amenities such as mini bar!  Breakfast is included in the rate and has plenty to offer even the pickiest kids-fruit, cereals, yogourt, eggs and omelets!  It is located in the old quarter close to the night market, fruit markets and the lake.
For the Kids:
2 TV's in family room with premium channels
Ipod docking station/DVD players
Walking distance to the water puppets. 
Fits a family of:
It offers family rooms that can sleep 4 (2 King).

---
Boss Hotel
20 Lo Su, Hoan Kiem
Boss Hotel is one of the top places to stay with kids. The room has a wooden bathtub (it's really nice!) and a shower as well. There is a living area too! Start the day with the delicious buffet breakfast! It is located in the Old Quarter.
For the Kids:
The room has a computer and free internet access
Fresh fruit basket daily
Fits a family of:
It offers family rooms that can sleep 4 (1 King, 1 Queen Bed).

---
Army Hotel
33C Pham Ngu Lao Street, Hoan Kiem District, Hanoi
This hotel is run by the Military Ministry of Vietnam and the staff are quite friendly! It has beautiful gardens and is located in a quiet area. The facilities are quite basic overall but it does have a pool!
For the Kids:
Swimming pool (one of the few hotels with a pool in Hanoi!)
Snacks & Drink available around the pool.
Fits a family of :

---
Splendid Star Grand Hotel

No 14 Tho Xuong, Hanoi, Hotel Website
Splendid Star Grand Hotel is in the old Quarter. It offers . The rooms are modern. It is a five minute walk from Hoan Kiem Lake which is very convenient. You will find an abundance of places to dine nearby and cafes serving the famous Vietnamese ice cream.
For the Kids:
Cots are available for those with babies or toddlers.
A/C, cable tv, minibar and computer with wi-fi.
They have noise cancelling windows, which in Hanoi are a huge plus-especially so the kids sleep well!
Fits a family of:
Family rooms that can sleep a family of 4.
An extra bed can be added for families of 5

---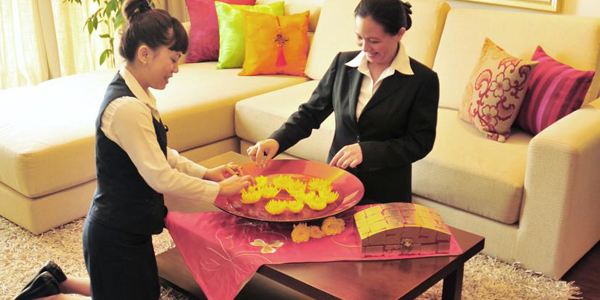 Fraser Suites
51 Xuan Dieu Street, Quang An, Tay Ho District, Hotel Website
Fraser Suites is a great option for large families. You can make your own meals if you tire of pho and spring rolls! This accommodation is located near West Lake . If you eat a few too many spring rolls you can always head to the fitness center.
For the Kids:
Outdoor pool
Indoor & Outdoor play areas
Shopping Mall attached
Fits a family of:

---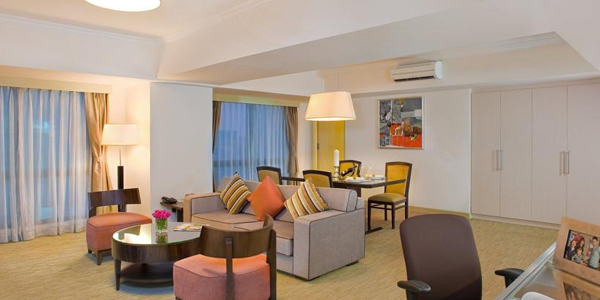 Somerset Grand Hanoi
49 Hai Ba Trung Street, Hotel Website
This is another great option for families traveling to Hanoi. It is centrally located and within walking distance to the Old Quarter. These holiday apartments are modern and spacious.
For the Kids:
Outdoor swimming pool
Children's play area
Wi-fi, laundry facilities and home entertainment center in the apartments
Babysitting services are also available
Fits a family of:
Executive apartments can sleep a family of 4.

---
More Hanoi Family Hotels
Plan your Vietnam family trip here!
---
---
Home

›
Vietman

›
Hanoi Hotels