Halong Bay With Kids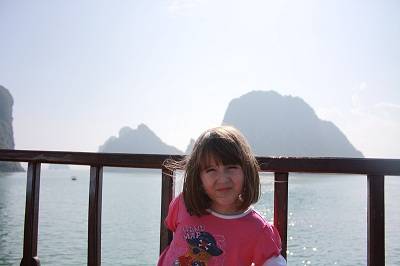 Halong Bay is a must do when you visit Vietnam with your children. It is stunning and to date has been one of our best memories and most spectacular sights of natural beauty in our world travels!
Filled with thousands of limestone Karsts and isles- the bay is simply breathtaking. Our children had a fabulous time searching for the different shaped Karsts. Several have names, such as tiger or fighting cock, due to their shapes.
The legend of Halong Bay is fascinating for children as well. It is said that when Vietnam was fighting foreign invaders, the gods sent a family of dragons to protect the Vietnamese.
The dragons spit jewels and jades which upon hitting the bay were turned into the islands. These islands joined together to create a wall which stopped the invaders. This land became Vietnam and the dragons loved it so much they decided to stay on Earth and live here. Ha long means descending dragon.

A cruise on board one of the junks is a wonderful experience with kids. Most junks offer 2 or 3 day itineraries with lots of activities.
Meals are generally included with lots of fresh seafood. Let the tour operator know if your family is not big on seafood and they will cook up some chicken dishes too. Some tours do not include drinks and these must be purchased separately. Many tours will include transportation from Hanoi (approximately 3.5 hours drive).
There are lots of activities included in the tours. Most will include a stop at one of the caves and at one of the beaches. If you are visiting Halong Bay with toddlers or small children you will need to be careful as there can be lots of steep steps to enter the caves.
Cultural Activities + China Country Facts + Country Games + Coloring + Fun Quizzes and more for kids 4-13!
---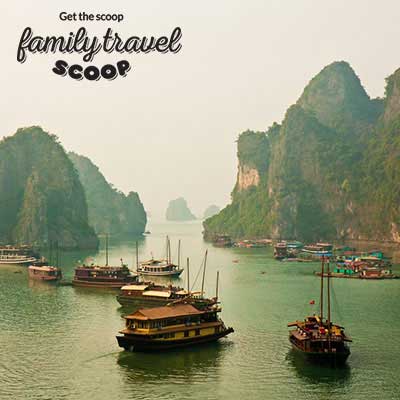 Kayaking is offered by several junks however this is better suited for older children. A sunrise tai chi lesson is also an interesting activity for the kids.
Evening fishing for squid is another of the unique things to do in Halong Bay with kids. You may also get to visit a fishing village or see the monkeys playing on the rocks.
Don't forget to pack sunscreen and water shoes if you plan to do any swimming on your tour. Also remember to pack your mini medical kit.
I left mine at the hotel in Hanoi and of course my oldest daughter woke up with a bad stomach. There aren't any pharmacies in the middle of Ha Long Bay (lol) so we made do with some boiled ginger tea and some Tylenol.
Halong Bay should be high on your list of places to travel to in Vietnam with kids. It was definitely my family's favorite part of visiting Vietnam and one of the best places we have ever been too.
It was recently named a new wonder of the world! The beauty of this place is truly amazing-it is one of the most stunning landscapes that I have seen. It is also a nice escape from the chaos of Hanoi.

Halong Bay Family Friendly Junks
***You will need to find a junk that is suitable for children when you travel to Halong Bay.***
The Au Co has brand new vessels, operating from March 2012. This is the first and the only luxury cruise company in Halong Bay to operate three day two night cruises with visits to Cat Ba Island, Lan Ha Bay, Bai Tu Long Bay that no other boats in Halong Bay can do.
The Au Co stands out as the only steel made vessel that can guarantee maximum safety, comfort and luxury for your family trip. The biggest boat at 55m (180 ft.), the lovely The Au Co has 32 cozy rooms, a fine-dining restaurant, and enough room to move about comfortably. However, this luxurious trip has a hefty a price tag, but the 3-day, 2-night cruise is a great experience.
Bhaya Cruises is one of the best family friendly luxury junk operators. They have 7 vessels to choose from with daily departures from Hanoi. You can choose from 1 or 2 night tours with stops at the beautiful Cat ba islands. They also offer private boat rentals for families. They offer a kid's menu as well as child size life jackets. Children under 6 are free and there is a discount for kids ages 6-12 (sharing room with parent).
Paloma Cruise offers family suites that can sleep a family of 3 (2 adults and 1 child). Children's discounts available for children under 12.
Emotion Cruise offers a family suite cabin with connecting door. One room has a double bed and the other has 2 single beds. This Halong Bay boat can sleep a family of 4. It also has a private balcony.
Victory Star Cruise is a luxury Halong junk with family connecting cabins that can sleep a family of 4. It also has triple cabins available with 1 double and 1 single bed.
Classic Sail is another option for families that travel to Halong Bay. It offers interconnecting double family rooms that can sleep a family of 4.
If you are looking for a private charter then check out Prince I Cruise as it has 2 deluxe cabins (one double, one triple) and can sleep a family of 5. Or the Bhaya Legend II has 2 suites that can sleep a family of 4.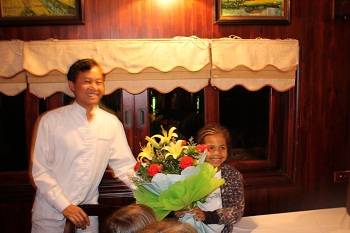 If you are traveling in a large group you will easily find junks available for a private tour. When my family visited Vietnam we were nine people and we were able to have a private junk at a very reasonable price. We went on the Bai Tu Long Junk and had an amazing time. The rooms are double rooms only so we split up the kids with an adult. The rooms were very small with 2 narrow but very comfortable twin beds.
The staff were wonderful. It was my daughters 7th birthday so we arranged to have a cake and the captain came out and presented it to her along with a gorgeous bouquet of flowers.
Our family travel to Halong Bay was the highlight of our visit to Vietnam. it is really one of the best things we have done in our our world travels! I am smiling now just remembering it!
Plan your family holiday here!
---
Kid's Travel Guide

Children learn all about the culture of Vietnam with these downloadable travel guides!
---
Home

›
Vietnam

›
Halong Bay