Seoul's Incheon Airport With Kids

Now THIS Is How An Airport Should Be Designed!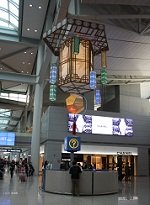 Airports-ugh! Uncomfortable and boring. I love to travel but I dread the airports, especially when traveling with kids. Some of the worst ones are in hot tropical locations and no air conditioning. Most airports are filled with overpriced shops and restaurants and absolutely nothing else to do!

Read more about Korea:

Ever spent a night in an airport-being forced to sleep on the floor because every single chair in the entire airport has metal dividers?
Freezing, and being woken up every few minutes by the security announcement? Been there, done that, hope to never experience that again, particularly with my 3 kids in tow.





So needless to say on my latest trip home from Bali via Korea, I was dreading the 6.5 hour layover at the Incheon Airport with my children. We would be coming off a 7 hour flight which left at 3 am from Bali. Oh how am I going to survive this with my 3 tired and grumpy kids.


I considered a quick trip into Seoul, but with such a short time frame, and high transportation costs to the city, I scrapped that plan. My back up plan was to book the day rate at a nearby airport hotel if the kids (and my own) whining got to be too much

I soon realized the back up plan was not needed as I had the pleasure of exploring Incheon airport with my kids.
For the first time ever, I was not desperate to move from uncomfortable airport chair to an even more squished and uncomfortable airplane chair. Korea has got it right, very right! Now this is how an airport should be designed!


We stepped off our flight and headed through the security screening for transferring passengers. We quickly proceeded through and entered this modern and memorable airport.


A quick stop at the toilets, revealed those lovely ones where you don't have to worry about sitting in someone else's pee!
Just wave your hand over the sensor and a clean batch of plastic wraps around the seat. They have thought of everything here-there is even teensy tiny toilets for toddlers.


First stop was to the free showers. Having woken at 1 am to catch our flight, we had skipped our morning showers in lieu of a few extra minutes of precious sleep.
We headed to the relaxation lounge where we all enjoyed a nice hot shower in a clean, modern private bathroom. Each shower room has a toilet, sink and shower with rain drop shower heads. My own bathroom doesn't even have such a nice shower head.
Small face towels and soap are included. Rental of a towel and shower kit are available for a small fee.

Feeling refreshed and a bit more civilized, we stopped at the nearby play areas for the kids to burn off some steam. (Where do kids get all this energy???).
They climbed on the jungle gyms, bounced on the mini trampoline and did some gymnastic moves on the mats. I, on the other hand, relaxed and read a magazine. We actually found 4 playrooms around Incheon, one even had a ballroom! The play areas also have nursing stations, complete with hot and cold water facilities for making baby bottles.


After this it was a quick stop at the free laptop lounge facilities to check emails and for my teenager to update his Facebook status.
I used my own laptop with the free wi-fi that is available throughout the building to read the news and check the weather back in Canada (ugh snow and freezing cold!). I was even able to borrow an adapter from the information desk so that I could charge my laptop.

Next we visited one of the Korean cultural centers. These are a brilliant addition to the airport. We put our artistic skills to work and made traditional Korean dolls decorated with paper mache outfits with the guidance of the helpful staff.
We listened to the live performance played on traditional instruments as we created our cool Korean souvenirs. The kids loved this. And best of all this was completely free!

Other Travel Articles

We decided to take a stroll and along the way we encountered an example of a royal procession. It was quite intriguing to watch the colorful group of Korean royalty dressed in their finest, march through Incheon airport.

Our stomachs were grumbling so we checked out the food courts. There is plenty of choice from tasty Korean restaurants, the usual fast food fare and even a Jamba juice for a delicious boost of healthy fruit juices. There are lots of shops to check out and explore (though most out of my price range-no Louis Vitton or Prada for me).
National Museum of Korea in Incheon Airport

After we had a bite to eat we headed back to the relaxation lounge on the upper floor to explore the artifact displays from the National Museum of Korea. The kids enjoyed the exhibit which showcased the life of the children in ancient times.

We then relaxed on the wonderfully comfortable reclining loungers and watched the planes land and take off for a while. Wow! No hard chairs with metal dividers, there are actually places for people to lie back and enjoy the view. There are also interesting gardens scattered throughout, including a gorgeous bunch of orchids.

I considered having a massage at the spa, but having had more than my fair share of massages in Bali, I skipped this one. Manicures are also available.


We didn't even have time for the $5 temple tour that is offered by Incheon airport for travelers with long layovers. Time flew by and we headed for our gate.
There was another cultural center along the way. This one was offering the chance to dress up in the traditional clothing of Korea.
Our time was running out so we had to skip this one. It unfortunately was time to leave this world class airport and board the plane back home. I was actually beginning to hope my flight would be delayed so I could take a snooze on one of the recliners.

Airport designers, please take note of Seoul's Incheon airport. Now THIS is what every airport should be like!

Check out the airport's website here!
What is your favorite airport to travel to with kids? Share on Facebook!

Home

›
Travel Tips

›
Incheon Airport