Pioneer Kayaking Melbourne -Phillip Island

Enjoy an Outdoor Experience.
Kayaking Melbourne, Australia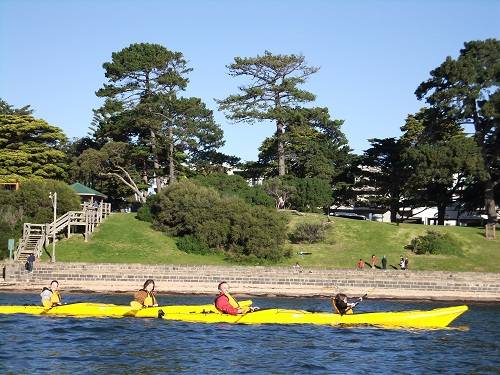 Go kayaking Melbourne style!

If you are visiting Australia and going to Melbourne make sure you include a day or overnight trip to Phillip Island. There are so many things to do on Phillip Island and our favorite was kayaking with Pioneer Kayaking! 

We were looking for family friendly things to do and wanted to try something sporty and something we wouldn't normally try! It was our first time to kayak so we weren't sure what to expect but it was amazing! Stewart our guide from Pioneer Kayaking was amazing-so friendly and helpful! We had so much fun trying something a bit different and saw some spectacular views too!
We were met by Stewart at the beach on Dunsmore Road for the one hour Cowes Foreshore Tour. From there was learnt how to safely kayak and about the equipment we were using. We had to put on our life jackets and a skirt type item that then covered the lip of the kayak preventing water from getting in so we were nice and dry after getting out (apart from my husband who fell in the water at the end but that is another story!)
Once we were in the kayaks and knew how to use the foot controls and paddles we were pushed into the water and then followed our leader Stewart. It was a beautiful, sunny day on Phillip Island (although it was winter!) and the scenery was stunning!
We kayaked for about an hour not too far from the shore but far enough to enjoy the amazing views Cowes has to offer!

Even if you have never kayaked before. Pioneer Kayaking is a great company who shows you step by step how to manage the kayak and in the end it was quite easy once we got the hang of it!! I highly recommend this tour!

Games + Fun+Art Activites + Cultural Activities -All about Australia
---
Types of Tours

Tours start at $30 a person and there are family discounts. All ages can participate! The offer different tours including:
Cape Woolamai Coastal Tour
Tours can last from one hour to the whole day! Tailor made tours are available as well when you're kayaking Melbourne through Pioneer Kayaking!

---
Pioneer Kayaking Contact Details

Pioneer Kayaking details
Tel: 0459 219 317
Contact info@pioneerkayaking.com.au
Address:
P.O. Box 948
Cowes, VICTORIA 3922
Website: http://www.pioneerkayaking.com.au/
More Things to Do on Phillip Island and Melbourne
Australia

›
Kayaking