World's Best Amusement Parks for Kids
Top 10 Family Entertainment Parks around the Globe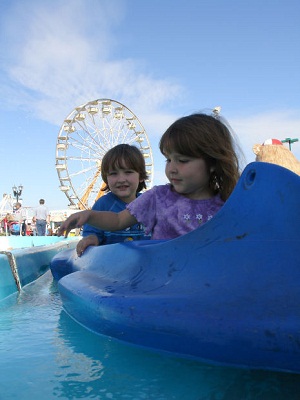 Where are the world's best amusement parks? Let's face it, amusement parks are fun.
While we may head to them under the pretense that they're just for children, let's not forget how much we enjoy them too!
Not all parks are created equal, here are our top 10 that you really must visit with your family. These parks are great for families!

Enjoy yourself too-it is so much fun to be a kid again and amusement parks are the best place to do that! It certainly is one of the joys of travelling with kids to see them in one of these parks having so much fun!

Best Amusement Parks for Kids

EUROPA PARK -Four million visitors a year can't be wrong. This seasonal park in Rust, Germany is the largest of its kind in the world. There are rides to suit every age and even adults will have an amazing time.
There are themed sections in the park for each European country and the rides include roller-coasters (some with a minimum age of 4 years); water rides; films and live shows. Kids under 4 years old enter for free and for them there are fewer rides. The place is huge and kept very clean and organized. Entrance is €33 for adults and €37.5 for kids.
ALTON TOWERS RESORT -With a theme park, water park, live shows, costume characters and spa all on site this Alton, Staffordshire resort has something for everyone. The place was voted the best UK theme park and the seasonal park is open from 24th March to 4th November.
There is a theme park for younger kids within the main park and there are at least 14 rides that young kids can ride safely and without fear. On the other end of the scale there are at least 10 rides that will thrill and scare older kids. Of course there are other rides as well.
SIX FLAGS MAGIC MOUNTAIN -Located in Los Angeles, California, this is home to a one of a kind park. Ride the first roller coaster in the United States that spins vertically as well as several other record breaking attractions.
Here there are several rides which very young kids (under 42 inches in height) can even go on alone and others where they need to be accompanied by an adult. But for kids under 32 inches there is only the Rapids Camp Crossing observation tower that they can ascend so if you bring children of this height you'll have to take turns holding the baby.
In my opinion teens may be disappointed here by the amount of super scary rides although the Cyclone 500 "race car" track will excite them but there seem to be more restaurants than rides! General admission is $62 and kids pay $36.99.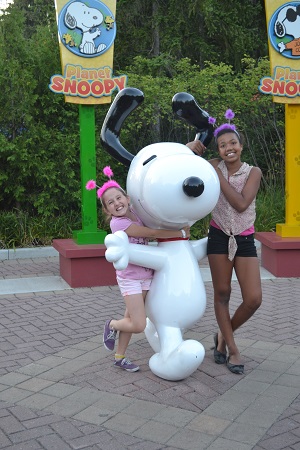 EVERLAND -3700 acres in South Korea is home to the three theme parks that make up Everland. They claim to be fifth on the list for the most loved park in the world and you can take a break from the rides and play a round of golf or visit the onsite zoo.
Onsite there is an amusement park, water park, firework displays, zoo, live performance shows and an incredible flower garden which is dense with brightly colored flowers.
The animal section has a tour bus which takes you through a "safari" park as well as Animal Wonder Park where you can learn more about the beasts. The good thing about this park is that it has such diverse attractions that there is something for everyone. Teens will love this park just as much as the little ones.
DISCOVERY COVE -In the heart of Orlando, Florida lies this exclusive, limited entry amusement park focused on marine life. Only 1,000 visitors are allowed to come in at any given time, which means no crowds, and no lines.
The basic package will get you a 30 minute dolphin interaction, snorkeling, a free-flying aviary, use of the beaches, a lazy ride down the Wind-Away-River, food, all the equipment you need including sunscreen and parking.
Entrance to this site is really worth it, not only do you get the day in the resort but snacks and drinks are free! Your ticket also gets you free entry into either SeaWorld Orlando, Aquatica or Busch gardens Tampa Bay.
The downside is that kids must be at least 6 to swim with the dolphins and kids 6-12 must be accompanied by an adult who will be swimming with a dolphin on the other hand younger kids can be "a trainer for the day". Overall this attraction is worth the money for the whole family for a whole day but it is a theme park not an amusement park.
Read more about Orlando Holidays here!
SESAME PLACE -If you love all things Sesame Street Langhorne, Pennsylvania is the only place you'll find to get your fix. There are the usual rides and exhibits, but the coup de grace is the replica set that you get to be a stroll down, including Oscar's garbage can and Big Bird's nest. The park has both dry and wet rides (including a unique sand slide).
As there are only 5 thrilling rides which require you to be over 42" and taking into consideration the theme of the park this is definitely for younger kids, perhaps under 12's. Older kids will enjoy (and probably spend all their time) at the wet ride section where there are high water slides.
PARC ASTERIX-Next time you're in Plailly, France be sure to visit this exciting park, dedicated to the comic book characters from the Asterix series. After all, where else can you find 40 candy stores in one park? The park has 32 attractions, 8 shows and 6 universes with both wet and dry rides.
There is a large dolphinarium with daily dolphin shows and several onsite hotels. You can see by the interactive map on the park's website where there are rides for the younger kids, thrill seekers and all the family. This huge park has something for everyone and is reasonably priced at €44 for adults (over 12) and €33 for 3-12-year-olds.
Read more about Holidays in France here.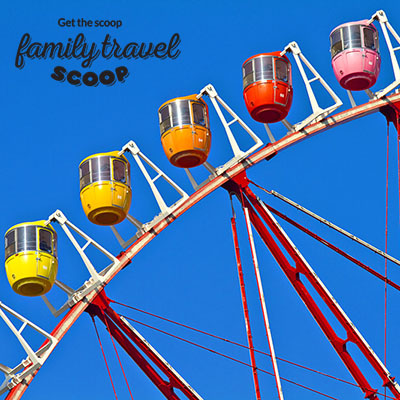 CEDAR POINT -If roller coasters are your thing, you have 15 to choose from when you visit this Sandusky, Ohio park. Modestly claiming to be the best theme park in the world there is a water park and dry rides as well as shows.
There is a kiddies kingdom for very young children and before you get started you have your height measured and get a wrist band according to your height this saves a lot of confusion about what rides kids are allowed on.
Within the grounds there are rides for kids, families and thrill seekers but the really scary rides are in an area called Challenge Park. Challenge Park can be accessed without entering Cedar Park and each ride is paid for individually. What does this say about your teenage kids?
They will be off in this other section spending money on each individual ride ($5-$30 each). There are plenty of rides in the park for all age groups but you know where your teens will be heading and that it will cost you.
TOKYO DISNEY SEA -The attention to detail and the original water theme of this park make it a once in a lifetime experience there are both indoor and outdoor activities and 11 rides which will thrill older kids. Younger kids are also catered for (perhaps more than their older siblings).
The most obvious feature of the park is the number of forms of transport including a steamer line, Venetian gondola, Big City Vehicles and electric railway.

Although there are shows they are not the spectacular cabaret type and the enjoyment

in

the park is partly just in getting from one place to the other and "walking through".

Read more about Tokyo Holidays here!
HOLIDAY WORLD AND SPLASHIN SAFARI -Its location in Santa Claus, Indiana is your first clue that you're going to have fun here. The next is riding the water coaster with the distinctive title of world's longest, in fact they have the two longest Wildebeest and Mammoth. Don't miss the other 9 record breaking coasters on site. Your ticket also gets you free entry to Splashin' Safari Water Park. Originally focused only on the Christmas theme there are now sections dedicated to a number of holidays like Halloween, for example.
There are 5 traditional roller coaster including the first winged launch coaster in North America called the Thunderbird.


There are also a number of shows including a diving show. Kids of all ages will enjoy this park although I would guess the younger ones will get more out of it. 

You and your entire family will laugh, scream, and have a ball at any of these amusement parks for families! 

Read more about USA Family Holidays here!
Also visit
More Family Travel Tips

Home

›
Best Attractions

›
Top Amusement Parks