Best Zoo -Greatest Zoos Worldwide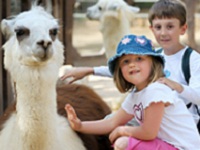 Zoos capture the imagination of old and young alike. So where is the world's best zoo? There are some amazing zoos and parks, they are informative and fun. Here is a zoo directory of some of the top ten zoos in the world. When you travel bring the kids to these amazing zoos and you are sure to learn something new!
---
Our Best Zoo Directory
Animal Kingdom, Orlando, Florida USA - This is both a theme park and a zoo. This spacious and natural habitat is not your ordinary zoo with small cages and hand fed animals. Open spaces where animals are free to roam are characteristic of this park. There is little human contact with the animals and there is always something to do at this fun destination.
The Basel Zoo in Switzerland was opened in 1874, one of the oldest zoos in operation. It houses about 6,000 animals and is one of the most popular tourist destinations in the country.
The Beauval Zoo in France opened in 1980, originally as an aviary. Ten years later animals were added to the site. The aviary is still a not-to-be-missed attraction and is home to over 2,000 species of birds.
The National Zoological Gardens of South Africa is the largest in the country. Along with many animals, there is an aquarium and a beautiful collection of exotic trees.
Singapore Zoo is one of the most unique in the world. It is famous for its amazing landscape design. You can even feed the elephants. Young and old alike are bound to be entertained by the free roaming orangutans!
---
Also visit
In Canada, the Toronto Zoo is one of the largest in the world. With 700 acres and over 6 miles of walking trails, you will easily fill your day here with your children. The zoo is home to about 5,000 animals.
Schronbrunner Zoo in Vienna, Austria is the oldest operating zoo in the world. It first opened in 1792. Be sure to visit the Rainforest House and catch a glimpse of the polar bears in the Artic Polarium.
The Berlin Zoological Garden in Germany was opened in 1844. This famous zoo hosts some very rare species and is known for its success in breeding endangered animals.
Sydney, Australia is home to the Tarongo Zoo. One of its outstanding features is the Water Seal Show. The seals here are rescues, so you can feel good about your contribution to this beautiful zoo.
The Chester Zoo in Great Britain may not be that large, but it is popular and with good reason. It opened in 1934. For those of you who want a more interactive experience, sign up to be a zookeeper for a day!
Make your next international vacation with the family a memorable and wonderful experience. Visit one of the listed zoos or parks. Learn about the amazing variety of life housed on our unique and diverse planet.

Home

›
Best Attractions

›
Best Zoos