12 Amazing Banff Area Hotels -2018 Guide
These great Rocky Mountain hotels are family and kid-friendly, they are well located and all include those essential extras we love.
See more Rocky Mountain articles:
Canadian Rocky Mountain Luxury Hotels
Fairmont Jasper Park Lodge 
Jasper: This full service resort overlooks Lac Beauvert and Mt. Edith Cavell and offers activities for all ages. There are independent cabins with and without kitchens. Kids under 5 eat free from the children's menu; kids 6-11 eat half-price from the regular menu. There is a Kids' Club for 4-12 year olds and an unsupervised play area but no kiddies' pool. Kids get toys from a treasure chest, get to play golf and can join the RU Ready program to keep fit. Visit hotel website.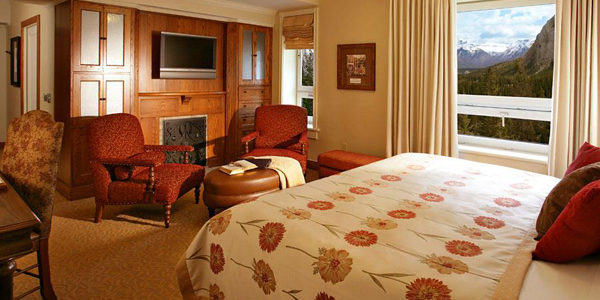 Fairmont Banff Springs
 Banff: Kids will love the way this hotel looks like a castle. Kids 5 and under eat free and 12 and under have their own menu or can eat from the regular menu for 50%. The Banff Springs Kid's Club offers a summer program with entertainment and activities. There is a heated outdoor pool, a wading pool, bowling center and entertainment center. Ask about the Family Castle Adventure Package which includes all kinds of extras for kids.  Visit hotel website. 
Post Hotel and Spa 
Lake Louise: Families can choose to stay in one of the cozy lodges which are furnished like a mini-home or take rooms with connecting doors in the hotel. The family lodging is close to the bank of the river so you would have to watch the kids but the views are incredible. Visit hotel website. 
Banff area Mid Range Hotels
Budget Banff Hotels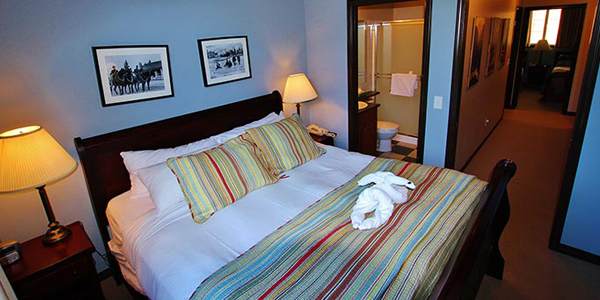 Mystic Springs 
Banff: The resort offers apartment-like units with kitchens together with hotel amenities however there is no restaurant on-site. The best bet for families is the two bedroom suite. There is a heated outdoor pool, coin operated laundry and activities for all ages. A Kids' Club is operated in the high season for kids 5-12 years. http://www.mysticsprings.ca/
Lake Louise Inn – Lake Louise
The rooms at this beautiful inn can accommodate 2-7 people in condos, rooms and suites. Among the amenities there is an on-site laundry and kids will love the Timberwolf Pizza and Pasta Cafe which is one of two restaurants. The inn is spread out in several buildings across green open spaces. http://www.lakelouiseinn.com/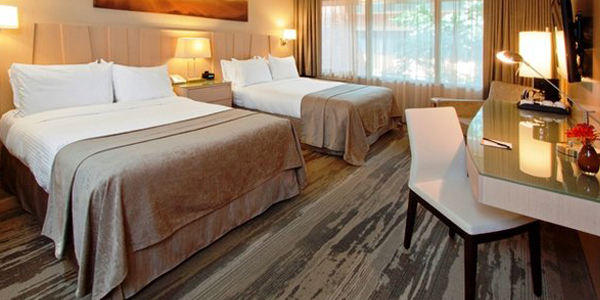 Sawridge Inn Jasper 

Jasper: The rooms in this inn can accommodate up to 5 people. There is an indoor pool, refrigerators, coffee makers, laundry facilities, cribs and extra beds are available and breakfast is an optional extra. http://www.sawridgejasper.com/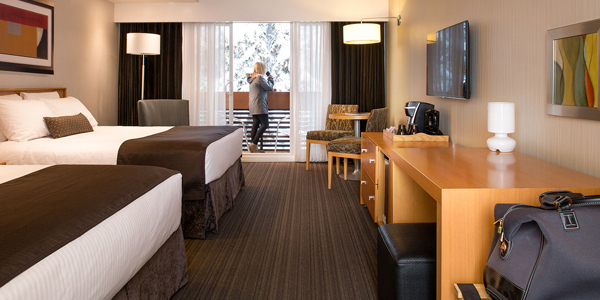 Banff Aspen Lodge – Banff
 With a perfect location, comfortable rooms and room for large families this is a great budget choice. The breakfast is generous and included in the hotel rates. You can opt not to have room cleaning service and get a voucher for coffee instead! The hotel is standard but recently renovated, clean and friendly. There is a library, outdoor hot tub and it is Trip Advisors top choice for budget family-friendly accommodation in Banff. http://www.banffaspenlodge.com/
Paradise Lodge and Bungalows – Lake Louise
 The rustic-themed lodge has both cabins and suites. There is a large playing area, Kids' Club, restaurant, spacious gardens, BBQ areas and some rooms have kitchen facilities.  The maximum capacity of the cabins is 4 people.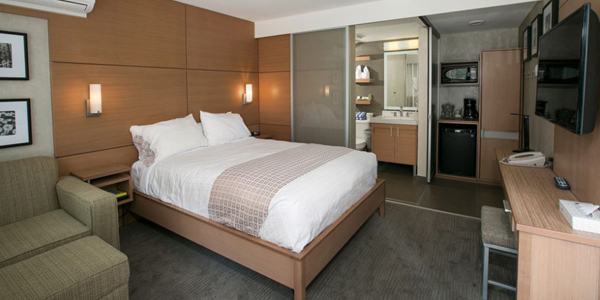 Mount Robinson – Jasper

This budget-friendly inn is geared towards families. They provide playpens, cribs, highchairs, bottle warmers, night lights, plug covers, kettles and you can even rent a jogging stroller for $15. There are a variety of rooms and suites available. The Two Bedroom Robson Suite has a kid's room with bunk beds, bean bags and a Playstation 3. http://www.mountrobsoninn.com/
Home

›
Canada

›
Rocky Mountains

›
Banff Area Hotels