Don't Miss the Jasper Riding Stables

Horses and Beautiful Views in Alberta!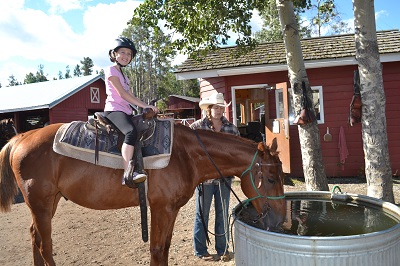 Become a pioneer adventurer or cowboy for the day at the Jasper Riding Stables just 5 minutes from Jasper in the Jasper National Park, Canada.
The riding stables were formerly Pyramid Stables, named after Pyramid Mountain which towers above the stables.
You can ride out into the Canadian Rockies and see the spectacular views, wildlife, rivers, Pyramid Lake, Cabin Lake, forests and mountains. The local animals which you may see along the way include elk, deer and even bears.
The riding stables can cater for all levels of ability, whether you're an experienced rider or never been near a horse. The stables are home to more than 50 horses of all ages and sizes, they are well looked after and trained mountain horses.
The staff will pick out a horse that best suits your age, size and riding ability.
On the various excursions groups are accompanied by knowledgeable guides who can keep you safe and tell you about the surrounding scenery and wildlife that you may see along the way.
Top Trail Rides in Jasper Riding Stables!

One Hour Ride
Ride to the Athabasca Outlook to get great views across the Athabasca River Valley and see three mountain ranges in distance. The one hour rides leave at 9am, 10am, 11am, 1pm, 2pm, 3pm and 4pm and cost C$45 per person.
Two Hour Ride
Take the Ridgeline and Cottonwood Loop which passes through by Cottonwood Creek and along the open ridgeline of the Athabasca River. On this route you are likely to see waterfowl, small woodland animals and even beaver dams. The two hour ride leaves at 9am, 10am, 1pm, 2pm and 3pm and costs C$65 per person.
Three Hour Ride
Take the Cowboy's Way which encompasses the scenery of both the above rides. The ride covers 18km and is the most popular ride from the Jasper Riding Stables. The ride leaves at 9am, 1pm and 2pm and costs C$92 per person.
Full Day Ride
This ride takes 6 hours and travels past Cabin Lake taking in stunning scenery and returns past Riley Lake and Mina Lake. The ride includes a picnic lunch at Saturday Night Lake. The ride leaves at 9:30am and costs C$195. Riders must be over 6 years old and there is a weight limit of 300lbs.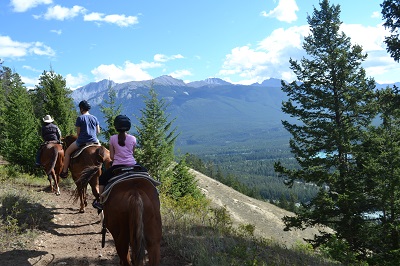 The summer season runs from May 1st to October 14th, weather permitting.
The various trails run on a loop so that you are continually seeing new scenery and don't ever have to double back on ground you have covered.
There are some weight restrictions on the rides.
Helmets are provided and there is a concession stand where you can buy a few provisions to carry in your personal saddlebag.
The stables respect the environment and leave only footprints (or hoof prints) and take only memories! Book here!

Home

›
Canada

›
Rocky Mountains

›
Jasper Riding Stables