Lake Maligne Family Explorer Cruise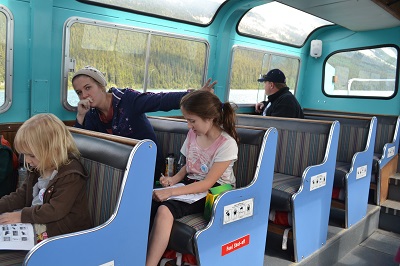 Don't Miss Out on Family Explorer Cruises!
Are you looking for the best family explorer cruises?
Family of Explorers Cruise
The Family of Explorers Cruise is offered by Maligne Lake Tours which operate in the Jasper National Park, Alberta, Canada in the Rocky Mountains. The cruise is one of several cruise options on Maligne Lake which is located in the Jasper national Park in the Canadian Rockies just 48km drive from Jasper.
The lake is surrounded by picturesque mountains, there are glaciers visible from the lake and the color of the lake's glacial water is crystal clear turquoise. The lake is fed and drained by the Maligne River and the lake is about 22.5km long.
The lake was first mapped by Samson Beaver for the surveyor Mary Schaffer who explored the area in 1907 together with Mary Adams and guides Billy Warren and Sid Unwin. The group explored the lake on a raft nicknamed HMS Chaba, and in the same adventurous spirit families can take to the waters with Maligne Lake Tours.
However families won't have to explore the lake on a raft but rather on a comfortable cruise boat. So that families can see all the natural wonder of the surroundings the boats are glass enclosed and heated, so that even if it is cold you can enjoy the scenery from the comfort of the warm boat.
Knowledgeable guides provide a commentary on board and point out points of interest along the shore. While on the cruise families will learn about the local wildlife the history, geology and glaciers which supply the lake with its cool water. On board there are interactive games and activities for kids and there are snacks available.
The cruise stops at Spirit Island where there is a nature-based scavenger hunt. On the island there is an observation point overlooking the southern shores of Maligne Lake. The view from Spirit Island looking back at the shores of the lake, surrounded by mountains, is one of the most famous views of the Canadian Rockies.
The Family of Explorers Cruise takes two hours and departs from the docks near the Maligne Lake Day Lodge.
To reach the lodge you'll be taking the 50 minute drive from Jasper along the Maligne Lake Road which is known for its wildlife sightings. Family cruises leave on Fridays and Saturdays at 13:30 between July 5th and August 24th.
 The Family Explorers Cruise costs C$75 for adults and C$38 for kids aged 5-14 years, 4 year olds and under travel for free. The same company offers other scenic cruises and canoe and kayak rental. Read more here.

Home

›
Canada

›
Rocky Mountains

›
Family Explorer Cruise