Saltwave - A Parent Getaway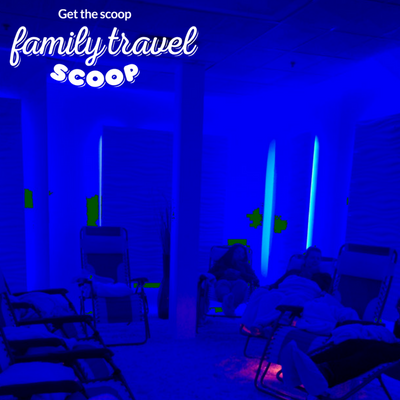 Saltwave is a spa which specializes in the practice of Halotherapy, more commonly known as salt therapy. For many years the therapeutic benefits of salt have been recognized.
Since the salt miners in Poland noticed that frequent exposure to salt in a closed space cured their respiratory and skin ailments the practice has gained interest.


Scientists and doctors then developed a way to bring this health therapy to the general public through the establishment of salt rooms. Here people would be exposed to a similar microclimate as the salt mines in a modern and relaxing environment.
How does it work?

A halogenerator crushes pharmaceutical grade salt into miniscule particles which are then dispersed into a salt room in the form of salt-saturated air. Visitors sit in comfortable chairs in the salt rooms which are dimly lit and inhale the salt air. Salt has natural antibacterial qualities and in addition a filtering ventilation system is constantly working to circulate the air and taking out used air while introducing clean air. Before each new season clean air is pumped into the room.


The room is kept at a temperature of 68-72°F (20-22°C) and has more than two tons of salt covering the floor; this makes it virtually impossible to catch an infection by bacteria from other visitors as the salt renders the room more sterile than an operating theatre. Dry salt is used in the salt room instead of moist salt as it has a higher concentration of negative ions which is more beneficial.

Benefits of Halotherapy

The benefits of visiting a salt room go far beyond curing ailments. Even if you are completely healthy you can benefit from a session in the salt rooms. After time spent in the salt rooms your respiratory system is stimulated to naturally reduce inflammation, clear blockages, reduce discomfort and fight infection. In short you will be able to breathe more easily. The salt-saturated air has benefits to the skin. In addition the peaceful time spent relaxing in the salt room brings a sense of tranquility.

What to Expect

Visitors to Saltwave begin by filling in a consent form; then they proceed to the salt room. You don't need any special clothing to go into the salt room; you can enter in the clothes you came in. If you have a skin ailment you might want to wear a bathing suit to maximize exposure to the salt. Visitors are given shoe coverings to cover your feet so that no dirt enters the room.  Visitors relax in zero gravity chairs while listening to relaxing music. The session continues for 40 minutes.

When you have completed your session in the salt room you will feel relaxed, find breathing easier and feel refreshed.
Is Halotherapy for you?

Children of any age (from 6 months) can use the salt rooms and get benefits from the experience. At Saltwave there is even a room especially designed for kids with toys and activities to keep them happy while they are breathing in the therapeutic salt-saturated air. Children under 14 should be accompanied by a guardian.


When children visit the salt room they are asked to arrive in clean clothing. This is only because kids are more likely to have spills and dirt on their clothing after playing. Girls should also wear their hair tied back to minimize any falling hair in the salt room. If you visit with children they must not be left unattended at any time.


People with certain ailments should not use the salt room these include those with any acute illness, fever, tuberculosis, stage 3 COPD, intoxication, contagious ailments, those that need an oxygen tank to breathe, those with a heart disorder, high blood pressure and acute stage of kidney disease.


If you are a smoker you should arrive for your session in the salt room before having your first cigarette of the day and arrive after a shower and in smoke-free clothing.

Practical Information:
Where: Westgate Mall, 1309 Carling Avenue, Ottawa City, Ontario, K1Z-7L3
Open Hours: Monday-Friday 10am-8pm; Saturday10am-5pm; Sunday closed.
Contact: 1 613 799 3776
Cost: Single Session: Adult C$40, child (under 12yrs) C$25, senior (65yrs+) C$30. Other packages exist for multiple sessions. Children under 5yrs free.

More Things to do in Canada
Home

›
Canada

›
Ottawa

›
Saltwave