15 Fun Things To Do in Penang With Kids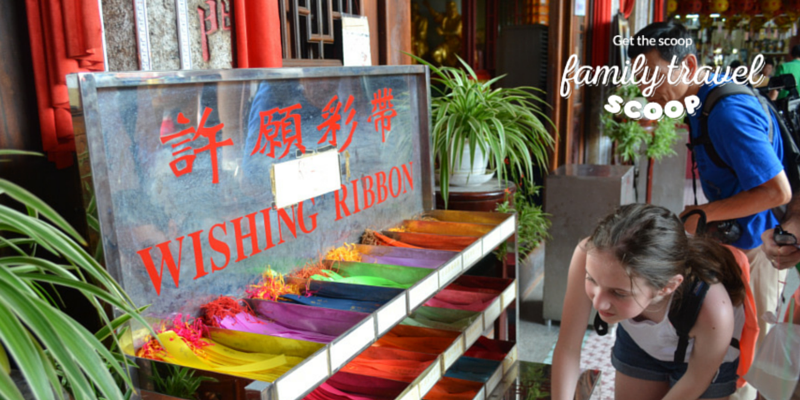 Penang is one of our all time favorite family travel destinations! Check out all the things to do in Penang with kids here!
My dad has retired here -which is great because we get to visit all the time!
From the amazing Malaysian food to the great shopping, tours to see amazing sites like the orangutans and the Toy Museum and great beaches to boot -Malaysia has it all!  Enjoy your trip to this Asian paradise!
More Malaysian Travel information
---
Best Penang Sightseeing

Head to Snake Temple and see the snakes hanging around. In the back there are lots of snakes in cages and a few monkeys. My kids had lots of fun with the mischievous monkeys (they will try to grab everything-hair clips, purses etc). This was one of our favorite Penang attractions.
Don't miss out on the night market held each night on the main road by the Holiday Inn in Batu Ferringhi. There are great deals here-souvenirs, sunglasses, clothes and more! It is one of the longest night markets we have seen in all our travels! The kids will have fun bargaining for their treasures. Children will enjoy a ride on a trishaw down the road. This is one of the most popular Penang attractions.
Cultural art and activities + games + travel quizzes + food and much more

More Penang Attractions for Kids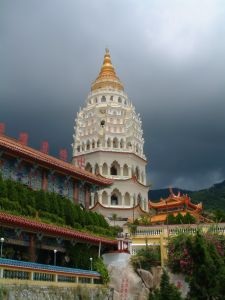 One of the most famous Penang attractions is Kek Lok Si. This is a beautiful Buddhist temple with gorgeous scenery. My kids had a lovely time feeding the Koi fish (you can buy the food in the souvenir shop) and also finding the animal statue representing their year of birth. 

They also liked seeing all the turtles. Take the train up to the different levels-it is HUGE! You can get ribbons with things like "World Peace" or "Happiness" and place it on the wishing tree and also light candles and make wishes inside the temple where the Buddhist monks will bless it for a small donation.
Grab the funicular(tram) ride up to the top of Penang Hill. Children will have a good time looking for monkeys and lizards on the rides up. Once at the top you have a spectacular view of Penang. 

There'

s

lots going on at the top with souvenir stores, restaurants, a bird park, the Owl museum, temples and more. You can also get henna tattoos here. This is a great family friendly Penang attraction.  Stop by David's for a drink and snacks while enjoying the lights dimming in the evening. We loved this attraction!
The Spice Gardens is not to be missed! Feel like you are in the rainforest and learn about different herbs and spices! Use the audio guide to learn more facts! Taste the complimentary tea and try to walk on the reflexology walk! Swing on the swings high about the rain forest! Lots to see and do here! Read more!Read more!
The tropical fruit farm which is located in Teluk Bahang is a great place for the kids to try some new fruit. On the tour you learn all about the local fruits, see them growing and you get a fruit smoothie and an all you can eat fruit buffet.Get more info here. Make sure you try the durian!!
The Penang Toy Museum houses more than a 100,000 toys. There is every toy imaginable here from Barbies, to a Star Wars collection, a robot and more. Kids will love the tour which comes complete with sound effects. There are also some life size replicas here. Exploring this museum is one of the best things to do in Penang with kids. Read more-make sure you go to the new location as it moved locations!
More Stuff to do with Kids in Penang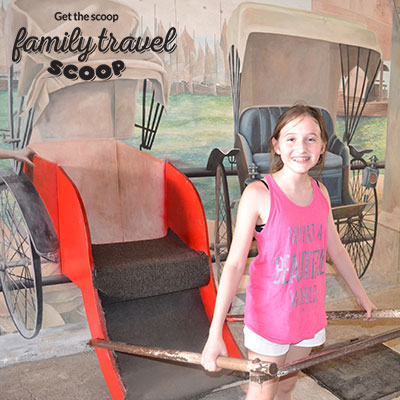 Head to the Botanical Gardens for some fresh air and beautiful scenery. While definitely not the most beautiful scenery there is some nice orchids and waterfalls to see. The kids will adore seeing the monkeys playing in the trees. Ask your taxi driver to bring you to the area nearby with lots of monkeys. You can buy fruits from the sellers to feed them. My kids loved this!
The beach in Batu Ferringhi is not the best place to swim as there is usually too many jellyfish. However, your kids will still enjoy playing in the sand. There are jet skis available for rental or horseback riding on the beach. There are lots of restaurants and stalls around for refreshments too. Lots of great hawker stands are in this areas as well!
Head out to the clan jetties and see the houses built on stilts. It is a fascinating peak at life in these communities. We spent a few hours here, they have unique souvenirs that you won't find in other parts of Penang. There is a lovely smoothie shop there as well-delicious!
Take a boat ride to Monkey beach and see the monkeys hanging out on the island. Still lots of jellyfish around so swimming is not advised. This is a great Penang attraction for kids that like monkeys, and who doesn't like monkeys? We sat for hours just watching them, they are really funny! You can stop and get fresh coconut on the beach. We took the boat then hiked back, it is a bit of a hike so not suitable for under 6's. There are lots of tricky parts but it is beautiful and green. The hike takes about 1.30 each way.
Wander around Georgetown and check out Little India and Chinatown. Take a trishaw ride around town. Do some shopping and eat at the many delicious restaurants. Komptar in Gerogetown is full of great malls and restaurants. Don;t forget to see the famous clock tower. You can take the ferry for free over to Butterworth and then very cheap for the return and catch the great views of the coastline.
Visit Fort Cornwallis and learn about the history of the area. Recommended for history buffs. While we were there it was having some renovations so not that interesting for kids but there is lots of space to run around and play and also a few sections like where you can pretend you were a prisoner or a captain and have your photo taken that will appeal to kids!
Cool Things to do in Penang!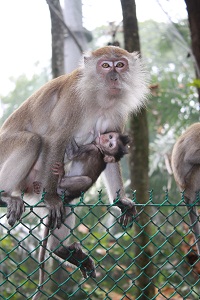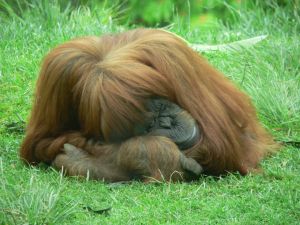 Hire a taxi and take a day trip to Bukit Merah Laketown Resort located about 1.5 hours drive. This amusement park features a zoo where you can buy food to feed the animals, a water park, various rides and Orangutan Island. Take a short boat ride over and you first see an educational video. 

Then YOU enter the cage and see the orangutans roaming free on the island. Then head to the nursery and see the babies. We had a great time at this

park-there

is lots to see and do with the kids. Have the taxi driver take the Penang bridge one way and the ferry the other so your family can try both routes.
Head to the Hawker stalls for a delicious meal. You pick a table and then go to the various stalls to order different items. Give them your table number and they will deliver it. My kids devoured the spring rolls, butter chicken, Naan bread and sour sop juice (delicious!). Penang is said to have the best food in Asia with people flying in for weekends just to eat the great food!
If you have small children with energy to burn head to Adventure Zone located in the Golden Sands Resort. This huge indoor playground has slides, modular play equipment and a game zone. One of the best things to do in Penang with toddlers.
The Penang Bird Park is entertaining for the kids. This place is home to tiny sunbirds all the way up to the huge ostriches. Your children will enjoy hand feeding some of the birds. There is also tortoises, monitor lizards and deers (including the world's smallest species).
Try out Penang's new hop on hop off bus, it runs a beach route and a city route stopping at all major attractions. It has an open top which the kids love and offers great views of the different areas! Read more here! Another option is picking up the one-week tourist bus pass for use on local buses, it is very cheap and convenient and you can get pretty much anywhere for on the buses. There are also free buses from Komptar that circle around Georgetown.
Read more about other Asian holidays.
Don't forget to like and share us on Facebook or sent us a tweet!
More Malaysia Family Travel Articles!
---
---
Home

›
Malaysia

›
Penang