20 Things to do in Kuala Lumpur with Kids
Visiting KL is a must-do on any trip to Malaysia! I love this place- one day I hope we can live here because it is just a city of non-stop action and adventure!  Adults and kids alike will find so much to do here- try to stay at least 5 days to fit everything in!
Getting around is super easy, taxis are very cheap (although there are lots of traffic jams!). Whenever possible get a taxi voucher at the counters or be sure you agree on a price or insist on the meter being turned on. There are free city buses that loop around different areas- look out for the purple signs. Also the train is so cheap and easy and gets you everywhere quick! 
Read about the yummy Malaysia Food here! Try out the delicious BananaLeaf restaurants -our favourite is Ravi's! The calamari is simply superb!

Read about other parts of Malaysia here!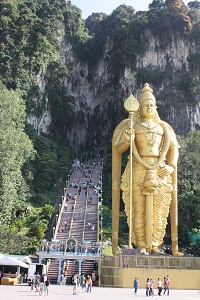 Batu Caves is one of the most interesting Kuala Lumpur things to do. This Hindu religious site is home to a huge Lord Murugan gold plated statue. There are 272 steps to climb to enter the caves so this site is better suited for older children. There are monkeys all along the staircases which my kids loved seeing.
Don't miss out on buying a beautiful fresh flower necklace and having your photo taken with a snake around your neck! There is an area where you can feed the koi fish and watch some cultural dancing. There is another cave area with more Hindu statues and art.
Aquaria is a huge state of the art aquarium. This place has a 90m tunnel through the main tank. It's a great place to check out lots of exotic colorful fish. There are various feeding times where you can see the fish being fed. After the aquarium check out the fish spa next door! Get more info here.
My kids and I had lots of fun at the fish spa next door to the aquarium. You dip your feet in the water and the fish nibble at your legs. It feels very weird!! 

There are nice aquariums to see while the fish munch away. It is a

unique experience

that you don't want to miss!
Kanching Rainforest Waterfalls is a set of 4 different waterfalls. Your family will enjoy a short hike in the forest and you can go for a swim in the pools of water. You might see some monkeys along the way! This may be suited for older children as the paths can be difficult to maneuver in some areas.
If you have teenagers that like to shop then head to Sungei Wang Plaza. This mega mall has lots of stores offering cheap clothing. Suria KLCC has a floor of children's clothing at low prices. Malaysia is one of the top shopping destinations in the world, pretty much every mall you go to is amazing!
Cultural art and activities + games + travel quizzes + food and much more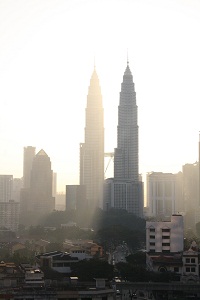 Go to the Skydeck of the Petronas Twin Towers and view Kuala Lumpur from the 42nd floor. Head to the towers early and grab your free tickets. This is one of the most popular Kuala Lumpur things to do. There is KLCC park nearby that has a huge playground for the kids to play in and a pool.
Petrosains is an interactive science center. The kids will have fun exploring the exhibits.Take a simulation ride on a helicopter heading to an oil platform in bad weather, learn about space and watch a 3D movie.
Bukit Gambang Resort has a huge water park with slides, raft ride and wave pool. This resort is located 2 hours away from Kuala Lumpur. There are family suites available at the resort if you want to spend a few days there.
Kuala Lumpur Bird Park is a must do with kids in KL. There is a walk-in free flight aviary with over 60 species of birds. There is a parrot aviary and flamingo pond. Don't miss the various bird feedings throughout the day. The kids will love having their photos taken (fee) with the birds. See the photo at the top of my daughter! There is a playground for the kids and an educational center as well. Don't miss the cafe, it's a great stop to have a break and enjoy the views. The fresh juices are yummy-watermelon was our favourite!
Lake Gardens Park has playgrounds for the kids to enjoy. You can rent a paddle boat or take a tram ride around the park. There is concession stands for a drink or snack.
The Orchid Gardens & Hibiscus Gardens are great for a stroll with the kids. These beautiful gardens are located near the Deer Park where you can see the tiny mouse deer and other species.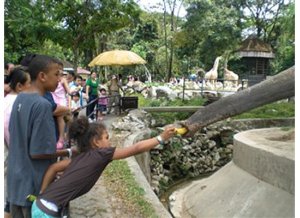 The National Zoo is a great place to bring the kids. It is very cheap to get in and has a huge selection of animals. You can buy food to feed some of the animals like the elephants! The grounds are quite lovely.
Sunway Lagoon Theme Park is located 15 minutes outside of KL. There are 5 separate theme parks to choose from, a water park, amusement park, a wildlife park, extreme park and a scream park. You can buy a ticket for one park or a combo ticket. There is lots to do for kids of all ages.
Take a stroll through the Butterfly Park and your kids will love seeing all the beautiful butterflies. These tropical gardens have a net high up to keep them from flying away.Your children can also learn about the life cycle of the butterfly.
Head to nearby Kuala Selangor (1 hour driver from KL) in the evening and take a ride up the river to see the fireflies that light up the trees. If you head to Ma Lau San or monkey hill, then your kids will have fun feeding the silver-leafed monkeys peanuts. This is one of the most memorable Kuala Lumpur things to do with your family.
Check out Times Square Plaza with the kids. This huge mall is home to Cosmo's world which is Malaysia's biggest indoor theme park including a roller coaster. There is also IMAX 3D movies playing in the mall as well as a bowling alley.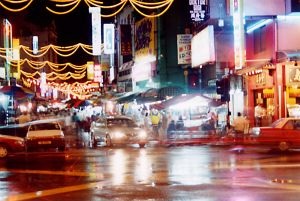 Visit Petaling Street in Chinatown and the kids will have fun bargaining for souvenirs. This market comes alive in the evening with lots of things for the whole family such as clothes, shoes, souvenirs, DVDs etc. This is fake Gucci central! My teenager went nuts here-you are warned!!! There are a few good Chinese restaurants to try as well. 
Nearby to Petaling is Central Market, an indoor and outdoor market on two floors, it is full of souvenirs, purses, t-shirts and jewelry. Everything is very cheap and bargaining is part of the fun! It has a food court upstairs as well with quite a few good stalls to try.
Genting Highlands is a resort complex featuring a huge amusement park with roller coasters, lots rides and games as well as a water park. There are several hotels in the complex and the Theme Park Hotel has family rooms available. It is located about 45 minutes away from KL.
Head to Jalan Alor for dinner in the evening for some delicious street eats. The kids will enjoy the lively atmosphere as you dine on the many tasty treats. The satays are really good here. Don't miss out on all the delicious food when you travel to Malaysia.
Kids will have a blast at the Kuala Gandah Elephant Sanctuary. Visit in the afternoon and you can help hand feed the elephants and take a ride on them on land and in the water. No entrance fee but donations are requested. One of the most unique Kuala Lumpur things to do with your family.
Skytrex Adventure is a canopy park with a circuit specifically designed for kids with obstacles, zip lining and more. Minimum height is 1.1 meters. There is also more challenging courses for older kids.If you are looking for active things to do in Kuala Lumpur then this is the place!
Breakout Malaysia in KLCC is a fun excursion that my daughter can't stop talking about! You work as a team and are locked in a room, you need to solve different clues in order to escape. It is lot of fun, especially for the kids, thy seemed much cleverer than me in this room! The mall has loads of restaurants too so you can spend a few hours here along with your Break out session!
Malaysia with Kids articles!
---
---
Home

›
Malaysia

›
KL Attractions