Visit Kota Kinabalu and Sabah with Kids -2018 Guide
Visit Kota Kinabalu and Marvel at Malaysia!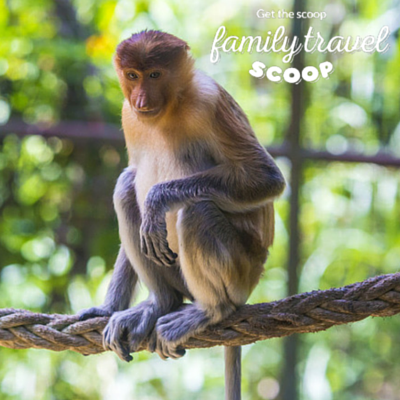 Visit Kota Kinabalu for the ultimate family vacation! Enjoy your time in spectacular Kota Kinabalu! Such an amazing place to visit with kids! Make memories and enjoy!

Sepilok Orangutan Sanctuary is home to 40-60 Orangutans. You can watch them feeding twice a day along with long-tailed macaques. You have to fly to Sandakan and then take a taxi there. It can be done on a day trip and there are tours offering this service. This can get quite pricey for a family -though it is an amazing experience and one of the most popular Sabah attractions when you visit Kota Kinabalu.
Klias River Tours is a great option for a family excursion. My whole family loved this Sabah attraction! You head out to the Klias River where you board a boat in search of the proboscis monkeys. These funny looking monkeys are spotted in the trees on the side of the river. Bring your binoculars! After the tour you have a buffet dinner and then in the evening you head back out in the dark to see the fireflies lighting up the riverbanks.
The Green Connection or Kota Kinabalu aquarium is home to insects, snakes, marine life and more. This new attraction is aimed at educating children on protecting the ecosystems. There is a hands-on aquarium where you can touch some of the marine life. The kids will get a kick out of the bubble aquariums where they can poke their head up and see through to the fish!
Tunku Abdul Rahman Marine Park is a collection of several islands offering beaches and snorkeling. Manukan is the largest island and has the most facilities. My kids enjoyed snorkeling and feeding the fish. There are several restaurants and shops on the island. There is also a trail you can take for a walk through the path in the forest and see some lizards along the way. Go to Jesselton Point to arrange for a boat to take you there and back. You can also arrange to visit multiple islands. A great choice for when you visit Kota Kinabalu with kids.
1Borneo is a huge mall with lots to do. There is an aquarium. bowling alley, cinema and amusement park. There are also bumper boats, and a huge maze. There is also a replica rain forest complete with cultural artifacts. Head here on a rainy day with the kids.
Cultural art and activities + games + travel quizzes + food and much more

Visit Kota Kinabalu!
Poring Hot Springs are another family friendly attraction located near Mount Kinabalu. There are swimming pools and hot springs. You can rent a private cabana or use the public springs. While these are not the best hot springs we have been to there was lots to see and do. My kids liked the butterfly gardens and the canopy walk where you go on walkways near the treetops. The trail to the canopy walk is leg aching! There are also orchid gardens and waterfalls. This is a nice day trip to do when you visit Kota Kinabalu with your kids.
The Rasa Ria (Shangri-La) hotel has an Orangutan Rehabilitation Centre where you can watch 2 daily feedings of the orangutans. After they eat they usually stick around and play-swinging through the trees. Make reservations directly with the hotel. A must do when you visit Kota Kinabalu - especially if your kids have never seen live orangutans before!
Head out to the water village to see these interesting homes built on stilts. You can hire a local fisherman to give you a tour on your family trip to KK. Don't miss this when you visit Kota Kinabalu if your children have never visited a water village before.
If you are there on a Sunday morning don't miss out on the Gaya Street Market for some souvenir shopping. This colorful market sells everything under the sun from food, toys, clothes, art and more. A great place for you kids to try their hand at bargaining!
More Things to do in Kota Kinabalu with Kids
Kinabalu National Park is a great place to bring the family to experience nature in KK. This park surrounds the beautiful Mount Kinabalu. There is botanical gardens and guided walks available. There is also a museum with insects, animals and more. Combine with the Poring Hotsprings for a great family day trip when you visit Kota Kinabalu. Don't forget to keep an eye out for the rafflesia flowers-these are the world's biggest flower. If they are in bloom you will be able to stop along the roadside and pay an enterprising local to see them!
Active families may want to Climb Mount Kinabalu. It usually takes 2 days to do the hike and it is 8 km up. It is a challenging climb but very rewarding. There are guest houses near the summit where you can stay overnight. This is better suited for older children who are very fit.
Visit Kota Kinabalu City Bird Sanctuary is a 24 acre park close to the city. There is a wooden platform throughout that you can stroll on to see the various birds that live in the mangroves. There is also an educational center on site.
Tabin Wildlife Resort is a great place to experience the rain forest. The rooms can sleep a maximum of 3. Children will love playing in the mud volcano, searching for elephants on the night safari and splashing in the waterfalls.
Turtle's Islands is located 40 km north of Sandakan. To get there from KK you must take a flight to Sandakan and then a boat to the islands. An overnight stay is best as the turtles come on shore at dusk to lay their eggs. The best time to visit is July to October as the water is calmer however they do lay eggs year round. Another one of the unique Sabah attractions to enjoy on your family travels.
Lok Kawi Wildlife Park is a great place for kids. It's home to orangutans, pygmy elephants, Sumatran rhinos and proboscis monkeys. Don't leave Borneo without seeing the proboscis monkeys -they are the funniest looking things! There is also a huge natural aviary with lots of birds and small critters to see. If your kids are animal lovers they will enjoy a visit to this park on your family trip to Sabah.
Helpful articles to help you plan your holiday!
Read more about Malaysia here:
Home

›
Malaysia

›
Kota Kinabalu