FREE printable luggage tags for the kids when you sign up for our newsletter! Plus we share our best travel tips!
✕
Tropical Spice Garden, Penang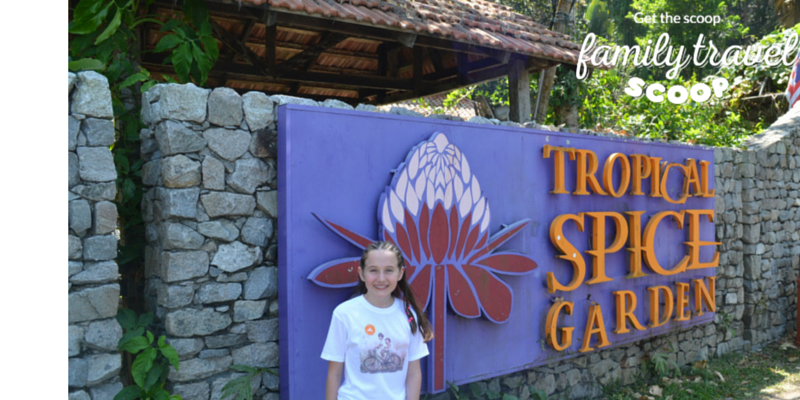 The Tropical Spice Gardens were created in an abandoned rubber plantation on Penang's north shore. With the help of a professional team David and Rebecca Wilkinson turned the site into a tropical garden and award winning eco-tourism destination.
The gardens are spread over 8 acres of secondary jungle and feature more than 500 species of exotic plants with an emphasis on spices. There are also many small animals, birds and insects which live in the garden. The gardens have a wonderful natural feel as much of the original topography and indigenous rubber trees were left untouched.
Throughout the gardens there are babbling streams. The attraction's Visitor Center, café, gift shop and Spice Museum are within the Lone Crag Villa, a pre-war Straits colonial holiday bungalow.  The food at the Thai cafe is simply delicious!  One of my favorite meals in Malaysia!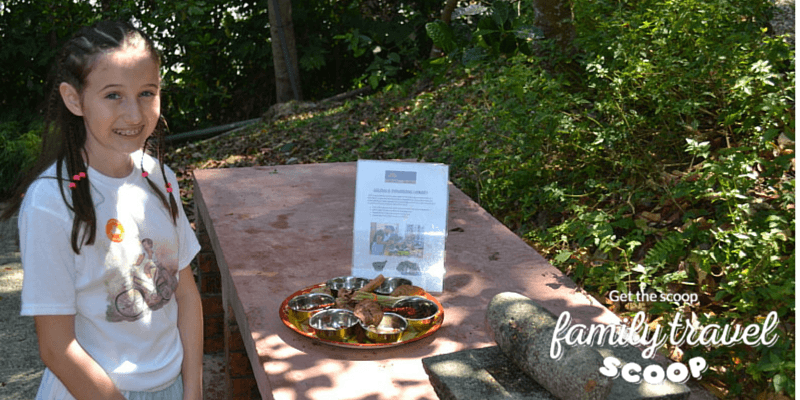 The visitors make their way through the gardens following the three undulating trails which meander through the lush foliage, tropical rainforest, flower beds and gardens of spices and herbs from around the world.
Some of the highlights include the Water Garden with giant lily pads; the four spice terraces with medical herbs and spices from around the world; a giant swing in the center of the garden; ginger walk; sugar terrace; jungle trail; fern walk; a bamboo garden where you can drink herbal tea; a reflexology path and a roof top café restaurant.
For kids, there is a colorful play area where the classic game of Snakes and Ladders has been brought alive and turned into a 3D game of Slides and Ladders.
There are tube slides, play houses and more.  My daughter enjoyed running around here!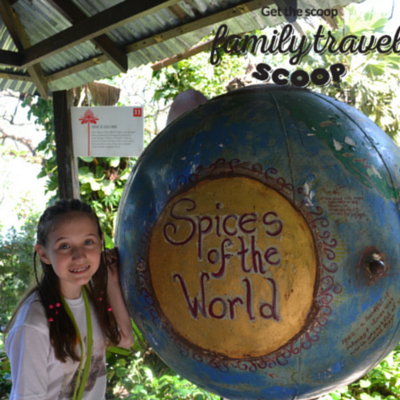 There are regular guided walking tours where the groups are limited to 15 participants.
The live tours are conducted in English. There are self-guided audio tours offered in 7 languages.
With the audio tour you can go through the garden at your own pace or take the express tour of 45 minutes. 
For something exciting and different take one of the Spice Gardens Night Walks and learn about the nocturnal plants and animals.
You will also see insects that light up at night and visitors will be guided by torchlight. There are light refreshments and a cup of hot tea at the end of the evening.
Tropical Spice Garden Details
Where: Lot 595 Mukim 2, Jalan Teluk Bahang, 11050 Penang, Malaysia
Open Hours: 9am-6pm daily. Live Guided Tours 9am, 11:30am, 1:30pm and 3:30pm.
Admission: Garden and Visitor Center – Garden Audio Tour: Adults 26RM, children's (4y-12yrs) 15RM, seniors and students 20RM. Live Guided Tours: Adults 35RM, children 20RM, seniors and students 28RM.
Night Walks: Every 2nd and 4th Saturday of the month, 8pm-10pm. Adults 80RM, children 60RM. advanced booking necessary.
Contact: 604-881 1797
Website: http://tropicalspicegarden.com/
Home

›
Malaysia

›
Penang

› Spice Gardens