The Lido Paris

Enjoy a Meal and a Show with your Family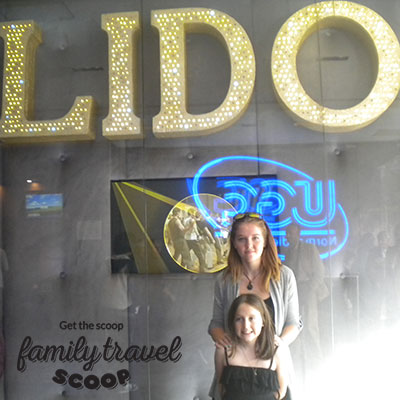 I had always dreamt of going to a show at the famous LIDO Paris ever since I'd traveled to France as a student and stood outside without being able to afford going in! So now, as a wage earning adult, I returned to Paris, this time with my husband in toe, and we got the chance to enjoy the spectacular, one–of-a-kind LIDO Paris show!! We brought our kids to the show and they loved it too- it is a magical night!


The LIDO, for those of you who don't know, has been around since the 40', it's a cabaret dance show with elaborate costumes, lots of feathers and glitter and a few bits of toplessness (prepare the kids ahead!)! About 70 performers, who change costumes numerous times dance, sing, do acrobatics, perform skits and even ice skate!

There are a number of dinner/show combo options but we chose the "Panache" which cost us €175 each. We arrived on time (7pm) and entered the plush venue, the orchestra was playing pleasant background music which really set the mood for a romantic evening. The service was efficient and polite, like a well-oiled machine.  We ate our 3 course meal which came with a 1/2 bottle of champagne Brut. For the starter I had the vegetable dish while my husband had crab, both were delicious. For the main course I had pan roasted bream cooked to perfection and to finish off the meal we enjoyed pistachio and apricot blancmange which I'd never had before.


LIDO Paris Packages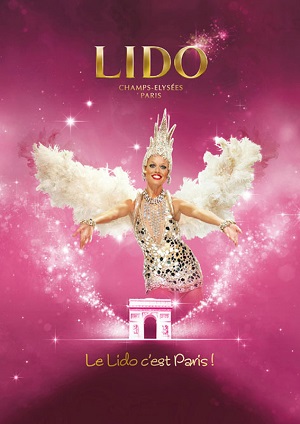 The other packages which we could have chosen range from €160 to €300 and the only difference is the food you're served and the location of your table so I was happy with our choice. Any way all packages see the same show and that was the real reason we'd come. There is also an option without food and a kid's menu, all kids under 12 years pay €100,  Kids are welcome over 4 years old.

The show began at 9pm and we never stopped gasping and saying "wow" the whole evening.
The costumes are magnificent and the sets changed every few minutes, each one being more elaborate than the next. The show was called Bonheur and tells the story of a bird lady traveling through 4 worlds seeking happiness. The 4 different worlds – women, Paris, India and Cinema were each spectacular. The India World had the most enormous Indian Temple, a full size "elephant" and other scenes had real water features and pools.
The stage rotates several times so wherever you're sitting you have a good view. But the most eye-catching and memorable thing about the show was the stunningly beautiful women. The dancers are exquisite, tall, thin, elegant, talented and with smiles that never slipped. The very professional performers never missed a beat and the show ended at 11pm.


Paris Things to Do
Although the price is expensive for a night out I recommend it if you're looking for something really romantic, and typically Parisian. It really is a once-in-a-life-time experience.
You can book tickets online at the LIDO website or reserve by phone: +33(0)140765610 or fax: +33(0)145761941. You might be able to get tickets at the door (depending on the season) at 116 bis avenue des champs-Elysees.
If you're coming for the dinner and show it's from 7pm to 11pm and if you just want champagne and the show it's from 9pm to 11pm but you need to arrive 30 minutes early.

Need a hotel in Paris -check out these hotels.
Check out more European destinations here!
Home

›
France

›
Paris

›
The Lido Paris