Israeli Food for Kids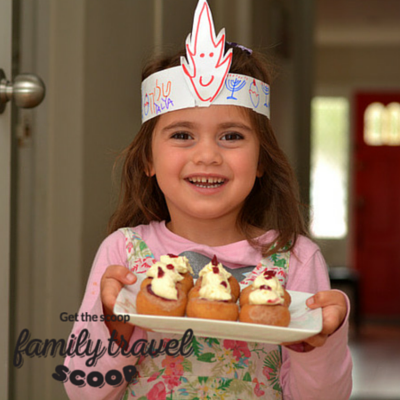 You will find Israel's streets lined with the usual fast-food outlets that have taken over the western world but the country offers some healthier alternatives worth trying. The Israeli version of fast food – falafel or shawarma in pita bread is delicious and cheap.
Humus is an acquired taste but there is no harm in having falafel with ketchup! Jachnun and Malauach are part of the Yemenite Jewish menu.
Jachnun is a roll of savory soft pastry which is torn off with the fingers and dipped in grated tomato and white cheese. Malauch is a round piece of pastry fried and served with grated tomato and white cheese – delicious! 
You might be offered Shakshuka for breakfast, this is a healthy mix of tomatoes, onion, bell peppers and garlic cooked for a long time in a frying pan and then topped with eggs. It tastes better than it looks and is soaked up with pieces of bread.
Moroccan cuisine has also become a big part of traditional Israeli food and kids will enjoy the couscous which is served with either a vegetable soup or meat. Israeli salad is served with almost every meal and consists of finely diced tomatoes, cucumbers and onion.
If your kids are going to become salad-lovers it is here is Israel. Israeli dairy products include a delicious "white cheese", cottage cheese, fried Haloumi cheese and a wide selection of yogurts and dairy puddings. Generally Israel is a kid-friendly country and that goes for the restaurants as well. You will find most Israeli restaurants have high chairs and a children's menu. 
Israel Food -Fruit and Veg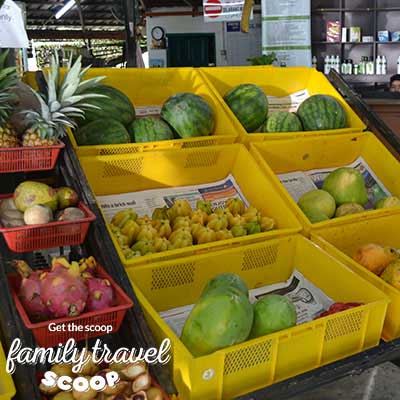 Israel grows a lot of its own fresh produce, the fruit and vegetables are sold in huge quantities and a walk through one of the markets (Carmel Market in Tel-Aviv, Machane Yehuda in Jerusalem) will allow you to sample a range of fresh produce.
At the markets and in restaurants another Israel food that is popular is freshly squeezed juices , pickles come in all shapes and forms and Israeli salad is an integral part of every meal. 
Jewish Holiday Foods
If you are in Israel over Hanukah (December) the bakeries are full of donuts with the most elaborate ones sold at Roladin Bakeries covered in chocolate, sprinkles, cream, caramel and other toppings. Hanukah is also the time to try potato pancakes (latkas or levivot in Hebrew).
During Purim (February/March) there are the traditional Oznayaman cookies filled with poppy seeds or chocolate.  
During Passover (April) you will find it hard to get hold of bread but kids will love the crispy matzoth.
At Rosh Hashanah (September) there are delicious pomegranates on sale and apples are traditionally dipped in honey.
During Shavuot (June) it is traditional to eat dairy products and you will be spoilt for choice. 

Israeli Sweets and Pastries
Oh the Israeli pastries! They rival the French for croissants, rogalagh (a chocolate pastry), almond pastries, cinnamon Danish pastries and Bourikas (bite size pockets of flaky pastry filled with salty cheese or mashed potato).
The Middle Eastern baklava is a honey-soaked pastry with pistachio nuts in various forms. Some of Israel's classic candies and sweets include Krembo a chocolate covered mountain of soft marshmallow on a circular biscuit. Bamba is a classic Israeli peanut-flavored snack eaten like chips. Halva is sold in huge chunks in the market and is a sweet alternative to artificial candy.
Whatever the case may be Israel foods are a delight for kids and adults alike!
Read more about Israel here.
Home

›
Israel

›
Israeli Food