15 Incredible Bali Family Resorts and Friendly Hotels 

2018 Updated Guide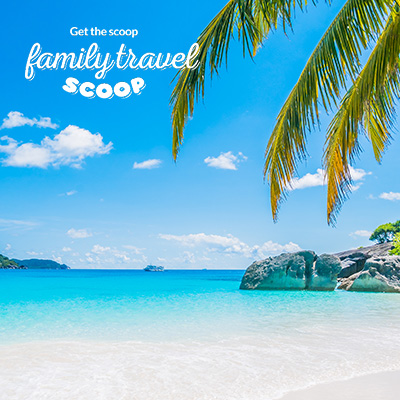 These are our picks of the best Bali family resorts and hotels.
Looking for a place to stay with the kids? You will find all kinds of accommodation for families from luxury 5-star resorts that have excellent kid's club, wonderful cuisine and great views to independent villas for rent. There are also many economical hotels and guesthouses that can cater for every budget.
Wherever you chose to stay it is relatively easy to get around and to visit other resorts. Many will allow you to use their kid's clubs, beaches and pools for a fee.

Wherever you stay, the wonderful Balinese hospitality will kick in and make your stay simply out of this world! Let us welcome you to our top picks of Bali family resorts and hotels!
Also, check out our things to do in Bali and Balinese food pages too!
The Best Bali Family Resorts & Hotels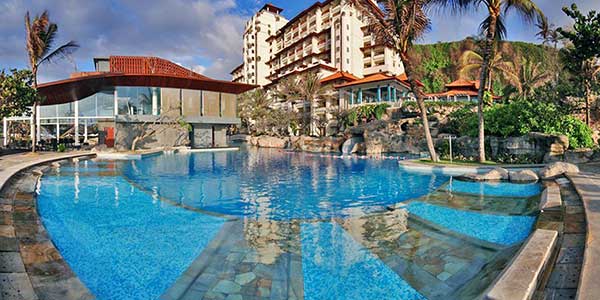 Nikko Bali
Jl. Raya Nusa Dua, Hotel Website
Nikko Bali is a luxury hotel located in Nusa Dua. We stayed here on our first trip to Bali. The Nikko Bali is a beautifully designed hotel located on the beach.

The buffet breakfast is really great with lots of fresh fruit and eggs cooked to order. You can order a meal or drink by the pool while the little ones are at the kids club.
For the Kids:
Fits a family of:
The family room can sleep 2 adults and 2 children.
The family suite can accommodate 6

Cultural Activities + Word Searches + Colouring Pages + Fun Travel Quizzes & More!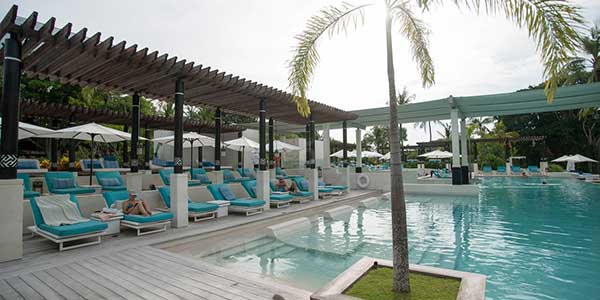 Club Med Bali
P.T. Holiday Villages, Nusa Dua, 
Club Med Bali is a fantastic place to stay with the family. My kids had a blast. The food was delicious, the grounds are beautiful and the staff is very kind. The hotel is in Nusa Dua on a nice stretch of beach. A great option for Bali family resorts and hotels.
For the Kids:
THE best kids club I have seen in all my travels. My kids were kept busy from morning to night and they even put on an excellent play one evening. There is a petit club (ages 2-3), Kid's club and teen club.

Activities include the trapeze and archery!
Fits a family of:
Superior Rooms can

sleep 4
Villas can sleep 4
Interconnecting rooms available for larger families


Check out this slideshow with photos of all the fun things to do!
---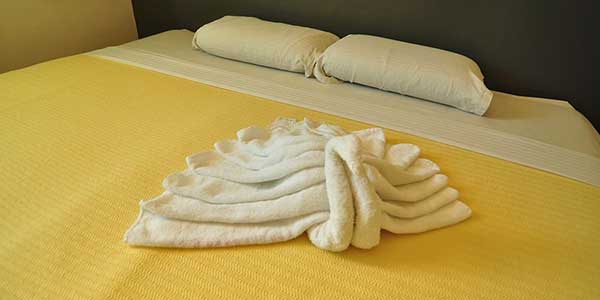 Dynasty
Jalan Kartika Plaza, Kuta,

Dynasty is one of the best Bali family resorts and hotels. It is non-stop fun for the family here with a never ending array of activities to choose from! It is located on the beach in South Kuta.
For the Kids:
It has a fun kids c

lub for ages 4-12 with its own kids pool and water slide. Watermelon eating contests, feeding the ducks and making pizza are also lots of fun for the kids
Teenagers (13-19) will love hanging out ar the Den (entry fee). There are pool tables, internet access and video games.
There are lots of cultural activities for the kids to enjoy such as making temple offerings and learning Indonesian
Organized activities include making mocktails, learning to scuba dive and movie nights!
Fits a family of:
They have rooms that can sleep up to 5

---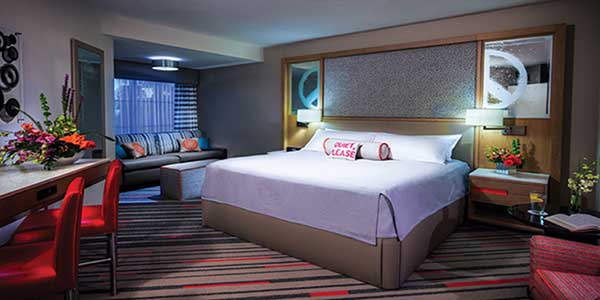 Hard Rock Hotel
Jalan Pantai, Kuta,

The Hard Rock is a perfect place to stay with your teenagers in Bali. This hotel is decorated with music and fashion memorabilia. It is located opposite Kuta Beach with loads of places to dine and shop nearby.
For the Kids:
There is a huge pool featuring a sand island
A recording studio
Rock climbing wall
There is also a kids club for your younger children.
Fits a family of:
Rooms can sleep a family of 4

---
Cheap Bali Family Resorts and Hotels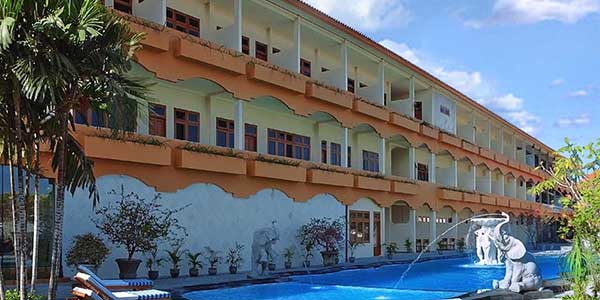 Febri's
Address: JL Dewi Sartika, 80361 Kuta, 
This is a good option for families on a budget. It is located within walking distance to Kuta Beach and Waterbom water park. You are right in the heart of the action with lots of restaurants, shopping stalls and spas to explore! Great experience for a good price. One of the best options for Bali family resorts and hotels.
For the Kids:
Play area with a jungle gym and toys for toddlers and young children (unsupervised)
Children's pool.
Fits a family of:
This accommodation has rooms that can sleep a family of 5.

---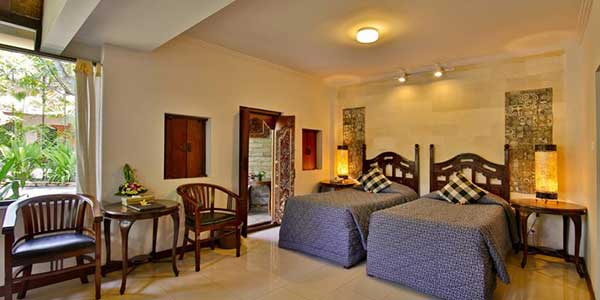 Taman Harum
Jalan Raya Mas, Ubud
Taman Harum is a great choice for families visiting Bali. The hotel is set in a beautiful Balinese garden. It is located outside of Ubud but free transfers to Ubud are included. The bathrooms have an open air garden (my favorite!). I stayed here with my kids and loved it! The food was cheap and tasty at the restaurant. The staff were very friendly too.
For the Kids:
Cultural activities such as batik painting, wood carving and temple offerings.
Lovely swimming pool to cool off in!
Dvd players and free dvd library
Fits a family of:
Regular villas that can sleep a family of 4 .
Family villas can accommodate a family of 6.

---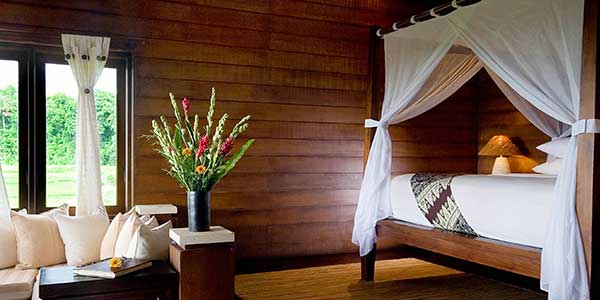 Tegal Sari
Hanoman Street Padang Tegal, Ubud Hotel Website
Tegal Sari is one of the top rated hotels in Bali. This small hotel offers charming Balinese styled rooms overlooking the rice fields in Ubud.
Breakfast can be delivered to your room each morning for an additional fee. Book early as the rooms are hard to get here! You should try to book this first from the many Bali family resorts and hotels in the list.
For the Kids:
There is a stone bottomed pool
Children's activities such as kite flying and games.
Fits a family of:
They have several rooms that can sleep a family of 4

---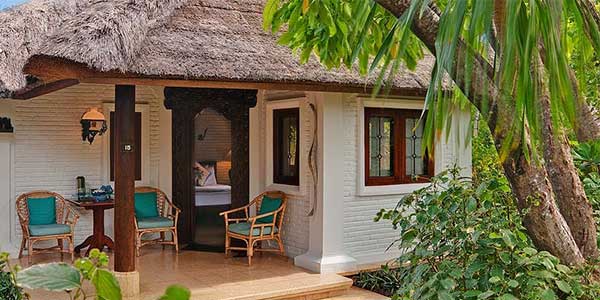 Poppies
Denpasar 80033, 
Poppies is a beautiful budget Bali family hotel. It is located on famous Poppies Lane which is filled with souvenir stalls, massage studios and restaurants. You will be in the middle of the action.
Escape the madness of Kuta and stay in your own thatched roof cottage. The grounds and pool are gorgeous! Pina Coladas here are to die for!!
For the Kids:
Large meandering pool
Walk to Kuta beach
Fits a family of:

---
---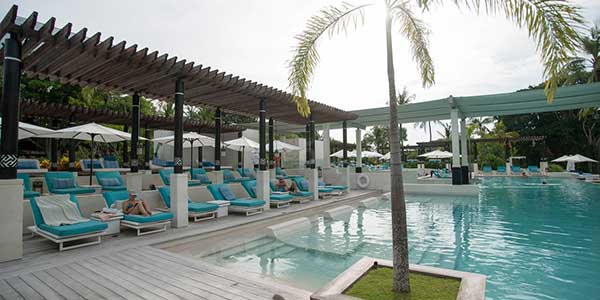 Club Bali Mirage
Jalan Pratama 72, Nusa Dua, 
Club Bali Mirage is a cheap all inclusive resort in Nusa Dua. You can also book room only accommodations as well. I stayed here with my kids for a couple nights with breakfast included in the rate (it was edible, barely **disclaimer: I hate buffets!). There are restaurants, souvenir shops and spas offering massages (I recommend these!). Across the street is a Cocomart with groceries, toiletries and snacks. We got an excellent rate here and it was well worth it.
For the Kids:
Big pool
Kid's club with some toys and climbing structure
Located on the beach
Fits a family of:
Watch our video of Club Bali Mirage!


---
More Bali Family Resorts and Hotels:
---
More Bali articles to help you plan!
---
Home

›
Bali

›
Resorts