21 Best Things To Do In Bali With Kids
Fun Bali Attractions for Kids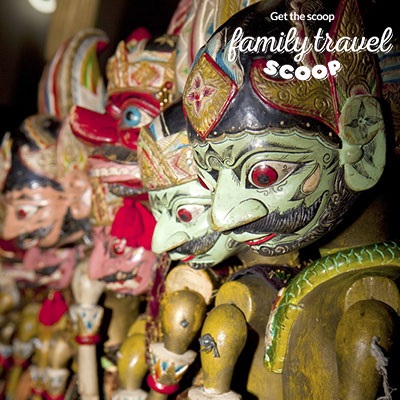 Are you ready for our fun things to do in Bali with kids?
Bali is one my favourite places on earth! It truly is a tropical paradise.
Your family will have a great time exploring all the fun things to do in Bali, trying new foods and spending time together!
Also check out
The Sacred Monkey Forest in Ubud is lots of fun for the kids.
This place is crawling with monkeys. Lots of mama monkeys with babies too. Watch them swing from the trees, play in the water and maybe even jump on you. Be careful though that your kids don't pet them as they may bite. 
My kids voted this as one of their favorite things to do in Bali!
Check out this video from our visit to see the monkeys!
Watch a traditional Balinese show when on your family travels. My children and I enjoyed seeing these graceful dances and the colorful dresses. We were all amazed when one dancers headpiece caught on fire and she gracefully danced off stage instead of running screaming as I would have done!
Cultural Activities + Word Searches + Colouring Pages + Fun Travel Quizzes & More! 

Take a glass bottom boat ride over to Turtle Island. Children love learning about the turtles and seeing the big ones and baby ones. This is really fun!
Waterbom Water Park is a fun Bali attraction for the whole family. This place is clean and well maintained. My kids loved the water slides especially the Boomerang. The climax was a hit with my teenagers (kids must be 45kg). This water slide is really fun (so they tell me-I was too chicken to try it out)!
You stand on a platform and the bottom opens up and sends you flying straight down and up around a loop like a roller coaster. My teenage son loved it. He wanted to go back a second day (shopping at the markets won out though with three girls!!!).

There are water play areas for toddlers and babies with mini water slides too. There are fun games to try as well including a water balloon target game and Euro Bungy (for a fee). You can have lunch at the restaurants which have tasty choices for meals including a few Balinese dishes, pizza and sandwiches. The smoothie fruit drinks are delicious!
Check out our Waterbom video!

Shopping in Bali is just amazing. The adorable dresses, sarongs, Buddha statues, jewelry, art and batiks are just gorgeous and what deals! Thank goodness for all the extra baggage weight when traveling with kids! Have the kids save their allowances so they can bargain for their souvenirs at the handicraft markets. This was one of my favorite things to do in Bali and it is great for the kids to learn to manage their funds!
Bali Treetop Adventure Park is a fun family friendly activity. My kids loved this place. There are different circuits available for kids as young as 4 years old. There are ziplines, Tarzan swings and even a skateboard zipline. This is one of the more adventurous family activities!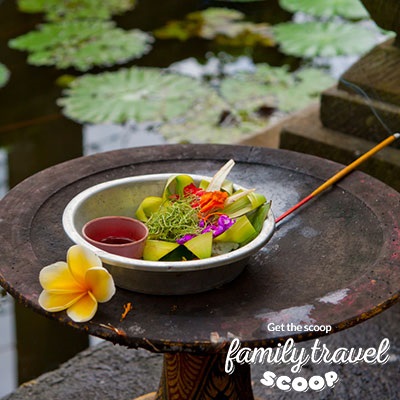 Learn to make traditional offerings. Those beautiful temple offerings you see all around Bali are usually handmade. A basket is woven out of leaves then filled with offerings for the gods including flowers, fruits, and bits of foods. The lovely wife of my taxi driver gave my children a lesson on how to make them. My kids had lots of fun creating them and learning their significance. If your hotel doesn't offer this then ask your local driver if they know someone who can show your children. It is a wonderful way for the kids to experience the real culture of Bali!
More Fun Things to Do in Bali
Ulan Danu Temple is a beautiful Hindu temple on Beratan lake. This is a famous temple and appears to be floating in water when the tide is in. There is a fun children's playground on the grounds. This is one of most educational and fun things to do in Bali.

Go horseback riding through the paddy fields or on the beach in Bali. Horseback riding is one of my children's favorite activities to do when we travel. Bali has a beautiful landscape to explore. Be sure you go with a stable that has a good reputation for taking care of the horses.
Bali Zoo is an interactive park. The kids can feed some of the animals, visit gibbon island to see these monkeys and enjoy the petting zoo. Read more here! We are totally against any form of animal cruelty but the animals seem to be well cared for here.
Sign the family up for a cultural class. There are lots of places in Bali offering courses such as Balinese dance, batik and cooking classes. Children love experiencing these kinds of activities and learning a new skill.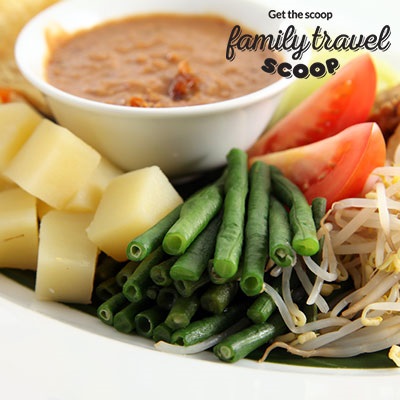 Don't forget to sample the delicious Balinese food with your family. Your kids will love the Nasi Goreng (a fried rice dish). You can enjoy lots of noodle dishes, satays and spring rolls too. The fresh fruit juices such as mango, watermelon and pineapple are always a hit with the little ones!
Head to the spa for some relaxation. Mom and Dad can enjoy a traditional Balinese massage while the kids get facials, manicures/pedicures or henna! My kids loved this (ok me too!) -the services are so cheap in Bali. Although it is worth it to pay an extra couple dollars for your services at a nicer spa.
We also enjoyed a dip in the hot springs. We stopped at one on the way back from the Bali Treetop Adventures. We rented our own private chalet for a dip and then the kids had fun playing in the mixed water pool with their new friends.
Watch the skilled surfers ride the waves or sign your family up for surfing lessons so they can join in on the action. Lessons are available for kids as young as four (I know-so cute!!) and there are lots of surf companies located on the beaches. Teenagers will have a blast learning to surf in Bali. This was our teenagers' favorite things to do in Bali.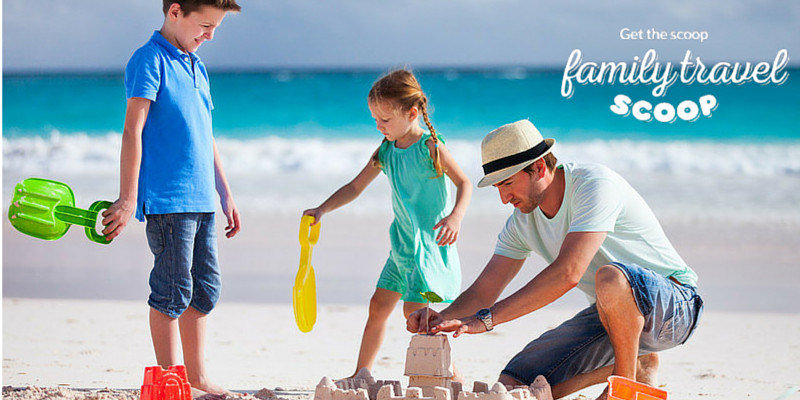 Head to Kuta Beach and the kids will love playing in the sand, splashing in the ocean and maybe even getting their hair braided. You can even enjoy a relaxing massage by one of the beach vendors. 
Buy a traditional Balinese kite from one of the beach stalls and find an empty spot to fly the kite with the kids. There are plenty of restaurants nearby to catch a bite to eat. You can even enjoy one of those famous sunsets here in the early evenings.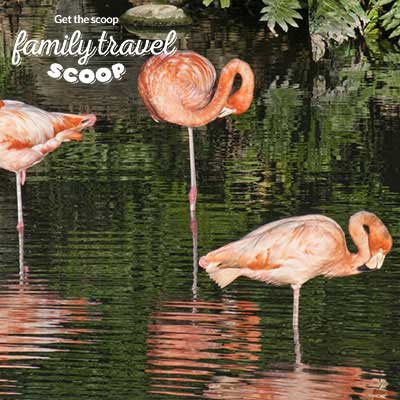 Bali Bird Park and the neighboring Reptile Park are family friendly attractions. My kids got a kick out of the talking birds and watching the bird shows and the walk-in bird aviary. There are many colorful birds to see and you can even have your photo taken as you hold some of them. This is one of the best things to do in Bali with toddlers, babies and small children. Read more here!
If you are in Ubud head to Tepi Sawah for lunch. This is Bali's most famous crispy duck restaurant, where the Indonesian Prime Minister dines when he visits Bali. Don't worry- the prices are very reasonable. The restaurant is really pretty, overlooking the fields, with ponds, flowers and statues everywhere. You can sit at a table or enjoy your own hut, as we did. There is of course the famous crispy duck on the menu as well as lots of other items to choose from, including pizza (if your kids won't try the duck-like mine wouldn't!). The duck really is delicious!
Bali Safari & Marine Park is an innovative zoo with different packages available. You can ride a pony or camel or even take a ride on an elephant (fee) as you stroll amongst free roaming zebras, rhinos and wildebeests. Enjoy the marine park where you can swim with dolphins(fee). There is also a water park and amusement rides. Makes for a lovely day out for the family! 

So what did you thing about our top fun things to do in Bali with kids? 
More information to help you plan!
---
Home

›
Bali

›
Things to Do