Top 10 Things to do with Kids in Langkawi

Spend your family vacation on the beautiful island of Langkawi. There is plenty to do and many outdoor activities and ways to enjoy the nature surroundings. Read more about Malaysia here:
Here are our top 10 things to do in Langkawi!
Boat Trip Mangroves – Take a magical boat trip into the Mangrove forests with Dev's Adventure Tours. If your kids are a little older take a kayak tour into the Mangroves a cycle tour or a walking tour. We went on the Mangrove tour and it was the highlight of our Langkawi trip!Amazing! Don't miss this- visit the mangroves, see birds and fish and learn about the area. Visit a bat cave  and private beach then have lunch at a fish farm where your kids will be able to feed a stingray and other fish! Read more about the mangrove tours here!
Beach – Your hotel will probably be near a beach but the best beaches on the island include Pantai Cenang, Pantai Kok, Pantai Tengah and Datai Bay. We stayed near Cenang beach and it was amazing, there are so many water sports available and the view is just spectacular. There are lots of shops and restaurants on the strip behind the beach, look out for The PizzaMaker- you can get a slice and a drink for 8 MYR!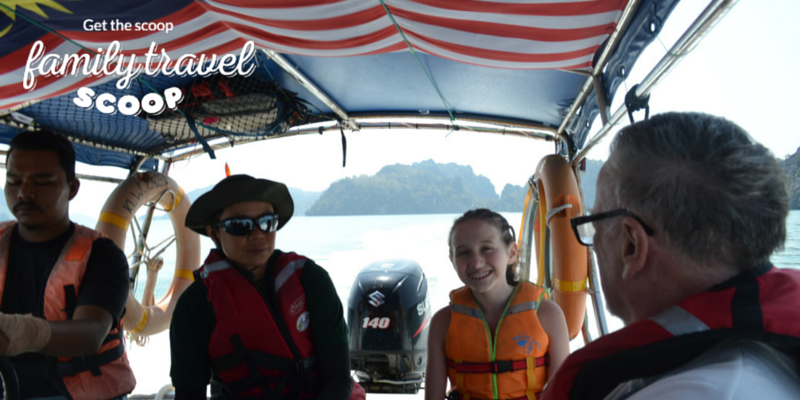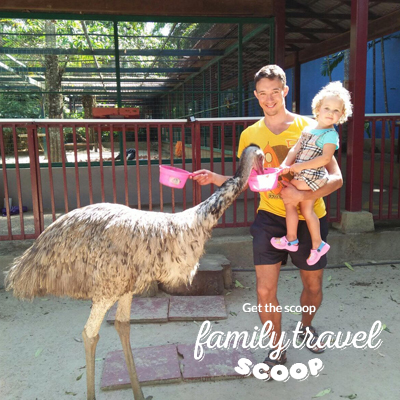 Bird Park – This park is a tropical paradise of lush vegetation, trees and flowers. It is home to 3,000 birds who live in walk-though free-flying aviaries. There are activities, bird shows and a chance to touch some of the birds. 

Underwater World –This is Malaysia's largest aquarium. Kids will love the flamingos, ducks, turtles, penguins, sting rays, seals and sharks. There is a walk-through transparent tunnel passing through the largest tank where you can see the sea creatures swimming above and all around you. 

Cultural art and activities + games + travel quizzes + food and much more

 Langkawi Cable Car – Go on a 15 minute ride to the top of the 708 meter-high Mt. Mat Cincang. The excitement of the ride is not the only attraction there is also the gorgeous view from above looking down on rainforests, the sea and surrounding islands. Sky Bridge – Once you reach the top of Mt. Mat Cinchang by cable car you can walk along the 124 meter long curved pedestrian bridge which connects Mt. Mat Cinchang with a neighboring peak. Visit the cable car website here!
 Laman Padi – Here you can see rice fields, herb gardens and exhibitions related to the production and history of rice. Kids can even walk into the paddy and have a go planting and harvesting rice in knee deep water.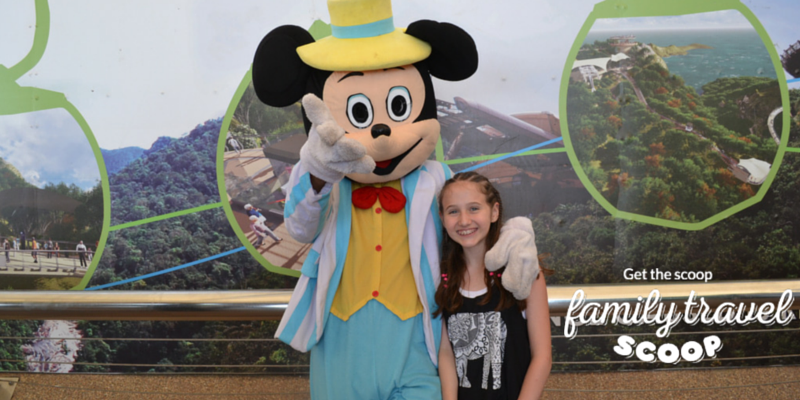 Langkawi Crocodile Farm – This is home to one of the largest groups of alligators and crocodiles in the world. You can see reptiles of all shapes, sizes and species including new born crocs. You can see animal shows and the crocs being fed.
 Island Hopping Trip - This tour will give you a good overview of the surrounding islets. The tour stops at several islands including Pulau Singa Besar where you can see the eagles, Pulau Dayang Bunting to swim in the Lake of the Pregnant Maiden and Beras Basah Island to relax on the beach.
Telaga Tujuh Waterfalls - The island's most beautiful natural attraction is a series of waterfalls with seven connecting pools. You can cool off in the clear water pools. You can tell kids about the legend of fairies living by the waterfalls. 
Taman Lagenda Langkawi – this is a folklore theme park or open-air museum highlighting the myths of Malaysia through sculptures. There are 17 colorful sculptures spread over the 500,000m² site. You'll see giants and magical birds, ogres and princesses.
Langkawi  has lots of things to do with kids and is a magical place! Don't miss it on your next trip to Malaysia!

Read about other Asian Holiday Destinations here!
Home

›
Malaysia

›
Langkawi