34 Fun Things To Do In Rome With Kids : 2018 Guide

The Best Attractions For Family Visits to Rome!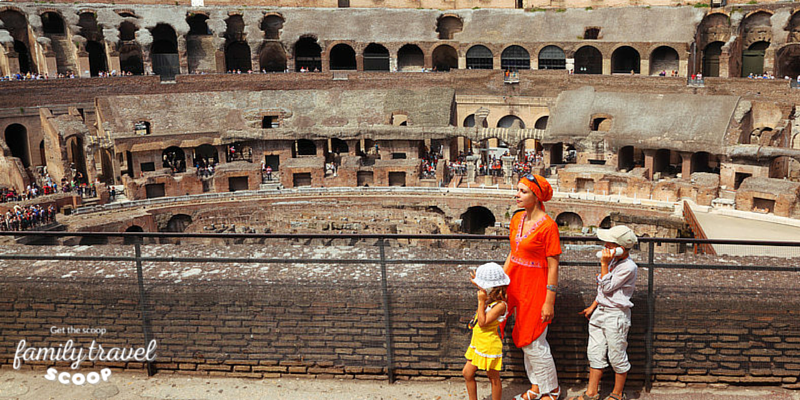 The Colosseum is a must things to do in Rome with kids. Be sure to hire a guide or join a group tour at the entrance so your family can learn all the fascinating facts of this wonder of the world. Children will enjoy the stories of the gladiators-and they can take there photo outside with one! There are lots of stairs so you may want to bring a knapsack carrier if you are traveling with a baby or toddler. This is one of the coolest things to do in Rome! A moment in history!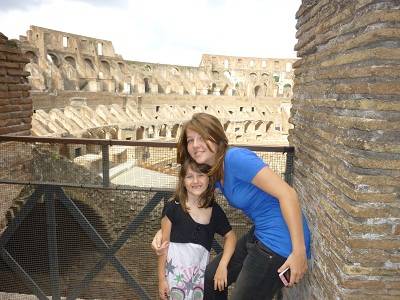 Cultural Activities + China Country Facts + Country Games + Coloring + Fun Quizzes and more for kids 4-13!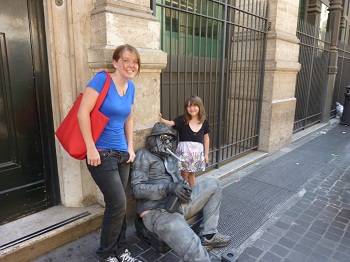 Teenagers will love a Segway Tour of Rome on a special bike like machine. Cruise around the historical center of Rome and check out the sites. You ride on the bike lanes and pedestrian areas only. Kids must be 12 & up! This is a great way to see Rome!
The Pantheon is an interesting spot to check out with your children. This 2000-year-old building has a 30 ft hole in the roof (oculus) and is its only source of light. It is even better to visit in the rain where you can see how the floor was designed with drains. Entrance is free-always a bonus! This is a great area with no traffic and lots of cafes to enjoy a treat.
Head to the gardens of Villa Borghese with the kids. There are beautiful parks and sculptures as well as a mini kids amusement park. You can rent electric bikes which are lots of fun for the whole family to tour around in! It's also a great place for a picnic. You can also rent a rowboat and check out the turtles in the pond. My son and I had a great time here! The Bioparco is a zoo located in the Villa Borghese park. Kids will enjoy seeing the animals here. The zoo is home to 1000 animals so it is quite a good one!
More Things to do In Rome with Children and Teenagers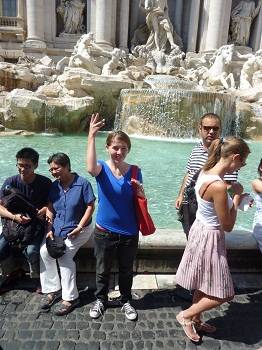 The Trevi Fountain is a beautiful fountain in Rome. Kids will enjoy tossing a coin over their shoulder into the fountain and making a wish. By tossing the coin into the fountain it is said that you will visit Rome again soon! This place is always crowded so be sure to keep an eye on your younger kids.
There are lots of souvenir shops and gelato shops here! This is a must do on your Rome family travel. We spent a few hours here -making wishes, eating ice-cream and just admiring the beautiful fountain. It is a good resting spot to take a bit of downtime and sit down. This is a one of the many great things to do in Rome and is something children will remember for a long time - especially if their wish comes true!
The Explora Children's Museum is a great spot to head to with the kids. This interactive museum has lots of hands on exhibits including a mini television studio, supermarket and gas station. There is a great soft play area for babies and toddlers. This is one of the best things to do in Rome with small children.
Piazza Navona is a great spot to head to in the early evening with the family. There are lots of street performers, musicians and artists to check out. There are also some vendors selling fun little gizmos on the streets. My son loved this place! Definitely one of the best things to do in Rome with your children -they can spend hours watching the artists paint the sidewalks, act and perform.
One of the best museum's for children in Rome is the Leonardo Da Vinci Museum located in Piazza del Popolo. Here your budding engineers can check out the models of Da Vinci's drawings. There are lots of hands-on exhibits here showcasing his work. It was so inspiring- my daughter still talks about Da Vinci and all he did!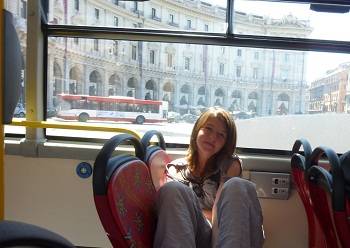 We found the hop on hop off bus a great way to see the sites and learn about the history of Rome! Highly recommended especially if you have kids who complain after walking a lot!
Animal lovers will enjoy a visit to Torre Argentina Roman Cat Sanctuary. This place is set amongst the ruins where Julius Caesar was killed. Children can snuggle up with the cats here (they are vaccinated) and even adopt one from a distance to help support this organization. There is also a Roman Cat Gift Shop here. This is a unique Rome attraction for your family holiday.
Escape the heat and head to Zoo Marine in nearby Torvaianica. Kids will have a great time on the water slides and roller coasters. Toddlers and young children will love watching the seal and dolphin shows!
---
More Cool Things to Do in Rome with Kids!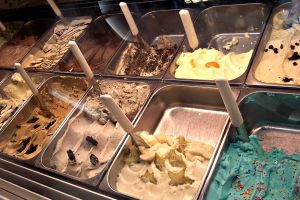 No trip to Rome with kids is complete without lots of gelato. You will find many shops offering this frozen treat. There are so many varieties to choose from! You can even find some shops offering gelato shaped like pizza or spaghetti -my kids beg me for this as soon as we get off the plane in Italy every summer!
Children of all ages will love taking a cooking class where the whole family can learn to make delicious Italian food. This is a unique and interesting activities for kids visiting Rome.
Stop by the famous Spanish Steps and do a bit of people watching with the kids. There is lots going on here. Tourists, vendors, and locals are hanging out here. You can catch a horse and carriage ride for a tour of Rome here too. Older kids will enjoy the challenge of climbing the 138 stairs to the top!
There is a crypt in the Santa Maria della Concezione church which has lots of skeletons and skulls. We went here but my son thought it was a bit creepy!
Head to Vatican City where the children will enjoy visiting the world's smallest country. It is headed by the Pope and it has its own post office and currency. The Vatican museum has long lines to enter and is best suited for older children who can enjoy the works of art on the ceiling in the Sistine Chapel. Kids usually enjoy climbing the dome of St Peter's Basilica.
No strollers are allowed inside St Peter's. My teenage daughter loved this part of our trip but my little one was more interested in the gelato truck nearby! We were lucky enough to see the Pope. Check the details because one Sunday a month there is free entry and the Pope often makes a visit.
The Janiculum (Gianicolo) Hill is a fun place to visit. There are several small amusements rides, a puppet show and pony rides on Sundays. This was the site of a battle and a cannon is fired every day at noon to commemorate it. This is a great way to spend a few hours when your family visits Rome.
Orto Botanico Di Roma is a great spot to escape the hustle and bustle of Rome. Here the kids can run free and enjoy the beautiful botanical gardens. There are gorgeous ponds here and a lovely Japanese garden complete with bamboo groves. Check out the bonsai trees in the greenhouse!
Ostia Antica is located about half an hour outside of Rome and is an ancient Roman city (2000 years old). Kids can explore the ruins of this port city. There is lots of interesting things to see such as shops, restaurants, a marble factory and even an ancient Roman toilet. There are colorful mosaics found here too. This is one of the most fascinating things to do in Rome. My kids raved about this and it raised lots of questions about how life has changed!

More Italy with kids info:
---
---
What's your favorite place to visit with kids in Rome? Share on Facebook!

Home

›
Italy

›
Rome