17 Fun Things To Do In Florence with Kids

Fun Family Attractions in Florence, Italy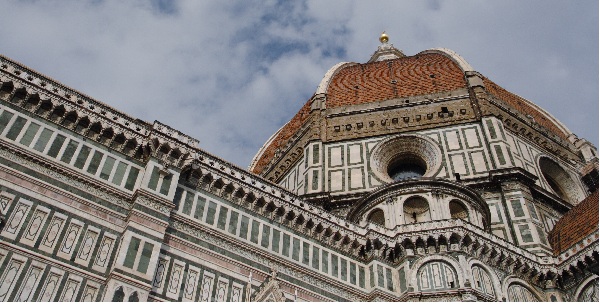 Here is our fun things to do in Florence guide!
Visit the Duomo-the Cathedral of Santa Maria del Fiore. Older children will give it a go climbing the 400+ stairs up through the narrow passageways. You can see the colorful frescoes (murals) up close along the way. At the top there are beautiful views of Florence. If you are not visiting in the summer-be sure the kids are dressed warm as it can be quite windy at the top. This is not recommended for toddlers and young children as the stairs are very steep!
Your budding fashionistas will be thrilled with the newly opened Gucci museum. Florence is the birth place of this luxury brand. Check out the vintage bags and prints. There is also a fully decked out Gucci car and some celebrity dresses! My teenager daughter adored this spot!

This is a super cool things to do in Florence! The kids can take a cooking class here where they learn how to make pizza, pasta and cake. After they can eat the delicious dishes they have cooked. It is suitable for ages 7-13 and highly entertaining -Italy is definitely the place to learn to cook! Yummy!
Pack a picnic and head to Piazzale Michelangelo with the kids. It is quite a hike up the hill so jump on the bus or catch a taxi up. The views of Florence are beautiful especially as the sun is setting! There are lots of stalls selling souvenirs here too. You can walk down the hill after or catch the bus back down. A great photo opportunity!
Teenagers may enjoy a visit to the Uffizi Gallery to see the Italian Renaissance art work of famous artists such as Botticelli, Michelangelo and da Vinci. If you are visiting with younger children-a short visit would be best as this place gets very crowded!

Cultural Activities + China Country Facts + Country Games + Coloring + Fun Quizzes and more for kids 4-13!
More Things to Do in Florence With Kids
Climb the 400+ steps (yes there are lots of steps in Florence!) to the top of the Campanile di Giotto (bell tower) with the kids for magnificent views of the Duomo, Florence and the Tuscany countryside. Time it so you are there on the hour so the children can experience the ringing of the bell! It is LOUD! One of th emost loudest things to do in Florence with kids!
Children will be overjoyed sampling all the different gelato flavors. This delicious Italian ice cream treat is not to be missed. It is more flavorful than ice cream and usually made with fresh fruits, cocoa or nuts. It is divine!
Leonardo da Vinci Museum is another fun Florence attraction for kids. This hands on museum showcases the inventions of this famous genius. My daughter was enthralled with the inventions there-it is a great learning experience and truly fascinating to see just how much Da Vinci accomplished in his lifetime!
One of the highlights of your family trip to Florence will be the delicious Italian food. Kids will love gnocchi, fresh pasta and pizza! Check out the tasty Italian food for kids. Yummy, I need a lasagna slice! If you are looking for a fun thing to do in Florence, eating out is definitely one of them!

A visit to Accademia to see the famous Michelangelo's Statue of David is a great thing to do in Florence with kids - this will be something they will treasure and remember as it is such a famous statue. Be sure to pack some molding clay from the dollar store so the kids can create their own sculptures back at the hotel. After I got my kids to stop giggling at the nude statue they were really impressed and still talk about it today!
A visit to the Piazza della Signoria is another interesting thing for your children to see in Florence. There are beautiful sculptures (including a replica of Michelangelo's David) as well as a fountain. There are lots of street performers, vendors and musicians here so you can spend a fair amount of time just wandering around taking in the local culture! My kids especially enjoyed the people dressed as statues that come to life!
Take a bike tour of Florence with your children. Explore the narrow streets where the tour buses can't fit! Child seats and trailers are available with Tuscany By Vespa Tour Operators. Children under 12 can even ride a tandem bike with you! Children over 12 can ride their own bike. This is one of the great things to do in Florence that make you really feel like a local!
More Things to Do in Florence!
Take a horse and carriage ride with your kids through the beautiful streets of Florence. You can find these in many of the squares and it makes an exciting treat to ride through such a historic place in horse and carriage!
Stibbert Museum is one of the many museums to visit in Florence with kids. It is full of interesting armour and weapons from the past.
San Lorenzo Market is one of the best Florence attractions for kids. Teens will relish exploring the stalls for the latest fashions. Lots of great souvenirs here and don't miss the nearby indoor fruit and vegetable market -how do they get their veg so colorful!!! This is one of the more enjoyable things to do in Florence.
A visit to Palazzo Vecchio is one of the top things to do in Florence with kids. This 13th century palace now offers hands on activities such as painting classes and role playing in the theater complete with costumes for the kids to try on. Check out their activity schedule on-line. They have tours designed for toddlers ages 3 and up, as well as tours for older children and teenagers.
Do a day trip to Cinque Terre with the kids. Hop on the train and head to the Italian Riviera where these five coastal towns are. Children will have a great time hiking the trails that connect these old villages, relaxing on the beach, taking a boat tour or checking out the colorful homes! This is one of my favorite places in Italy-stunningly beautiful!
Do a day trip to the town of Pisa with the kids. Check out the world famous Leaning Tower of Pisa-children over eight can climb it! Your family will also enjoy the botanical gardens and beautiful Piazza Dei Miracoli. Take a stroll around this city and check out the churches and medieval buildings.
Another wonderful day trip with the kids is a visit to nearby Lucca. You can rent bikes with the children and ride on top of the city walls.
Read more about Italy here!

Plan your family holidays in Italy here:
---
| | |
| --- | --- |
| | Cinque Terre Fun |

| | |
| --- | --- |
| Milan With Kids | |
---
What was your favorite thing to do in Florence? Share on Facebook!

Home

›
Italy

›
Florence