17 Things To Do In Marmaris With Kids

There are plenty of fun things to do in Marmaris with kids of all ages. Your babies and toddlers will love playing at the beach, children love the mud bath in Dalyan and teenagers will enjoy a visit to the markets! Relax at the beach or enjoy a fun day trip out.
In the evenings you will find plenty of pubs and restaurants where kids are welcome. Many have entertainment such as arcade games, playstations, play areas and pool tables. There are some playgrounds with trampolines to bounce on in town as well.
The best times to visit Marmaris is from May to October when the weather is hot and sunny with very little rain. Take care with the kids if you travel in July and August as it gets very hot! The winters are mild-though not beach weather and it does rain for short periods.
15 Best Things to Do in Marmaris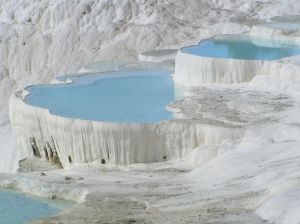 A one or two day tour to Pamukkale is one of the best things to do in Marmaris with kids. Although the ride is about 4 hours to get here-it is well worth it. The travertines are a beautiful natural wonder made of white carbonate minerals deposited from years of flowing water. This World Heritage site consists of white cliffs and pools that look like snow or clouds. A very unique experience. You can walk in the pools (shoes must be removed). Be careful with young children as it can be slippery. Also here are the ruins of the ancient city of Afrodisias where you can see a huge amphitheater. There are Roman Baths here where you can soak in the hot mineral waters.
A boat ride to the Dalyan Mud Bath is one of the fun things to do in Marmaris with kids. What child won't love playing in a big pile of mud! You immerse yourself in the mud and then let it dry. After you can rinse off at the showers and then go for a dip in the (stinky) hot springs. A great family day out for kids of all ages!
Visit the Marmaris Castle & Museum with the kids. They will have fun exploring the galleries and learning about life in another time. There is a lovely garden here and you have great views of the sea.
Relax on Icmeler Beach with your children. There are lots of sun-beds and umbrellas for rent. You can get drink service and food from the local vendors. This is a quieter beach compared to Marmaris beach. Relaxing on the beach is one of the best things to do in Marmaris with kids.
Marmaris Beach is the most popular beach in town. It is quite busy in the warm months. There are chairs and umbrellas for rent. Vendors selling food and drink will pass by as well.
Cultural Activities + Word Searches + Colouring Pages + Fun Travel Quizzes & More!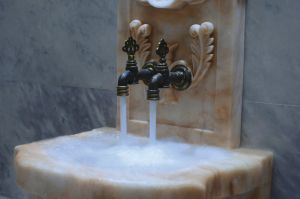 Head to one of the hamams for a scrub down with the kids. You will be separated into different areas (male/female) where you will then start with sitting in a hot steamy area to open your pores (young kids may only want to stay in here for a few minutes as it gets quite hot!), this is followed by a sudsy massage from one of the masseuse. Your whole family will feel clean and relaxed after! Bring bathing suits for the kids.
Shop for souvenirs at one of the markets in the area with the kids. They will have fun bargaining with the vendors! There is lots of souvenirs, trinkets, knockoffs etc. Check the current schedule for the markets as they usually operate only once a week.
Kebabs, baklava and pida are some of the best Turkish food for kids to sample on your Marmaris family holidays. Don't miss out on the tasty local cuisine.
Visit with the dolphins at the Onmega Dolphin Therapy Center. Babies and toddlers can enjoy watching the dolphins in the open water. Children 3 and up can meet the dolphins while on a platform with the trainers. They can feed him fish and get a kids. They also offer a swim with the dolphin program for ages 12 and up (adult accompaniment required).
The Jeep Safari Tour is always fun for the kids. They will love rolling up and down the hills, through the rivers and exploring the small villages nearby. Stop at a local waterfall to cool off and enjoy a tasty lunch. This is one of the most popular tours for Marmaris family holidays.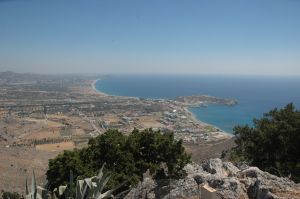 Rhodes Greek Island is a fun day excursion for the kids. It take just over an hour to reach the island on the hydrofoil. Spend the day exploring the old town and enjoy a tasty Greek meal. It is less than 20 km away! This is one of the interesting things to do in Marmaris with kids.
Marmaris Water Park is the biggest in Marmaris. Great for all ages. Your babies and toddlers will love splashing in the kids pool and sliding on the mini slides. Your children will love the slides and wave pool. Your teenagers will have a blast on the Space bowl slide. Your whole family can play a round of mini golf. This is a must do on your Marmaris family holidays.
AquaDream Water Park is another one of the water parks. It has a water playground for your toddlers and small children and several water slides for your older children and teenagers. Great way to cool off from the hot Marmaris sun.
Go Fishing with the kids on the Finding Nemo Boat. Your children will have a great time reeling in the fish. Lunch is provided. You also stop at a beautiful cove for some swimming and snorkeling. The kids will love the dog on board.
Go Horseback Riding in the hills and orange groves nearby with Dortnal Stables. They offer various programs including multiple ride packages. Beginners welcome.
More info to help you plan!
---
| | |
| --- | --- |
| Marmaris Resorts | Turkey with Kids |

Istanbul Attractions

Kid's Travel Guide

Fun activities to teach your child all about Turkey! Download it today!
---
Home

›
Turkey

›
Marmaris