Istanbul With Kids

Istanbul with kids is magical! We have all the cool things to do in istabul with kids here! Don't miss it!


20 Best Things To Do In Istanbul With Kids

Istanbu with kidsl is magical! We have all the cool things to do in istabul with kids here! Don't miss it!
Book your Istanbul hotels here!
The Blue Mosque is one of the iconic buildings of Istanbul. It was built with beautiful blue tiles and has 6 minarets. There are gorgeous gardens around it. Be sure to visit this beautiful mosque with your family. Dress modestly (shoulders covered, below knee shorts or skirts) and women may be required to borrow a cloth to cover shoulders and legs. The mosque is closed during prayer times but allows free entrance in between. Shoes need to be removed. Free books on Islam are available. It is really beautiful all lit up at night!
One of the best things to do in the evenings with kids on your Istanbul family trip is see the local dances. Children are thrilled with the Hodiapasha Turkish Dance Night. This place used to be a tradtional bath house. Now it houses a cozy theater with shows featuring whirling dervishes, belly dancing and other Turkish dances. With amazing costumes and a whirlwind of dances your kids will be enthralled in the Turkish culture! Just the right leegnth for kids-the show is only an hour and includes short intermission with complimentary drinks and snacks.

A visit to Topkapi Palace is one of the interesting Istanbul family attractions. See how the sultans lived in days past. There is an interesting jewelery collection (with one of the world's largest diamonds). Kids will love the armor section and clothing exhibitions. There are lovely gardens and great views of the Bosphorous. Head there early in the mornings to avoid the crowds.
A visit to Rahmi M Koc Museum is one of the interesting things to do in Istanbul with kids. This museum showcases transport, industry and communications from Turkish history including planes, trains, bicycles and submarines (ages 9 and over for the submarine). You even get to ride on an old locomotive! Kids will love this interactive museum. There is even an olive oil factory on display. Don't miss the models and toys in the Lengehane building nearby.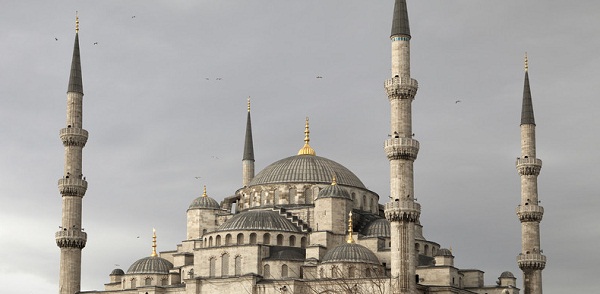 Cultural Activities + Word Searches + Colouring Pages + Fun Travel Quizzes & More! 

Exploring the Basilica Cistern is one of the unique things to do in Istanbul with kids. It was built by the Romans to supply water to the cities. There are hundreds of columns immersed in the water and the lighting provides a cool eerie vibe. Your children will enjoy seeing the fish and the sideways and upside down medusa heads. It is cool down here so a great way to escape the heat for a bit if you are traveling in the summer. There is also a costume area where your family can have your photo taken in traditional Turkish clothing.
A visit to Istanbul with kids is not complete without seeing Hagia Sophia. This massive structure was originally a church, later converted into a mosque and is now a museum. Your children will love seeing the artwork. Be sure to head to the second floor to get great views of the mosaic domes up close. You can hire a guide outside-try to find one who interacts with your children so they can learn the amazing history. Try to plan your visit for the early morning to avoid the crowds.
The Istanbul Archaeological Museum houses an impressive collection of Byzantine, Roman and Greek artifacts. It is one of the world's largest museums with more than a million pieces on display. There is a children's museum located on the ground floor showcasing how children lived in these times. There are toys and sculptures pertaining to children from the Greek and Roman Eras. Your children will love climbing into the wooden Trojan Horse!
A visit to Sultanahmet which is the old neighborhood of Istanbul is a must. Here you will find the Blue Mosque, Topkapi Palace, Hagia Sofia and Basilica Cistern. There are also lots of restaurants and shops housed in historic buildings. Don't miss shopping in the bazaars! Be sure to check it out at night as well when everything is lit up.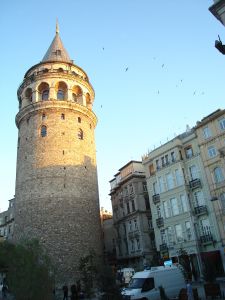 Head to Galata Towers for 360 degree views of Istanbul. There is an elevator that brings you to the top and you can see many of the cities famous attractions.
Visit the Suleymaniye Hamam with your family. If you would like to visit one of the famous Turkish hamams then choose Suleymaniye Hamam as it is one of the few welcoming families. Bring bathing suits for the kids (bathing wear can be provided for adults). You start with sitting and steaming in the hot bath area, then an exfoliation and soapy massage from the masseuse. After you can enjoy a tasty apple tea (extra fee)! Please note the masseurs are all male and very professional.
Head to Gulhane Park (beside Topkapi Palace to escape the hustle and bustle of the city. Your toddlers and small children will love running around on the grass and seeing the colorful flowers. There is a nice fountain, several cafes and food vendors. A favourite thing to do in Istanbul with kids!
Swim with Dolphins at the Istanbul Dolphinarium. This attraction is located indoors so you can swim year round! Kids must be able to swim and be older than 6 years to participate in the summer and older than 10 years to participate in the winter. If your children can't swim there is a dolphin interaction and education program for ages 4-12. They also have a show featuring walruses, beluga whales, seals and of course dolphins. Great for babies, toddlers, children and teenagers!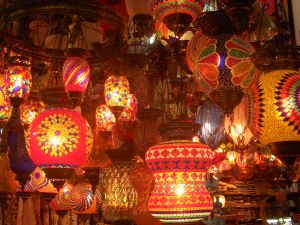 Souvenir shopping at the Grand Bazaar will be an interesting experience. This huge bustling market has persuasive vendors selling everything from carpets, brass coffee pots, jewelery, knock offs, key chains and more! The kids can practice their negotiation skills while bargaining for a trinket to bring back home. This place is noisy, smokey, crowded and not for the faint of heart! But a must do in Istanbul.
A visit to the spice market or Egyptian Bazaar is one of the interesting things to do in Istanbul with kids. The kids will love sampling the candies at the vendors. Pick up some Turkish delights to bring back home. The sites and smells here are unforgettable! Lots of nuts, seeds, spices, candies, and teas for sale. Remember to bargain!
visit the Prince's Islands if you are traveling in the warmer months. There are no cars on the islands so hop on a horse carriage ride for a tour of the villages. You can also rent bikes and enjoy a bite to eat at one of the restaurants.
Don't forget these tasty Turkish food for kids to sample on your holidays. Kebabs and Turkish delights will be a hit with the kids!
What was your favourite thing to do in Istanbul with kids?
Here is more info at the Tourist Board
---
| | |
| --- | --- |
| Istanbul Hotels | Marmaris Attractions |

Turkey with Kids

Kid's Travel Guide

Fun activities to teach your child all about Turkey! Download it today!
---
Home

›
Turkey

›
Istanbul