Best Things To Do In Singapore with Kids

Best Family Activities in Singapore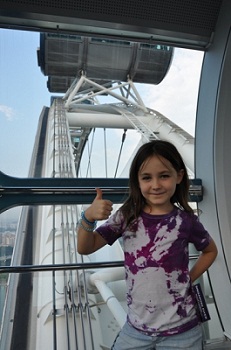 Singapore is a  kid's dreamland with so many things to do and see! 
Hop aboard the Singapore Flyer for incredible views of Singapore and Malaysia. This attraction is similar to the London Eye -there are enclosed capsules on a giant wheel.

Babies and toddlers (under 3) are free and you can bring your stroller on the capsule. One of the

unforgettable experiences

on your family holidays in Singapore.
The Night Safari is one of the unforgettable things to do in Singapore with kids. When else can you see these wild animals in the dark! There is an excellent "creatures of the night" show, followed by a tram ride through the park and several paths to explore on foot. Read more here. It is located at the Singapore Zoo. This is so fantastic -don't miss it! This is one of the visits we still often talk about years later- it is really well done!
Teenagers will have a blast on the thrilling Gmax Reverse Bungy ride. Strapped into a capsule attached to giant elastics and flung into the air after which they free fall back down and then bounce back up (sounds lovely-not!). Must be over 12 years and 1.2 metres tall.
Don't forget to try the delicious Singaporean food- from Nasi Goreng to Chilli Crab Singapore is a food paradise!
Cultural art and activities + games + travel quizzes + food and much more

Please visit these pages: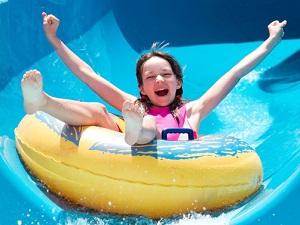 Forest Adventure is an aerial obstacle course built in the trees with zip lines, ladders, swings, nets and more. You are attached to a safety line by a harness. There is a kid's course for ages 5 and up (must be at least 1.1 m tall). There is a larger course for older kids, teenagers and parents to enjoy (1.4 m tall and up). This is one of the fun things to do in Singapore with kids. (Please note this is currently closed for renovation)
Fountain Of Wealth is the worlds biggest fountain and is located outside of Suntec City Mall at the center of a roundabout. Legend has it if you place your hand in the water-you will become wealthy! It is lit up with lots of colors at night.
Singapore Family Travel Guide
More Things to do in Singapore with Kids
China Town is a great area to visit with the kids. There are excellent hawker stalls selling tasty food, stalls with everything imaginable for sale and several temples to explore. 

Buddha Tooth Relic temple is found here and the kids will love seeing the colorful temple, burning incense and interesting statues. 

China Town is a great place to get souvenirs! 

We often went to Chinatown for the great deals! It's especially great to visit before Chinese New year when there are loads of colorful decorations to be seen!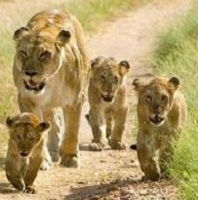 A visit to the Singapore Zoo is one of the best things to do in Singapore with kids. Kids will love seeing the animals in their (recreated) natural environment (no cages-a moat keeps them in their area). 

Don't miss out on the shows, feedings and zoo keeper encounters where your family can learn all about the animals. There is also a water playground here so bring your swim suits. 

The zoo is very interactive- you can feed some of the animals such as the elephants and kangaroos and enjoy a horse and carriage ride or pony rides for the little ones.

You can rent wagons for the kids to ride in or hop on the mini train that tours the zoo when the kids are tired of walking. This is a must-do in Singapore with children! It is one of the best zoos I have been to (and I have been to quite a few!!) so don't miss out! Read about our favorite zoos worldwide here! Read more about the Singapore Zoo.

Hiking in Bukit Timah Nature Reserve is a great place to go as well. This place is full of monkeys that are amusing to watch -just don't feed them! There are several hiking trails to choose from including a couple easy ones (35-45 minutes walking time).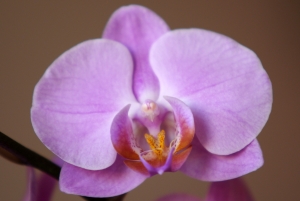 The Botanical Gardens are another one of the top Singapore attractions for kids. Pack a picnic and spend a few hours exploring these beautiful gardens. Kids will enjoy the colorful flowers, waterfalls, interesting sculptures and spotting the birds, turtles and other critters. 

They can also feed the fish in the ponds. There are many gardens to explore including a bonsai garden, rainforest, orchid garden (additional fee) and

ginger

garden.
A trip to the National Museum of Singapore is a great way to escape the heat and humidity and learn about the history of Singapore. The kids will have fun with the hand-held audio guides that give lots of info on the exhibits. There is an interesting section on the food, fashion and movies of the past with interactive exhibits. This is a great activity for older kids and teenagers.
Take a stroll through Merlion Park to see the famous symbol of Singapore. It is a mythical creature with the head of a lion and body of a fish. There is a smaller cub statue here too. There is a gigantic replica on Sentosa Island with a viewing deck.
Philatelic Museum is one of the interesting museums for kids. There are lots of interactive exhibits for children at this stamp museum. They will enjoy collecting stamps in their own kid 'Orchid Singapore botanical gardens' passport.
Singapore Discovery Centre is a fantastic place to bring the kids for some highly interactive exhibits. Learn some new moves at the digital dance studio, manage a battlefield, report a story at the news desk, or watch the largest multimedia show in Singapore. Younger children and toddlers will be excited about the building blocks center.
Jurong Frog Farm is one of the unusual Singapore attractions. This commercial farm offers tours where you can see hundreds of noisy croaking frogs, hand feed them and learn how they camouflage. Adventure eaters can sample some tasty frog legs.
Sentosa Island is a wonderful place to visit with the family. There is everything imaginable here-swim with dolphins, watch a 4D movie, go to the beach, visit Universal Studios. There is a butterfly farm, cable car ride, zip lining, luge rides and more! This is one of the most popular things to do in Singapore with kids.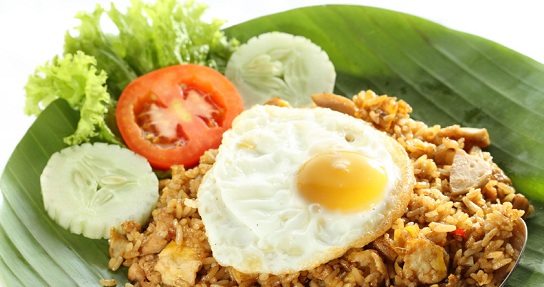 Hawker Stalls offer some of the best Singapore food for kids to try on your travels. There are stalls set up each specializing in a few foods. You will have a table with a number on it. 

Order several dishes from the various stalls and they will each deliver your dish when it is ready. This is a great way for kids to sample different dishes. 

They will love the satay dishes and nasi goreng (see above). We also loved the BBQ stingray!
Kids love the Duck Tour of Singapore. This amphibious vehicle is decorated like a duck and tours the streets and then floats down the river! This is a great way to explore Singapore with kids! There is a similar tour in Dubai -it is very an entertaining activity in Singapore with kids!
Orchard Road is a lively road full of luxury shops, massive malls, street performers and crowds! It is a worth a visit in the evening to see all the neon lights lit up (even prettier at Christmas time). Ion mall is a great one for teenagers -lots of funky stores and designer goods.
There is a large food court in the basement. Orchard Central is 12 stories of shopping! Forum is the place to go for kid's clothes and toys. If you are traveling on a budget -you won't find many bargains along this road but window shopping can still be fun!
Pulau Ubin is a picturesque island near Singapore. You can catch a ferry across to the island or catch a local boat. This is a great place for a family bike ride. There are lots of bike rental shops and you can even rent tandem bikes! The island has very few cars and lot of great spots to explore. Stop for a coconut drink along the way, check out the parks and have a fresh seafood lunch at one of the local restaurants. This is a great way to escape the hustle and bustle of Singapore.
Read about  more great Asian holiday destinations!
---
Singapore Planning Guide

---
Home

›
Singapore

›
Singapore with Kids