Best Singapore Food For Kids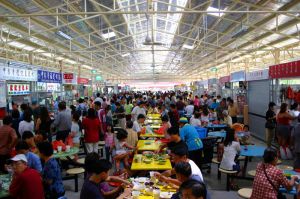 There are many delicious Singapore food for kids to eat on your holidays. Singapore's cuisine is ethnically diverse, as is its population. Your family will be able to enjoy the mix of Indian, Chinese, Malay and Indonesian dishes. There is, of course, food available from all around the world. The usual fast food restaurants are also all over the place too.
A visit to the hawker stalls is a must do when you travel to Singapore with kids. My kids love these type of places. Your table will be assigned a number. There will be various stalls specializing in a few dishes. Wander around and order your dishes from the vendors. They will deliver them to your table. This is a great way to experience lots of delicious Singapore dishes on a budget. You will usually find satays, noodle dishes, soups, butter chicken and curries and lots more! The stalls have a hygiene rating from the government of A, B or C. Stick to the A or B ratings to be safe.
You will also find large food courts in many of the malls offering traditional Singapore food as well as international fare at a cheap price. You will find something for everyone at these places! There are so many lovely and yummy Singapore food for kids.
Cultural art and activities + games + travel quizzes + food and much more

Yummy Singaporean Food For Kids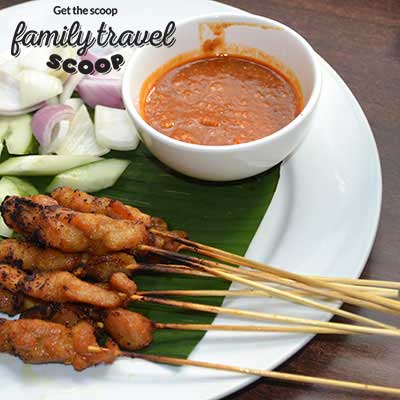 Satay are small pieces of grilled meat (usually chicken or beef) on a stick and served with a peanut dipping sauce. My kids love this!
Roti Prata is a thin fried pancake cooked on a flat grill. It is served with a variety of sides such as curry. It also can be served with cheese, banana, chocolate or even ice cream. It is a popular dish for breakfast or dinner.
Chendol Ais is a delicious sweet dessert made with coconut milk, sugar and shaved ice. It is often served with other ingredients including red beans.
Singapore Food for Kids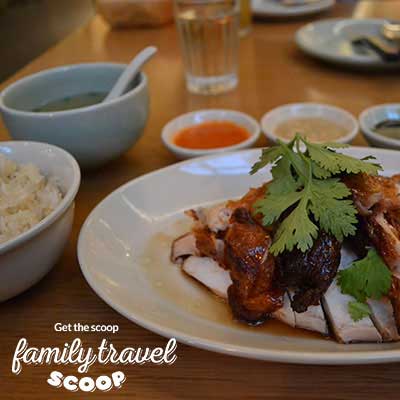 Haianese Chicken Rice is a delicious dish that is prepared by boiling a whole chicken in chicken stock. The rice is also flavored with chicken stock. It is often served with a side of chili sauce(can be spicy-so avoid this sauce if your kids aren't used to spicy foods), soy sauce and cucumbers. This was a hit with my kids!
Butter chicken is another delicious Singapore food for kids to eat on your holidays. The chicken is slow cooked in a tomato, spice and yogurt sauce. Get a side of naan bread for dipping in the sauce. Yummy!
Nasi Goreng is another tasty one for the kids. This is a fried rice dish cooked with egg, chicken, prawns and spices.
Hokkien Mee is a famous Singapore fried noodle dish served with prawn, pork and squid.
Singaporean Fruits

One of the best things to do in Singapore with your children is to head to a local fruit stall and sample some of the exotic fruits that you don't commonly find in your hometown.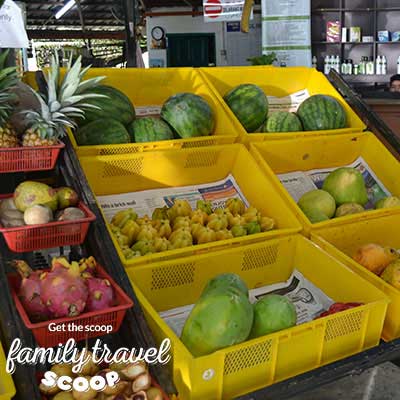 Rambutan is a smelly, red, hairy fruit. Inside is a sweet juicy white flesh. Very refreshing!
Mangosteen is a delicious Singaporean fruit. It has a deep purple skin and white juicy flesh. Be careful with this one though as the purple juice can stain hands and clothes.
Durian is the famous King of all fruits. Your family will either love it or hate it! It has such a stinky smell that it is banned from most subway systems in Asia. It is a large spiky fruit with a creamy textured flesh inside.
Lychee are commonly served in restaurants and buffets in Singapore and may be from a can or served fresh. The pulp is clear and juicy with one seed inside.
Star Fruit is a good one for the kids. When sliced horizontally the side it has a star shape. The fruit is slightly acidic tasting and quite refreshing.


---
Home

›
Singapore

›
Singaporean Foods
---