Ripley's Believe it or Not, NYC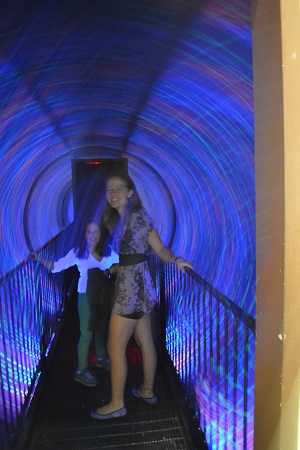 You'll find Ripley's Believe It or Not attractions in every major tourist destination and of course in the Big Apple. Conveniently located off Time Square at 234 42nd Street the famous museum of oddities has 20 galleries full of strange and weird artifacts and exhibits.
Some of the exhibits are interactive and others are valuable treasures. Visitors walk through the museum without a guide and can take their time looking at each of the displays.
There are 500 artifacts, slideshows, and the city's only Laser Race. There are many one-off events throughout the year and you can even have parties here and there are special sleep-overs and scavenger hunts for kids.
The wonderful thing about Ripley's is that it is all fact, this is not a fantasy theme park type attraction it is a museum where fact is stranger than fiction.
Join the Fun and Excitement at Ripley's NYC

It took Robert Ripley 40 years to assemble this collection of bazaar artifacts from across the globe. Among the exhibits are shrunken heads, an albino giraffe, a meteorite, a piece of the Berlin Wall, an intricately carved boat made of Jade, a six-legged cow and even a pickled tourist head!
The attraction also has slideshow performances by people who can do weird and wonderful things like magicians who can eat razors, fire eaters, swallow swords, hammer a spike into his face and made people disappear.
There are a couple of performers who are covered from head-to-toe with tattoos, like the Lizardman. The slideshow performances are shown in front of the museum for free throughout the day on Saturdays and Sundays.
Details on Prices and Opening Hours

The Ripley's Believe It or Not NYC is recommended for guests of all ages, although all children need to be accompanied by an adult the exhibits are displayed in a fun and entertaining way rather than being scary.
If you are a group of 15 or more you can arrange to go on a scavenger hunt through the museum otherwise it is a self-guided attraction. This way you can whisk young children past exhibits if you think the artifacts will scare the kids.
A few other facts about the attraction: you are welcome to take photos in the museum. The museum is wheelchair accessible and strollers will also be able to navigate their way through the attraction.
A leisurely visit will take you about 1 – 2 hours. Although some of the attraction can be seen as wax models in Ripley's Believe It or Not in other cities the majority of the exhibits are exclusive to the New York museum. So whatever city you find yourself in the Ripley's Believe It or Not will offer different and unique exhibits.
For more details visit the Ripley's Believe It or Not NYC website. The tickets online sell for between $6 and $5 less than the normal retail price.
Online an adult ticket costs $26.09 and kids (4-12) pay $19.99. You can also buy a combo ticket on the Ripley's website for the museum and a sightseeing cruise for $39.5 for adults and $29.5 for kids. The museum is open from 9am to 1am (yes, 9 in the morning to 1 in the middle of the night!) daily.
More Things to do in New York City for Kids
Home

›
USA

›
NYC

›
Ripleys